See how much you really know about country music legend Garth Brooks . . .
Garth Brooks became one of the most successful male country music stars of all time and rivals the success of top artists across all music genres.   Learn more about the singer and songwriter legend below.
Garth Brooks Biography and Summary Profile
Garth Brooks is one of the most successful singer and songwriters of all time.   He was born in Tulsa, Oklahoma and started his career with Capitol Records where he released his first self-titled album in 1989.  His third album (Ropin' the Wind) became a major success as it crossed both the Country and Pop music chart with strong audience appeal.  This album was the first country album to debut at No. 1 on the pop charts. Garth has made a number of albums since and has reportedly sold over 100 million albums.  Garth retired in 2000 to spend time raising his three daughters and returned back to performing again in 2009 after his youngest daughter graduated from high school.  Learn more about Garth Brooks below.
Garth Early Years (A Young Garth Brooks OKC)
Garth was born in Tulsa and mostly grew up in Yukon, Oklahoma.  Both his mother and father were music enthusiast and Garth learned to play guitar and banjo at an early age. Garth grew up performing at family functions at a weekly "Country Music & Performance Night" in their home in Yukon when their children were growing-up.  Enjoy these photos of Garth as a young boy, in high school and as a college track athlete.  Garth attended the Yukon Public Schools (attending Myers Elementary) and graduating from High School in Yukon, Oklahoma.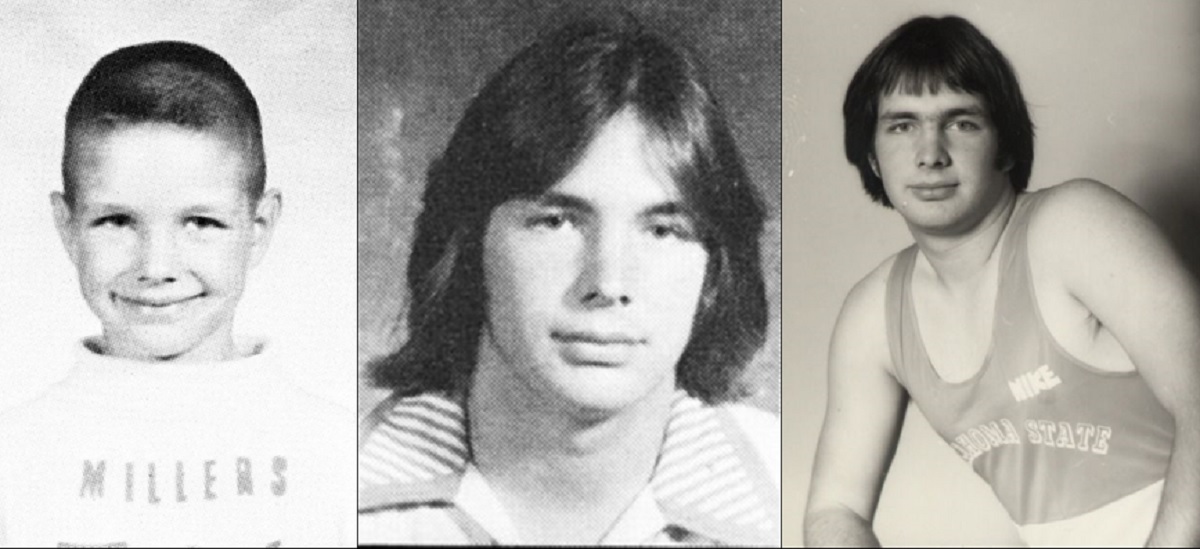 Garth College Years
Garth was Interested in both music and sports. Garth was good at football, baseball and track in high school.  He earned a scholarship in track to Oklahoma State University in Stillwater.  Garth attended Oklahoma State University and graduated with a degree in advertising in 1984.  While in College, Garth started singing at several local clubs and bars around Oklahoma and was discovered by entertainment counsel, Rod Phelps in 1985.  Due to the success of his Notre Dame concert, some fans question "Did Garth Brooks go to Notre Dame"?  The answer is no for attending college at Notre Dame as he only attended and graduated from Oklahoma State University.
Common Questions About Garth Brooks
How Old is Garth Brooks (What is Garth Brooks Age)?  Garth Brooks is 61 years old.
When is Garth Brooks birthday?  Garth was born February 7, 1962..  This makes Garth's zodiac sign an Aquarius.
What is Garth Brooks real name?  Garth's full name is Troyal Garth Brooks and he adopted his middle name as his known name.  Garth was named after his father Troyal Raymond Brooks Jr. and Grandfather Troyal Raymond Brooks Sr..
How tall is Garth Brooks (Garth Brooks height)? – Garth Brooks is 6'0″ tall.  He was a successful track and baseball athlete in his younger days.
Who  is Garth Brooks Alter Ego (Garth Brooks alias)?  – Garth Brooks tried something very unusual during the height of his career creating an alter-ego Rock musician named Chris Gaines (see Garth Brooks Alter Ego Chris Gaines)..  Chris Gaines was a fictional character created for a film titled, The Lamb. The film was to be produced by Garth Brooks' company Red Strokes Entertainment in partnership with Paramount Pictures. Prior to the film, an album was released and a fake documentary was produced. The "mockumentary" was titled Behind The Life of Chris Gaines' Life. Actors, along with real musicians, producers, and journalists became part of the experiment. Music producer, Don Was and journalist, Melinda Newman joined the project adding real-life legitimacy to the fake documentary. The album titled, Garth Brooks In…The Life of Chris Gaines was released a year before it was to become the sound track for the film. Unfortunately, the album didn't cause much excitement and was considered flopped. As a result, the film was never made and the whole project was abandoned in 2002.   So, Garth Brooks other name is Ghris Gaines as a rock persona.    Per the photo below, Chris Gaines is Garth Brooks and Garth Brooks is Chris Gaines.
What Guitar does Garth Brooks Play?
– Garth reportedly plays a Takamine Guitar and has a signature model designed in his name.  The GB7C is Garth Brooks' signature model and was designed as a collaboration between 
Takamine
 R&D and Garth Brooks. This model features a solid cedar top, a natural satin finish,  solid rosewood back and features a soundholse that mirrors the shape of the guitar.
What is the story behind Garth Brooks hat?  – Garth Brooks is often seen wearing a Stetson Cowboy Hat and has a long legacy with Stetson.  He wears a Stetson Tyler model cowboy hat. He is also a big fan of baseball caps.
What about Garth Brooks Beard? 
 Garth Brooks is often seen sporting a beard and seems to rotate between having a beard and being clean shaven.  He seems to prefer some level of facial hair and most often has a beard or some variation of a goatee mustache.
What is Garth Brooks Logo?
  Garth's logo has a few variations and color schemes.   The core logo is a "g" with a circle.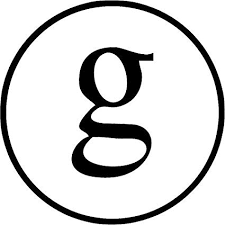 Does Garth Brooks have a book? 
– Garth has released a
book and CD series called The Anthology
and so far has released 2 parts of the 5 part series.
Who are Garth Brooks parents?  – Brooks' father was Troyal Raymond Brooks, a former Marine who worked for an oil company in Oklahoma.  Garth's mother (Colleen Brooks) was a singer that recorded for Capitol Records and had also appeared on the Ozark Jubilee.   Garth's father passed away on Apil 7, 2010.  His mother Colleen passed away in 1999 from Cancer.
Garth Brooks' Parents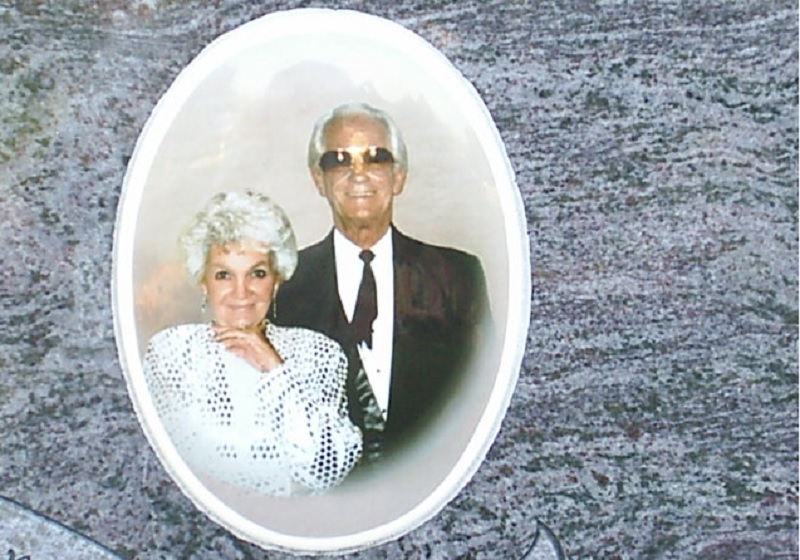 Pinterest
Does Garth Brooks have brothers and sisters (Garth Brooks Siblings)? – Garth's parents both had 2nd marriages and Garth has four older half-siblings (Jim, Jerry, Mike, and Betsy) from those prior marriages and one brother Kelly..   Garth's mother (Colleen Carroll Brooks) had 3 older children from her first marriage (Jerome, James, & Betsy that were all were born in Tulsa, Oklahoma).  Raymond had one son from a prior marriage (Michael Brooks).  Colleen and Garth's father (Troyal Raymond Brooks) had a combined total of 6 children of which Garth is the youngest.
Here is a summary for all six children:
Jim Smittle, 71 current status is unknown.  Jim served as a teacher and coach at Tulsa's East Central High School. His wife, Terri, headed the English Department at Rogers High School in Tulsa.
"Mike" Michael Shaun Brooks, Born in 1951 and now 68, served as a principal and teacher in Newburg, Mo., schools and a Catholic church leader. and married to Mary Margaret.
"Jerry" Jerome Smittle – Garth's half-brother passed away in 2006.  He served as a special investigator in the Public Defenders office in Tulsa. .
Garth's half-sister Betsy Smittle passed away in 2013 in Oklahoma at age 60.  Betsy Brooks Smittle was also a musician (singer, guitar, bass, songwriter), who was once in Garth's band and also recorded and performed on her own.
Kelly Shane Brooks (born 7/28/1960 and now 58) – Garth's brother worked at First National Bank of Bethany and also as a manager of GB Management.  He currently lives in Nashville, TN.
Troyal Garth Brooks, 57, became one of the most successful singers and songwriters of all time.
Garth Brooks Net Worth
Garth Brooks net worth in 2019 is reportedly estimated at around $310 Million and the year is just getting warmed up.  His wealth has primary come from his long and successful music career.  Garth make millions off of his music sales and royalties, global touring revenue, merchandise sales, and paid appearances.    His wife Trisha Yearwood has an estimated net worth of over $40 Million.  The couple's 2018 tour grossed. In addition to touring wiht Garth, Trisha Yearwood has plenty of her own accolades inducing:
three Grammy Awards
Trisha hosts an Emmy-winning show on the Food Network called "Trisha's Southern Kitchen"
Her third cookbook, "Trisha's Table," debuted at No. 7 on The New York Times Bestsellers list.
This makes Garth Brooks and Trisha Yearwood's net worth estimated at $350M as a combined net worth.  The RIAA has named Garth the best-selling solo artist in the United States (topping prior records set by music legends Elvis Presley and The Beatles).  It should be noted that some fans argue that music tracking was not very good for Elvis and the Beatles so some argue with Garth being placed at #1.  Garth has been very busy since 2016 which makes his gains in net work credible.  With Garth's stadium tour announced for 2019, this should be a strong year for Garth to further his Net Worth.  We predict that Garth Brooks' worth and Trisha Yearwood's worth keeps going up.
Garth Brooks Net Worth 2018
Garth Brooks net worth trended further upward in 2018.  The country music star sold more than 6 million tickets on his recent three-year North American tour with wife Trisha Yearwood.  He appeared on Forbes annual celebrity earnings for 2018 with $45.5M in estimated earnings.  This made Garth the #2 ranked Country Music singer for 2018 with Luke Bryan having a narrow lead at $52M.   2018 concluded the big tour and Garth has announced plans to return to touring in 2019.  Garth also completed a CBS special based off his sold-out Notre Dame Stadium show.  The television special premiered on Dec. 2nd featuring Brooks as the first singer to perform in the stadium.
Garth Brooks Net Worth 2017
Garth's estimated net worth in 2017 was $280M gaining $40M from prior year estimates.  This was a big touring year for Garth and Trisha with much of the year spent on the road.  The Garth Brooks World Tour with Trisha Yearwood wrapped up in December 2017 after an impressive three and a half year long run. The tour smashed records previously held by such acts as The Beatles and The Rolling Stones. Overall, the stint sold over 6.3 million tickets, making it the biggest North American tour in history and the biggest American tour in the world.
Garth Brooks Net Worth 2016
Garth Brooks has an estimated net worth of $240 million in 2016.  Garth had a busy 2016 as he launched a SiriusXM channel (The Garth Channel) in September 2016. In October 2016, he released the single, "Baby, Let's Lay Down and Dance,"  in advance of his 11th studio album (Gunslinger).  Garth also completed a deal with Amazon to stream and distribute his music.  .
Garth Brooks Wives (two marriages)
Garth has had two marriages to first wife Sandy Mahl and current wife Trisha Yearwood.  Learn more about each marriage below.
Garth Brooks Current Wife Trisha Yearwood
Garth Brooks has been married to fellow country music star Trisha Yearwood since 2005.  Soon after his divorce to Sandy Mahl, Brooks began dating fellow country music artist and longtime friend Trisha Yearwood. The pair got married on December 10, 2005, marking the second marriage for Brooks and the third for Yearwood. Garth and Trisha have no children together.  Trisha gained three step-daughters via her marriage to Garth.  Trisha has known Garth since 1987 and the couple had to wait several years before getting married.  Tisha Yearwood's success is impressive — she's a two-time winner of CMA's female vocalist award and has won three Grammy Awards.
After meeting in the studio, Garth promised Yearwood he would let her tour with him if he ever made it big. A couple years later, Brooks fulfilled his promise to Trisha Yearwood, and the pair began touring together around North America. On top of allowing Yearwood to open for his concerts, he performed several new songs with his new best friend such as "Like We Never Had A Broken Heart."  After many years of friendship, Brooks proposed to Yearwood on stage at Buck Owens' Crystal Palace before 7,000 cheering fans.
Garth and Trisha Yearwood Engagement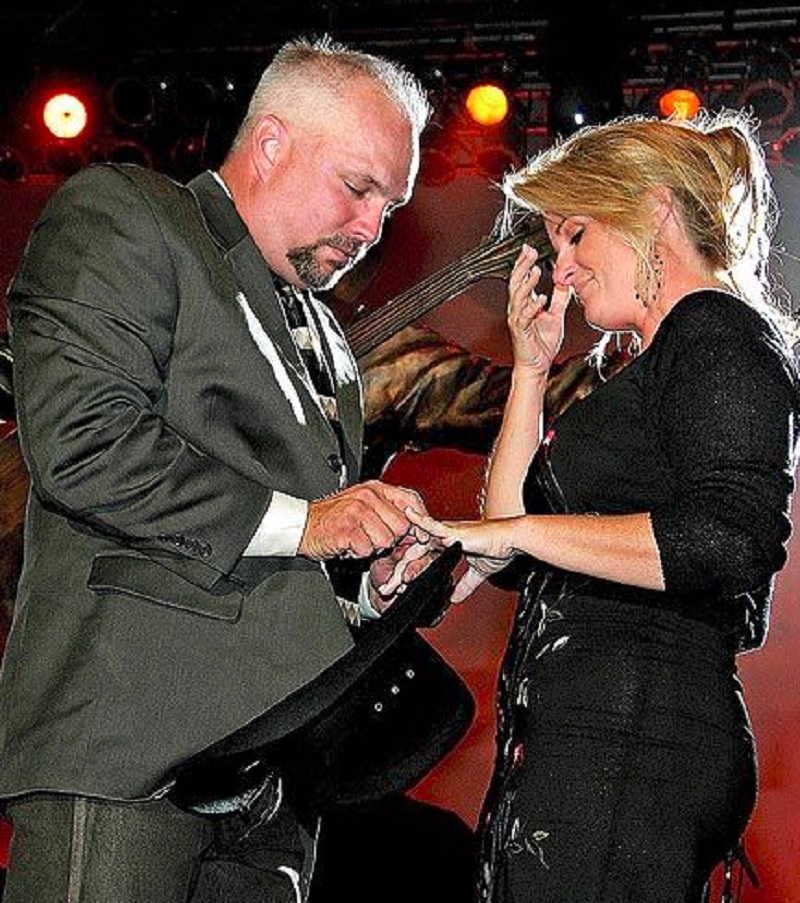 With all
three daughters finished with college
, Garth says he's never been happier. "I never knew it could be like this," he says with a smile. "I never knew that every day you could feel like this."  Today, Brooks and Yearwood are happier than ever as they tour together with record-breaking ticket sales.  The happy couple tours together and are seldom seen apart.
Garth Brooks First Wife Sandy Mahl (Ex-Wife)
Brooks was married to Sandy Mahl from 1986 to 2001.  He married college sweetheart Sandy Mahl on May 24, 1986. The pair have three daughters together and separated in early 1999 with finalization of the divorce in 2001.  Learn more about Sandy Mahl here (14 Intriguing Facts about Sandy Mahl).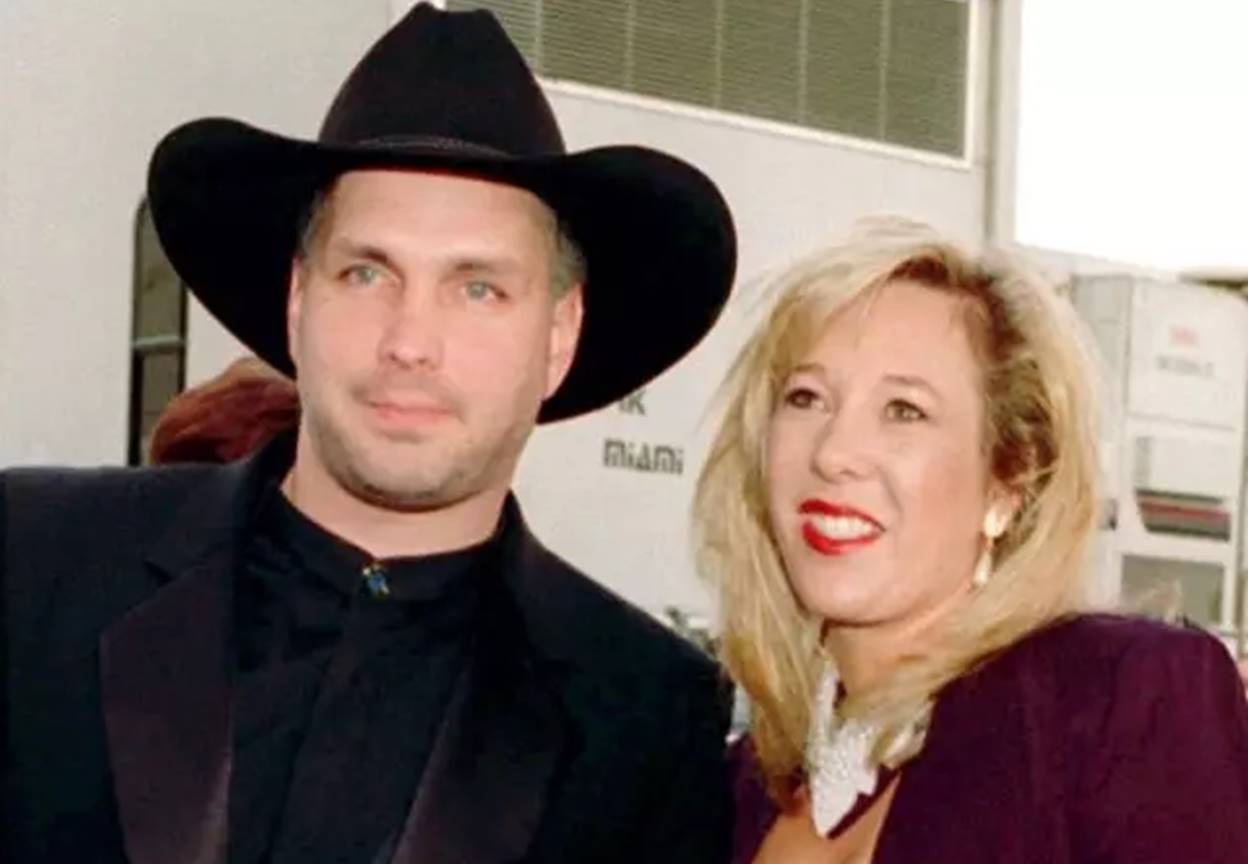 Garth's Divorce
After 15 years of marriage, Garth and Sandy's divorce became final on December 17, 2001. Mahl was awarded a whopping $125 million in the divorce settlement making this divorce one of the most expensive divorces of all time.
Garth Brooks Family
Garth has a total of three kids.  Garth Brooks' three daughters with ex-wife Sandy Mahl are now all officially twenty somethings and paving their way in the world!  Garth's kids include:
Oldest Daughter – Taylor Mayne Pearl Brooks (born July 8, 1992),
Middle Daughter – August Anna Brooks (born May 3, 1994), and Allie Colleen Brooks (born July 28, 1996) are perfects blends of their well-known parents.
Youngest Daughter – Allie has certainly inherited her father's musical talent and is currently pursuing a career in the industry.
Garth Brooks Band Members
Garth has played with the same band members for his storied career.  After marrying Trisha Yearwood, Garth and Trisha combined several band member talents.  The Garth Brooks band members include:
Mike Palmer (Drummer) has been with Brooks since the beginning dating back to the early days of Garth's career playing in local bars
Bruce Bouton (Guitar) is a talented musician that Brooks has had played with since 1989 providing the steel guitar skills to Brooks' debut album
Mark Greenwood (Bass) is another founding member of the Brooks band and has played Bass for several of Brooks' albums
Jimmy Mattingly (Fiddle) has played Fiddle in Garth's band for the past 21 years
Vicki Hampton and Robert "Bob" Bailey (background vocalist) has supported Garth since the early 1990s.
Johnny Garcia (Guitar) has supported Trisha Yearwood music for the past 25 years and worked with the happy couple for the past 16 years
Steve Cox (keyboard) also joined the Garth Brooks band post the marriage of Garth and Trisha
Karyn Rochelle (background vocals) joined the crew with the joining of Trisha Yearwood and Garth Brooks musical talents
Garth and His Band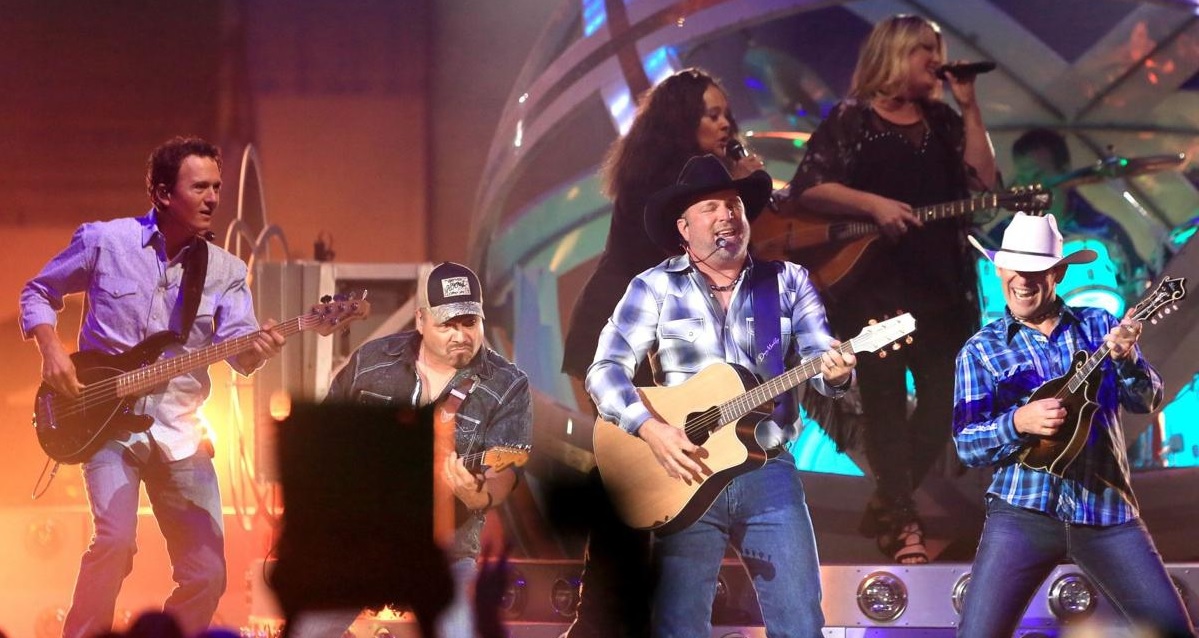 The Garth and Trisha tour is a seasoned group of talented musicians with years of working and performing together.  Garth also has several talented musicians that support studio recording and the making of studio albums.
Garth Brooks Music
Garth Albums
Garth has released 21 total albums across his amazing career (15 studio albums, 4 compilation albums, and 2 live albums) .
Some best-selling records from Brooks career include:
1989 self-titled debut album sold ten million copies while his 1998 Double Live album sold 21 million copies since its release
1990's No Fences, which sold 17 million copies worldwide,
1991's Ropin' in the Wind, which sold 14 million copies across the world and
2007's The Ultimate Hits, which also sold ten million copies throughout the world.
Garth Songs
Garth has released a whopping number of singles over the course of his professional music career.  Here are some of the top Garth Brooks' hits:
Garth has had several top hits:
1990's Friends in Low Places
1991's The Thunder Rolls
1993's American Honky-Tonk Bar Association
1995's She's Every Woman,
1997's The Longneck Bottle and
2007's More Than a Memory.
Garth Awards
Garth Brooks has won numerous awards across his career including:
Garth won two Grammy awards (one for Best Male Country Vocal Performance in 1991 and another for Best Collaboration With Vocals in 1997
Won several Academy of Country Music Awards includes Song of the Year (1989, 1990), Video of the Year (1990, 1994), and Entertainer of the Year (1990, 1991, 1992, 1993, 1997, 1998),
11 CMA Awards
4 People's Choice Awards for Best Male Musical Performer (1993, 1998, 2001, 2002)
Garth was inducted into the Grand Ole Opry in 1990
The Oklahoman has also been inducted into the International Songwriters Hall of Fame in New York, the Nashville Songwriters Hall of Fame, Country Music Hall of Fame and most recently, the Musicians Hall of Fame.
Remember to share Garth Brooks' impressive growing legacy with other Country Music fans and follow Garth Brooks below.
Follow Garth Brooks:
Garth Brooks Website:  https://garthbrooks.com/
Garth Brooks Facebook:  https://www.facebook.com/GarthBrooks
Garth Brooks Instagram:  https://www.instagram.com/garthbrooks/
Garth Brooks Twittter:  https://twitter.com/garthbrooks