Sometimes celebrity couples struggle to maintain a healthy relationship, but that is not an issue for Garth Brooks and Trisha Yearwood. Find out more about the pair's relationship here.
Although Garth Brooks and Trisha Yearwood bask in the limelight, the country couple do not allow their careers to interrupt their relationship. Because of their time demanding profession, both Brooks and Yearwood have experienced divorce. So when they married each other in 2005, they promised nothing would ever separate them, including fame and success, and they have never looked back.
Now that the happy couple has been married for over nearly 12 years, the pair have opened up more to discussing their private life. Since they often tour together, many fans question how extensive time together does not cause relationship issues, but Trisha Yearwood shared some insight on her feelings told Brooks. "And everybody always says, 'Is it just too much togetherness?' But it really isn't. I love to have a complaint about him, but he's really perfect," Yearwood told People.
Other fans question how the country music songstress handles being the stepmom to Brooks' three children from his previous marriage, but she shows no signs of struggle. "I have to say that now as these girls have grown—they're adults now on their own—it's been a part of my life that I would have never would have ever known to dream about and it's been so rewarding to get to be a part of this family."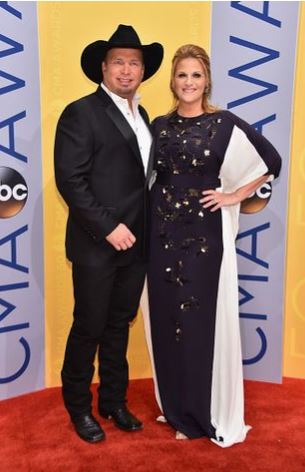 A couple that handles being in the spotlight 24/7 as well as Garth and Trisha is certainly a huge inspiration. No matter what, they are always choosing each other, and isn't that what we all want? Whether they are relaxing at home, or performing for thousands of fans in a sold-out venue, when Brooks and Yearwood are together there is nothing but love. Wishing the couple many more years of happiness!
Be sure to share this story about one of the genre's greatest couples with other country music fans!