Although Garth Brooks and Trisha Yearwood met in 1987, they didn't marry each other until 2005. Read more about how the two country music stars fell in love here.
Garth Brooks wife (Trisha Yearwood) has known Garth since 1987 and the couple had to wait several years before getting married.  Now, Garth Brooks and Trisha Yearwood have been married (since December 10, 2005) for more than 13 years, they have become one of country music's most inspirational couples. However, when they first met in 1987, neither was signed with a music label. At the time, they each were recording a demo song trying to promote themselves to different labels. Although they both instantly felt a love connection, both Brooks and Yearwood were married to other people. "It's strange because I felt that feeling like when you just meet your wife, but I'd been married to [Sandy Mahl] for 13 months," Brooks said in an interview on The Ellen DeGeneres Show.
After meeting in the studio, Oklahoma native Garth Brooks promised Yearwood he would let her tour with him if he ever made it big. A couple years later, Brooks fulfilled his promise to Trisha Yearwood, and the pair began touring together around North America. On top of allowing Yearwood to open for his concerts, he performed several new songs with his new best friend such as "Like We Never Had A Broken Heart."
A brief retirement in 2000 coincided with Garth Brooks divorcing his wife at the time, Sandy Mahl, and less than two years later Trisha Yearwood and Garth Brooks went public with their relationship. Fast forward a couple more years to 2005, and the pair tied the knot in a small wedding just before Christmas. "It's the perfect gift to each other. We could not be happier." Brooks told People. Since the two lovebirds have such a strong partnership, there's no doubt they will enjoy many more years together.
Garth Brooks Wife (Trisha Yearwood)
Tisha Yearwood's success is impressive — she's a two-time winner of CMA's female vocalist award and has won three Grammy Awards. After many years of friendship, Brooks proposed to Yearwood on stage at Buck Owens' Crystal Palace before 7,000 cheering fans in 2005.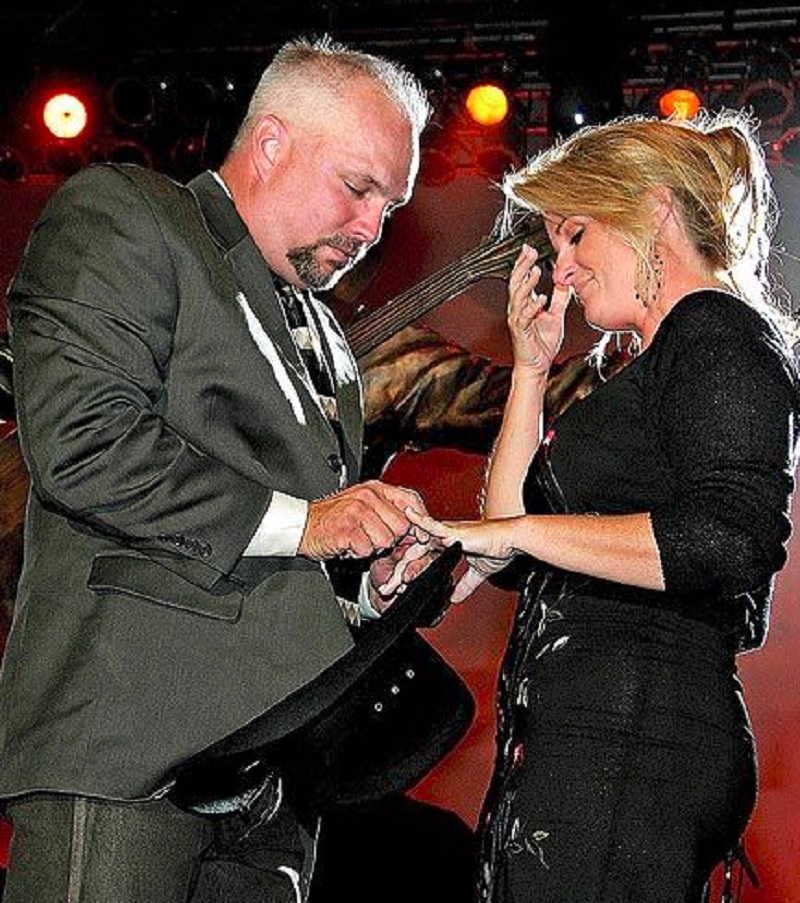 With all
three daughters finished with college
, Garth says he's never been happier. "I never knew it could be like this," he says with a smile. "I never knew that every day you could feel like this."  Today, Brooks and Yearwood are happier than ever as they tour together with record-breaking ticket sales. Watch them discuss and celebrate their "duets album" together in the video below!
Garth Brooks Wife Trisha Yearwood and Their Duets Album
On the Ellen Show, Garth discussed meeting Trisha in 1987 and how his relationship with Trisha evolved until their marriage in 2005.
Ellen Show Interview of Garth Brooks (discusses Garth Brooks Wife)
The country music duo both remain busy with their careers.   Trisha recently completed here Let's Be Frank album as a tribute to Frank Sinatra.  This was Yearwood's first full-length solo record since 2007's Heaven, Heartache and the Power of Love.  Trisha is working on new Yearwood music on the horizon and has been in the studio with longtime producer Garth Fundis.  Garth is enjoying participating in the first week of Pirates Spring Training camp and then returns to his stellar Country Music career..
Check out their official website for more information as well as tour dates and locations.
Be sure to share this country love story with other fans of the power couple!