Country music hit-maker Garth Brooks has released the first two parts of a massive new project--- a five-part multi-media anthology covering the span of his career! More here.
Garth Brooks book the Anthology series is available for part 1 and part 3 covering a good portion of Garth's musical career journey.  Legendary country music entertainer Garth Brooks is releasing a 5-part multi-media anthology covering the span of his illustrious music career. Part one, covering his first five years as an artists, released in 2017. Part 3 The Anthology Live has also been released.  The entire collection will be available through several retailers, including Target, Walmart, Amazon, Costco, and Barnes & Noble, at a list price of $39.98.  Learn more about the 5 part series below.
Garth Brooks Book and CD Series:  The Anthology Part 1
Part 1: The First Five Years, documents the Oklahoman's experiences from 1989-1993 in his own words and tells the stories behind creating his first five albums for Capitol Nashville. The 240-page hardcover book includes more than 150 rare photos and five CDs touting 52 tracks— including outtakes, first takes, demos, and masters.
The description for The Anthology Part 1 includes, "
The first five years were filled with high adventure, with dreams coming true, with new friendships beginning and old friendships growing. Most of all, though, the years were filled with music being made. We thought about songs night and day, chased the things. I was surrounded by songwriters, musicians, producers, engineers, managers, by people who lived to make music, and we got to see the world through songs. There were a lot of firsts, one after another: First time leaving Oklahoma for Nashville, first time hearing one of our songs on the radio, first time hitting number one
".
Garth Brooks Book and CD Series (The Anthology)
"My favorite thing about Part 1 was what I learned," the iconic performer exclusively shared with the outlet "I had no idea that [songwriter] Tony Arata's first cut in Nashville was 'The Dance.' I would have thought it had to be his 20th. I was very aware of my stuff, but there are so many stories from [producer] Allen Reynolds, [songwriter] Pat Alger, Bob Doyle and others."
The remaining four parts of the anthology will document the remainder of the 1990's and extend into present day. Each piece of the anthology will also have its own two to two-and-a-half hour documentary to go along with it. The documentary  series is expected to debut in early 2018 and run between 10 and 12 hours in total.
"What I love about it is our world is made up of so few people [and] we've all been together so long. You get to hear the voice of every one of these people," Brooks mused about the various individuals contributing their stories to his lofty project. "There are seven guys who played those first 50 songs in the first five years, there's one engineer, one producer. Their voices are alive and well. They are the ones that were there every day."
Garth Brooks Book and CD Series:  The Anthology Part 3 Live
The Anthology Part III Live follows the release of Anthology Part I: The First Five Years.  Anthology Part III includes interviews with Garth Brooks, wife Trisha Yearwood and his band and crew, as well as 100 behind-the-scenes and performance photos.  The description for The Anthology Part 3 Live includes, "Go inside the electric world of Garth Brooks LIVE. From the first on-stage appearance in college to headlining his own record breaking tours and worldwide stardom. Includes behind the scene stories, insider secrets, interviews with band and crew. Five CDs with 52 Live Recordings including Triple Live, the soundtrack of the record breaking world tour. 100 behind-the-scenes and performance photos".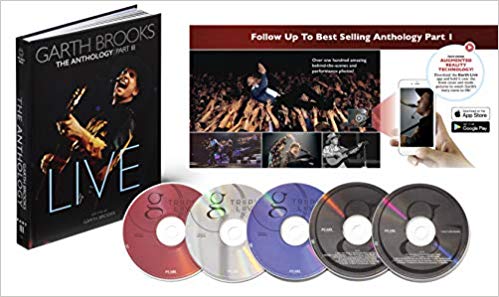 Garth Brooks The Anthology (Part 2, Part 4, and Part 5)
Part II, Part 4 and Part 5 have not yet been released.  It is a little strange that Part 3 released before Part 2.  The remaining 3 parts of the Anthology will cover the last half of the '90s, his comeback since coming out of retirement in 2014 and a hits set, which will reflect "what was going on in the world at that time and how the music affected that and how the world affected the music," he said. Additionally, each Anthology is expected to have its own two-and-a-half-hour documentary.
In summary, Garth has released part 1 and part 3 of the 5 part series.  We look forward for the next 3 parts yet to come.  Garth and wife Trisha Yearwood completed their 3-year North American tour, which wrapped up last December. Brooks was also  headliner at Stagecoach 2018, alongside Keith Urban and country duo Florida Georgia Line.
Be sure to share Garth Brooks book and CD series with other fans of the superstar!