It's safe to say that being famous does have some really awesome perks--- check out these ten gorgeous country music star homes!
This collection of ten country music star homes — in no particular order— will have you daydreaming! Good thing taking a tour of these jaw-dropping properties remains totally free of charge…
10 Country Music Star Homes
1) 'King of Country Music' George Strait's San Antonio, Texas Estate
Overview: The 7,925-square-foot custom adobe mansion is perched on a hilltop and sits on 12.2 acres of land. The place was designed by the internationally renowned artist Bill Tull of Arizona. The main house boasts three bedrooms, four full baths, and two half baths. The property also has a guest house, an infinity pool-spa, sauna, and more luxurious touches such as fourteen hand-sculpted fireplaces, custom stained glass windows, and saguaro cactus rib shutters. Not surprisingly, this estate took two full years to construct.
Take a look around and learn more here!
2) Jason Aldean's Columbia, Tennessee Property 
Status: Sold in 2019
Overview: The "Drowns The Whiskey" star is parting ways with his 120-acre estate in Columbia, Tennessee. The acreage is dubbed the "Grand Talley Moore Estate" and features a 8,900-square-foot 6 bedroom/ 8.5 bathroom home with a wine cellar, bowling alley, and wet bar. The expanse also features a pool, access to Flat Creek, and a 10,000-square-foot facility for horses.
Time for a tour…
3) Kelly Clarkson's Hendersonville, Tennessee Manor 
Overview: This private waterfront estate sits on over four acres and the 20,121-square-foot mansion features seven bedrooms, eight full baths, and three half-baths. According to Trulia, the gorgeous estate, built in 2007, overlooks the Cumberland River and features a custom cowboy bar complete with saddle barstools, screening room, saltwater pool, private dock, sand volleyball court, and spas. View more pictures here.
4) Kenny Rogers' Suburban Atlanta, Georgia Spread
Status: Sold in 2018
The country music legend just offloaded the 13,000-square-foot mansion which resembles a Mediterranean palace and touts six bedrooms, eight full and four half bathrooms. Features include a conservatory, game room with full bar, movie theater with stadium seating, and ten fireplaces. As reported by Variety, "The Gambler" bought the estate in 2013 for $1.5 million. Not a bad profit! Check out more photos here.
5) John Rich's "Mt. Richmore" in Nashville, Tennessee
Status: Not For Sale
Overview: In 2018, John Rich gave Pickler & Ben a personal tour of his mansion overlooking Music City. The home features a custom guitar-shaped pool, an elevator full of celebrity snapshots, a private stage plus bar, and a lot of country music memorabilia including a pencil sketch from country icon Johnny Cash. The country star often opens up his mansion for charity events.
Take a guided tour below!
6) Brian Kelley's Compound Outside of Nashville, Tennessee 
Status: Pulled Off Market
Overview: The Florida Georgia Line star's gorgeous 70-acre estate was the site of Brian Kelley and Brittney Cole Kelley's 2013 wedding. Dubbed the "Kelley Compound," the acreage features six buildings total. This includes the quaint main house plus two large single family homes. In 2014, Pete Nelson from Animal Planet's Treehouse Masters constructed a treehouse recording studio for the country star which connects to the main house via a bridge.
Give the place a look!
7) Jake Owen's Kingston Springs, Tennessee Mansion
Status: Sold 
Overview: Jake Owen was not the first country star to live in this gorgeous home. "I'm a Honky Tonk Girl" singer Loretta Lynn previously owned this property. The enormous 4,918 square foot mansion was built in 2006 and boasts 4 spacious bedrooms plus 4.5 bathrooms. View more pictures here.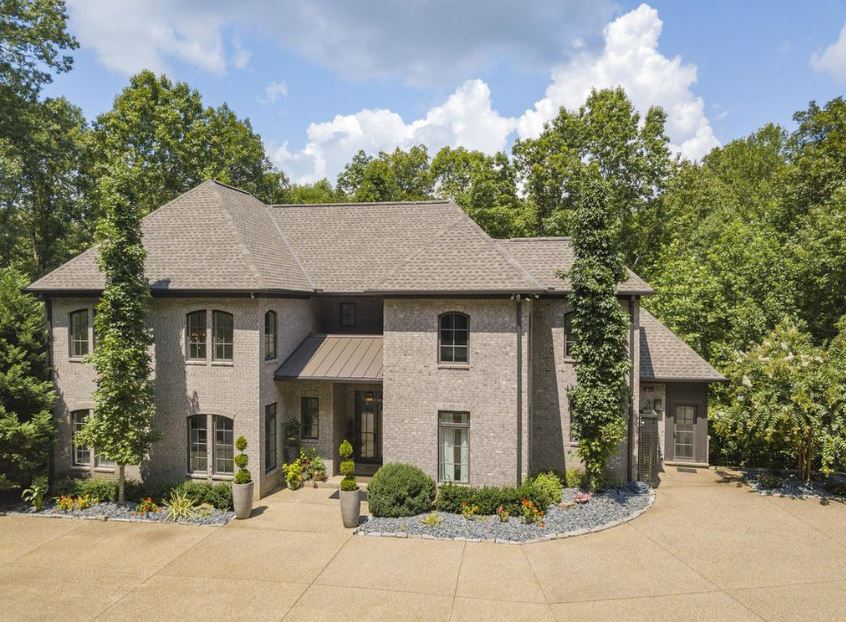 8) Alan Jackson's Franklin, Tennessee Domain 
Status: Sold in 2010
Overview: One upon a time, the country music icon and his wife Denise raised their three daughters in a mansion partially inspired by Gone With the Wind's Tara plantation. The stately 18,622-square-foot home dubbed "Sweetbriar" sits upon 135 acres of land. The impressive property features a 10-acre lake, boathouse, swimming pool, barn, separate 20-car garage, and other top-notch amenities for Although, the country music singer-songwriter and his loved ones no longer resides in this slice of rural paradise— it's still fun to take a virtual tour of the place!
9) Reba McEntire's Lebanon, Tennessee Estate 
Status: Sold 
Overview: The former Starstruck Farm mansion has been turned into an events venue. In 2017, the stately 13,000-square-foot home in was sold for $5 million. The property consists of seven bedrooms, five full bathrooms, a chef's kitchen, home theater, wine room, eight-car garage, pool, guest house, barn, and even more high-dollar features. The venue is now open and operating!
View Reba's home before the renovations below and see the makeover here!
10) Keith Urban's Franklin, Tennessee Getaway
Status: Sold in 2018
Overview: Power couple Keith Urban and Nicole Kidman's former secluded property is nestled on over 35 acres and touts a 5,086 square foot home with four bedrooms and four full bathrooms as well as two half baths. The gated property also has a guest cottage, barn, garden, and trails to enjoy. Get a better look at the place here.
Share these country music star homes with other country music fans and click the image below to visit our YouTube channel, then hit the red button to "Subscribe" to future country music news videos!