These twelve country music stars have some of the best tattoos in the industry, proving that awesome ink isn't just for rappers and rockstars.
These 12 country music artists with tattoos are rocking some awesome ink! While some of them have deep and personal meanings, some of these artists admit to some mistakes in the form of permanent ink on their skin. Fortunately, they can laugh about it. Plus, their talent makes up for any embarrassing tattoos! Check out this list of country music tats.
Country Music Stars With Tattoos
1) Keith Urban's Ink: He loves the symbolism of his tattoos. Some of his tats sweetly honor his wife, Nicole Kidman: his right bicep has "Nicole" written with hearts around it and his right wrist has a Celtic symbol with her initials, NMK. But Urban also has an eagle on his right shoulder blade and a Native American thunderbird on his left forearm, which he feels symbolizes the saying "what doesn't kill you makes you stronger."
You can spot his newest tribal tattoo covering his right hand in the video below!
View this post on Instagram
2) Miranda Lambert's Winged Pistols: She is known for being sweet and sassy, and this tattoo definitely represents that! On her left forearm, she sports two guns with wings, showing both sides of her country personality. She also has a few other tattoos: one on her foot honoring the foundation she created called MuttNation, which helps animal charities across the U.S. and another one on her wrist of a music note that matches her friends and fellow singers RaeLynn and Gwen Sebastian. She also has an arrow, cross, 'tumbleweed' script, large playing card-like ink, and a feather.
3) Blake Shelton's Deer Tracks: His tattoo sparks a lot of jokes because it doesn't look like deer tracks to some people. He drew it up and got it tattooed after a wild night, but his buddies joked that the deer tracks looked more like ladybugs. So, he went back and added the barbed wire to try to make it appear more manly. To him, it unfortunately didn't help improve the tattoo, and he even says it's the worst tattoo in country music, possibly in the entire world.
4) Brantley Gilbert's Tattoos: He's got too many tattoos to keep up with. One of his more recent tats is a giant cross on his chest. The sleeve on his left arm has special meaning. It illustrates heaven and hell, which is reflective of a bad car accident that Brantley survived. His giant back tat displays is support of the 2nd Amendment. The country boy has an abundance of ink, and it fits his bad-boy personality quite well.
5) Charles Kelley's (Lady A) Beatles Tattoos: His tattoos honor one of the most famous bands: The Beatles. On his right forearm, he sports lyrics to "Blackbird" in black ink. He also has the flower of life on his left bicep. While it refers to his motto from another Beatles' song, "Across the Universe," Kelley also felt it just looked cool!
View this post on Instagram
6) Zac Brown's Land of the Dead Ink: Front man for the Zac Brown Band has many incredible tattoos, but some of his most detailed and beautiful pieces is the sleeve on his right arm. It includes Land of the Dead animation-style band members, and it's full of color! He also has the first initials of his wife and kids on his right arm, showing his love for his family. (Fun Fact: He once owned a tattoo shop in Georgia called Southern Ground Social Club. It includes a restaurant, art gallery and a knife and leather shop.)
View this post on Instagram
7) Jason Aldean & Luke Bryan's Matching Tattoos: What happens when you take two deer hunters and give them a dare? Well, Aldean and Bryan accepted a challenge from Duck Dynasty's Willie Robertson and both ended up with Buck Commander logo tattoos!
8) Tim McGraw's "Jesus Fish":
He has four tattoos that mean something to him, one being the "Jesus Fish," which is also called ichthys. It is on the inside of his right arm, and on the other arm, he has the initials of
his daughters
and wife, Faith Hill. However, McGraw also has one piece of ink that was a young and dumb decision, and therefore no photo evidence can be found. Apparently, it is a leprechaun wearing a cowboy hat, and it's on his thigh. He says he was 22 years old and drunk at 3 a.m in New Orleans, so it was a mistake.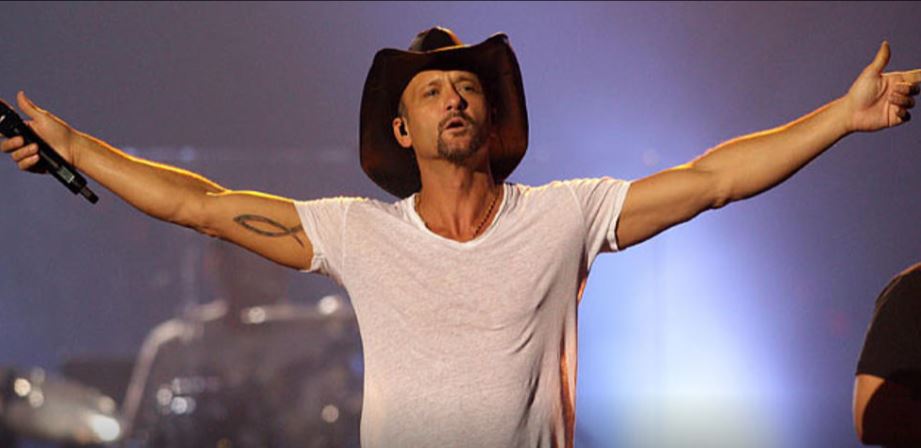 9) Maren Morris' Longhorn:
She shows off her Lone Star State roots with this beautiful tattoo of a longhorn skull. It is both colorful and elegant with the flowers that surround it. As she said in her Instagram post, the tat represents "a little Texan sass, a little feminine."
View this post on Instagram
10) Kane Brown's Microphone: Kane Brown has lots of pretty cool ink— our favorite is the detailed microphone on his left hand and wrist. He also has ink to honor his daughter, Kingsley.
View this post on Instagram
11) Joe Don Rooney's (Rascal Flatts) Eagle: This tattoo stands out, mostly because his bandmates remain un-inked. The eagle on Rooney's left arm is the only known tattoo belonging to a member of the country group…
12) Brett Young's Words of Wisdom: It's simple, but meaningful. The words under his right forearm say, "if it feels like home, follow its path." On his other arm, he inked "where words fail," which is shortened from the saying, "where words fail, music speaks." He also has the gates of Heaven on his chest.
View this post on Instagram
Did we miss anyone? Share this country music stars with tattoos list with other fans!