Check out these ten Blake Shelton facts and instantly boost your country music trivia knowledge! More on the star here...
Country music artist Blake Tollison Shelton, 42, is no stranger to the public eye and appears to be everywhere these days— from the famed Grand Ole Opry stage to television sets nationwide with The Voice. Despite his mega-watt superstar status, there are still a few things that even the most avid fan may not know about the endearing Oklahoman. Enjoy the following collection of interesting Blake Shelton facts !
First some background, Shelton first made waves in the country music scene with his 2001 debut single "Austin." In addition to his music career, he is also known for his work on reality TV singing competitions, most notably on The Voice, and his string of high-profile relationships— from 2003 to 2006 he was married to high school sweetheart Kaynette Williams, from 2011 to 2015 he was married to fellow country star Miranda Lambert, and he's currently romancing ska-pop pioneer Gwen Stefani.
10 Blake Shelton Facts
1) In the early 2000's Shelton was a proud pet parent to a turkey he cleverly named "Turkey." Sadly, his feathered friend died of heat stroke in the summer of 2003 and never got the chance to attend an award show with the star as planned.
2) Blake knew his curly mullet looked bad, but kept it for the sole purpose of irking people. We've seen worse mullets…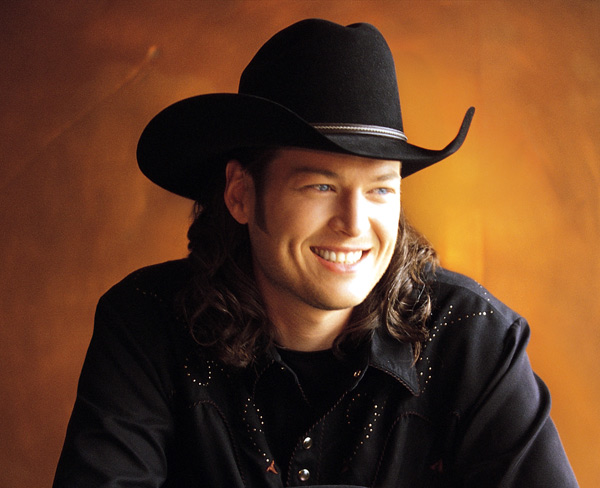 3)
The Voice
isn't Shelton's first experience with reality TV singing competitions. The country star was also a coach on
Clash of the Choirs
and
was a judge on the 2007 season of
Nashville Star.
(The same show that kicked off ex-wife Miranda Lambert's career in 2003.)
4) Shelton's 24-year-old brother, Richie, died in a car accident in 1990 when Blake was just 14-years old. Richie's death inspired Blake and Miranda to write the tune "Over You" together, which was then recorded by Lambert.
5) The rugged Oklahoma native detests one thing above all— bare feet. He doesn't think that a simple pair of flip-flops is enough coverage either…
6) Blake used to get mistaken for fellow country music artist, Joe Nichols. So much so, that people at festivals used to get mad at Blake for not playing songs they thought he was famous for— oops.
7) "Austin" almost wasn't Shelton's first single. Initially he was supposed to record "I Wanna Talk About Me," which was later released by Toby Keith.
8) His mom Dorothy put him in pageants as a youngster. He was so humiliated by the experience of performing Ted Nugent's "Cat Scratch Fever" and Bob Seger's "Old Time Rock 'n' Roll" at the glitzy events that he almost quit singing for good.
9) In 2008, a fan quietly gave Blake a live iguana lizard hidden in a paper sack as a gift. He didn't discover his 'special friend' until he got onto his tour bus and it jumped on him.
10) Blake considers "Ol' Red" to be his signature song and loves performing the tune live.
Now you know tons more about the amusing country music entertainer. Share these Blake Shelton facts with other fans and trivia fanatics!