Country music singer-songwriter Blake Shelton's brother, Richie Shelton, passed away 32 years ago ...more on how the tragedy changed him...
Country music entertainer Blake Shelton experienced a great personal loss when he was just 14-years-old. On November 13, 1990, Blake Shelton's brother Richie Shelton, died in a tragic car accident at 24-years-old. Richie's 20-year-old girlfriend was driving over a hill and slammed into the back of a school bus picking up passengers. Richie, his girlfriend, as well as her 3-year-old son all died as a result of the car accident.  Richie Shelton was born on July 6, 1966 in Ada, Oklahoma.
Richie Shelton
"Look, you're never gonna get over it," the Oklahoman candidly shared in a 2018 interview with
Cowboys & Indians
. "For me, my brother was my big brother. I mean, I wanted to be him. I wanted to look like him, dress like him, listen to what he listened to and be into the things he was into. So when he was killed in a car accident, it was literally like the world went silent. There was a void in my world all of a sudden, and I'm still not over it. I'm just used to it."
Richie Shelton, Endy Shelton, & Blake Shelton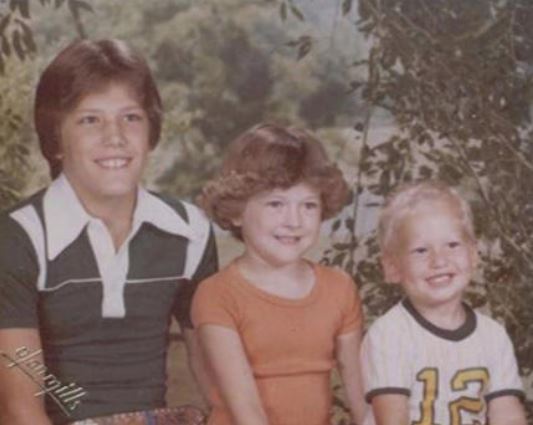 Fortunately for Blake, having a close-knit extended family helped him cope with this unexpected tragedy.
"I could always, and I can still always, count on my family. I could always count on seeing everybody I was related to at least a couple times a year. My family is huge. And when we used to get together — I mean all of us, the entire family — you could always count on an enormous Thanksgiving and a gigantic Christmas. When my grandmother was still alive, she was the glue that kept us all together," the star reflected. "When we'd start to plan these gatherings, we'd be like, 'Where are we even gonna do this?' There were a couple of times when we actually had to rent a building somewhere so we could fit everybody in. But since she passed away, it's a little sparser. This cousin will get together with that cousin. We all see each other eventually, but not as much as we used to."
As country music fans know so well, Shelton co-wrote the tune "Over You" with former wife Miranda Lambert. The song was inspired by the death of Richie Shelton and its lyrics were pulled straight from real-life experiences. Watch the official music video below.
Miranda Lambert Over You Music Video
"Over You" Lyrics 
Weather man said it's gonna snow
By now I should be used to the cold
Mid-February shouldn't be so scary
It was only December
I still remember the presents, the tree, you and me
But you went away
How dare you, I miss you
They say I'll be OK
But I'm not going to ever get over you
Living alone here in this place
I think of you, and I'm not afraid
Your favorite records make me feel better
'Cause you sing along with every song
I know you didn't mean to give them to me
But you went away
How dare you, I miss you
They say I'll be OK
But I'm not going to ever get over you
It really sinks in, you know
When I see it in stone
'Cause you went away,
How dare you, I miss you
They say I'll be OK
But I'm not going to ever get over you
We are sure Richie Shelton would be very impressed by his little brother's rise to stardom. Share this closer look at Blake Shelton's brother with other fans.