Enjoy watching a video tour of Jason Aldean's New Home outside of Nashville as the family completed their move-in June 13, 2020. . .
Country music superstar Jason Aldean's new home outside of Nashville, TN is finally completed and the family moved into the house in mid June of 2020.   Jason and Brittany can now just stay home for date night.  You can even play golf at the new house.  Watch this clip of chair dancing in front of the indoor simulated golf game and see more videos below.
Jason and Brittany Chair Dance Video
The Tiki bar by the pool is open for business and Jason shared this post of his dog trainer's pup fetching him a cold one.
The above video could have been captioned "Dog gives Jason Aldean Corona".  However, we will stick with the pup fetchin' Jason a cold one.  Aldean's dog Saint appears to be enjoying the new pool.  Not sure when Saint will try out the new water slide featured in the background.
Saint by the New Aldean Pool and Water Slide
Watch the 2 video tours of the new house and check out their 'move in" celebration posts below.  The first video shows footage of the house after completion.  The second video shows a more extensive tour of the entire home and outdoor area while the house was under construction.
Jason Aldean's New Home (Completed Footage)
The "under construction" video tour shows much more extensive footage of the entire house and various rooms.
Jason Aldean's New Home Outside of Nashville, TN (Under Construction Video Tour)
Jason Aldean's New Home features 8 bars, a bowling alley, Koi pond, gym, Pool with Grotto and a massive water slide.  The move-in was just in time for Brittany's birthday as she turned 33 years old on June 19, 2020.  The completed swimming pool and grotto is stunning.
Jason Aldean's New Home:  Swimming Pool, Grotto and Tiki Bar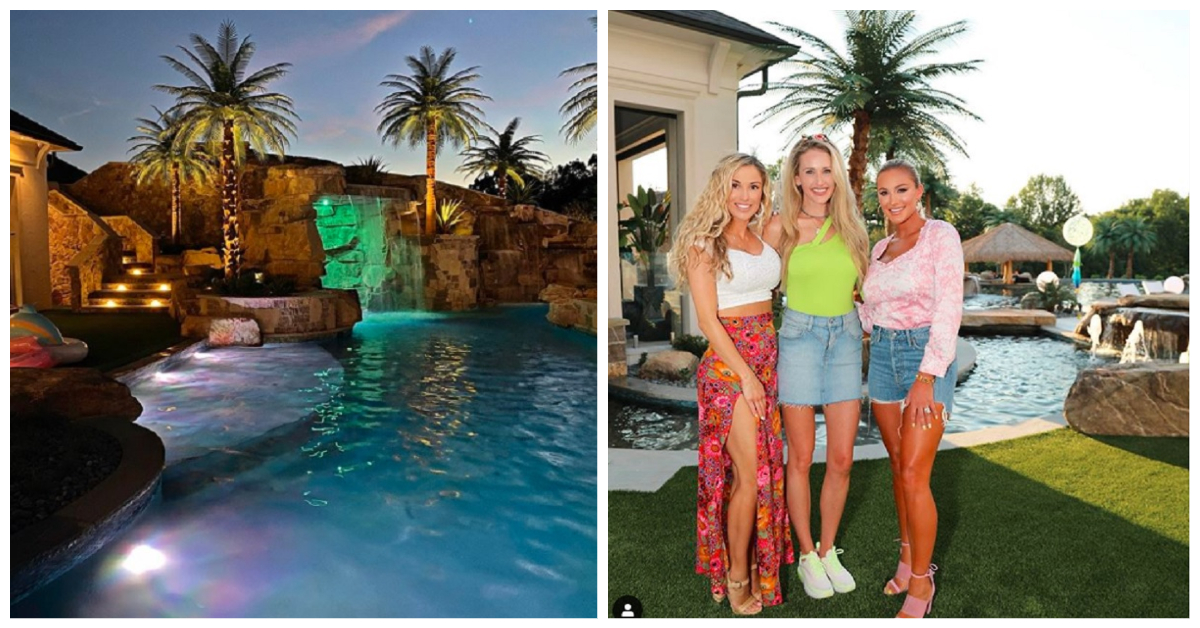 Brittany posted on June 12, 2020 that the family is moving into the new home on Saturday, June 13th.  The family has been staying at their beach home in Florida while the new home was completed.
Brittany shared this image of her completed closet that was shown in the "Under Construction" video tour above.
Brittany announced the new home move-in date from their beach house in Florida.
The move-in appears to have been successful as Brittany shared this toast to the 2 year project being completed.
Here is the fist picture of Memphis and Navy Rome at the new Nashville Home.  It will be fun to see the first images of Memphis and Navy Rome trying out the new water slide.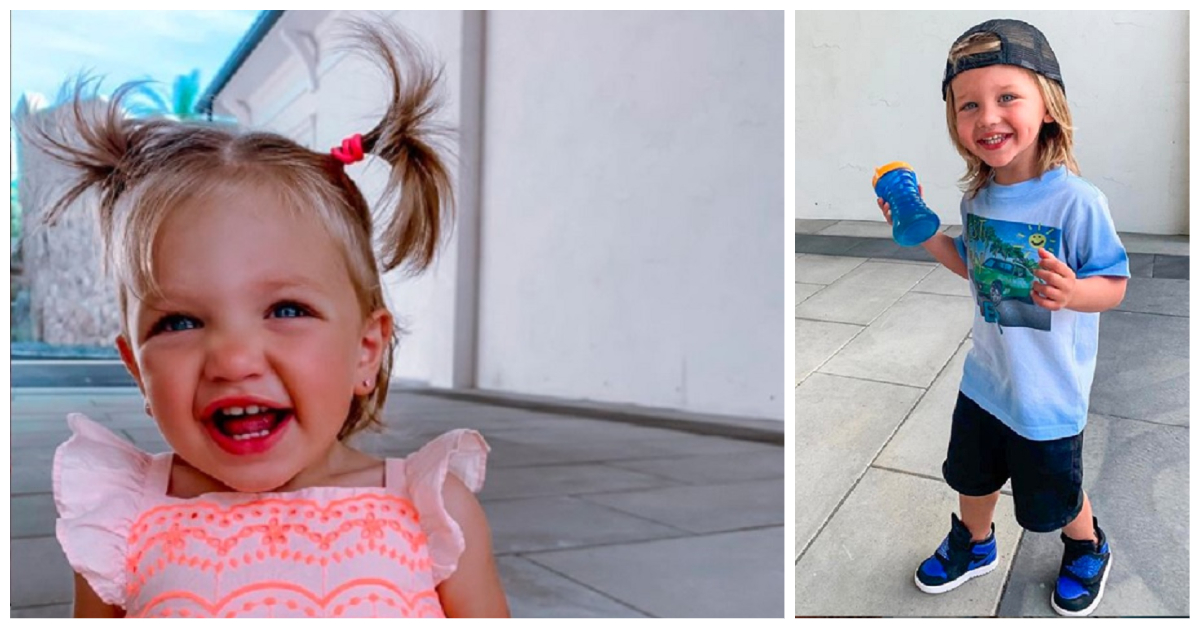 While the new Nashville home was under construction, the Aldean family split time living in Kane Brown's former home after they sold their Tennessee estate and spending time at their beach home in Florida.
"We've been working on it for about two years and we finally are moving in in mid-May," Jason shared with PopCulture at the beginning of the year. "We got it set up. This is going to be our forever home. We put everything we had into this, and making sure it was something really cool, that we love living in."  The mid-May target date for completion slipped a month and the house became move-in ready in mid-June.
According to Jason, the new place has at least one really jaw-dropping feature that is sure to be popular with guests.
"We actually want our backyard to look like a Corona beer commercial, I think," the star continued "We got big palm trees going in, in the back yard. We've got tiki bars, a pool; it's going to be stocked.  "We can actually, probably film one of these Corona commercials in my back yard once it's all fixed up."
Needless to say, the family's new home is HUGE and will have plenty of room for the Aldean's friends and family to come visit. Besides Memphis and Navy Rome, Aldean also has two older daughters, Keeley and Kendyl, with ex-wife Jessica Ussery. We're sure the two young ladies are looking forward to their father's new place being finished!
As of right now, the family plans to have their new Tennessee estate act as the family's 'home base' while also spending a lot of time during the summer at their newly remodeled Florida beach house. While Jason is on tour, the Aldean family lives in a very comfortable tour bus.  Watch the video below for a tour of their Florida Beach home.
Jason Aldean's Florida Beach Home (Video Tour)
The Aldean family will now split time between the new Nashville home and the Florida Beach house.  Remember to "share" Jason Aldean's New Home tour with other Country Music fans!