Enjoy watching the Luke Bryan's Farm and home video and see why this property is perfect for his sons and the entire family . . .
Luke Bryan's Farm and home is everything that he and Caroline wanted for raising children.  The home, guest house and party barn were designed by local interior designer Chad James on their 150-acre property.  The inspiration for the barn came from Bryan's visit to Blackberry Farm just outside of Knoxville.   Watch the video for a tour of Luke and Caroline's home and farm property and see additional details below.
Luke Bryan's Farm and Home (Video)
Take a tour of Luke Bryan's home and Red Bird farm in this video update.
Luke Bryan Homes: Farm South of Nashville, TN (Red Bird Farm)
Country music entertainer Luke Bryan and wife Caroline certainly have their hands full at home. The Bryan family moved into their new abode south of Nashville, Tennessee outside of Mt. Pleasant and Columbia, TN.  Of course, sons Thomas "Bo" Boyer, Tatum "Tate" Christopher, and teenage nephew, Tilden (18) have made the process an adventure. The couple named their farm Red Bird Farm after Luke's sister [Kelly] and wanted to honor Chris as well." Kelly passed away unexpectedly in 2007. Luke's farm also includes a special barn for rescued animals named Brett's Barn.
Luke's main farm home is lovely and looks just like a house on a farm should.  The two-story structure has three bedrooms, two bathrooms, a living room, a kitchen, an upstairs media room, a front porch, and a screened-in porch on the side.  James finished the 1,800-square-foot guesthouse first so that the Bryan family could move in while the 7,000-square-foot barn and just under 10,000-square-foot main house were being built.
Luke Bryan's Main House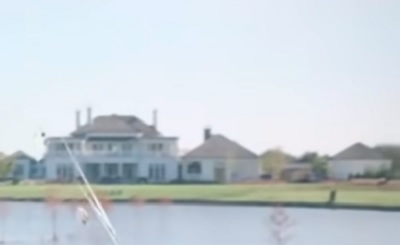 The guesthouse boasts three bedrooms, two bathrooms, a living room, a kitchen, a media room, a front porch and a screened-in porch that leads down to the bass and catfish pond.
Luke Bryan's Farm:  Guest House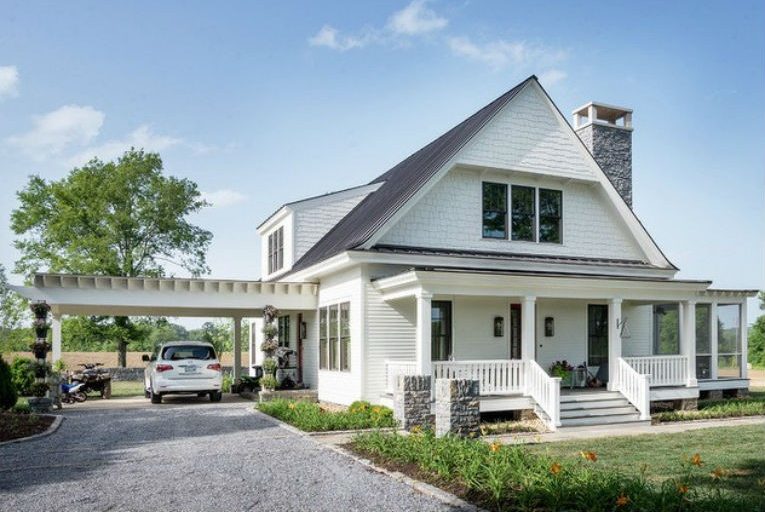 Luke Bryan's Farm:  Party Barn
The party barn (pictured below) is pretty amazing.  If you visit his house, you might just want to stay in the party barn!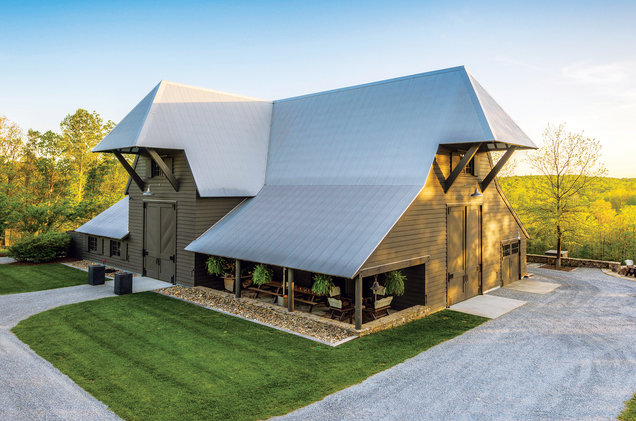 Luke Bryan's Farm:  Brett's Barn
Brett's barn on the farm honors the memory of a very special baby. The barn honors the couple's late niece Brett (pictured below).  Brett is the daughter of Caroline's brother Bo Boyer and his wife Ellen. Baby Brett passed away from a heart condition in 2017 at just seven months old.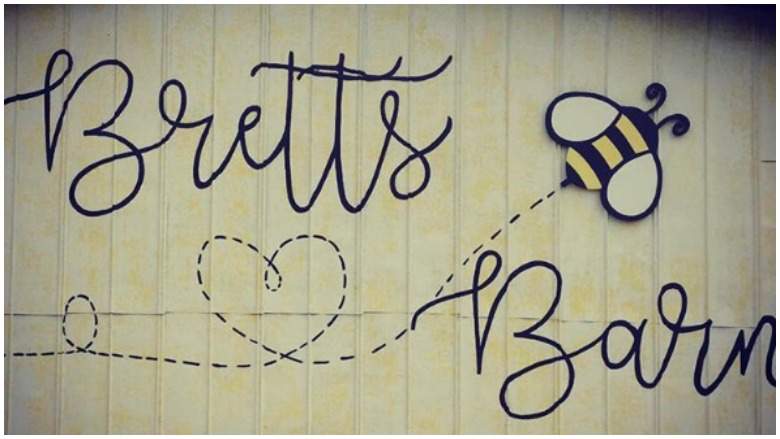 "Brett's Barn is the result of a promise that Caroline Bryan made to her niece, Sadie Brett Boyer. That promise was that she would buy her a pony. And, she did. A precious white miniature pony named Kilo was the first animal to call Brett's Barn home. Since then, many more animals have come to the barn and are a gentle symbol of Brett's life and the love shared for her by so many".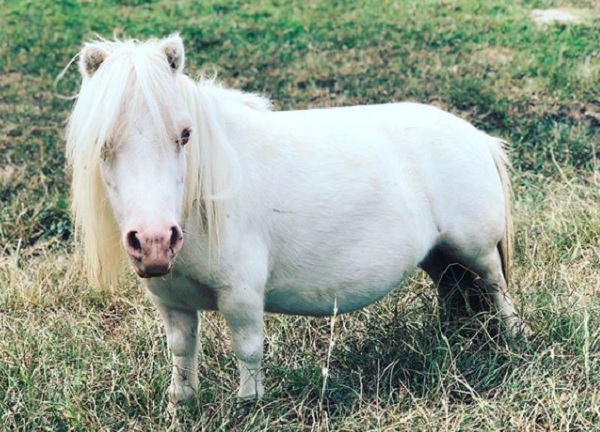 Brett's barn helps host special events and raises donations for 
The Brett Boyer Foundation
. All donations support research to advance treatment options for kids living with congenital heart disease.  Brett's barn is filled with rescue animals including a special white pony. The barn houses a rescue goat named Goober Goldsby (who was abandoned shortly after birth), several miniature horses, pigs, and at least one donkey.  Caroline revealed that she had promised Brett a pony and she delivered her promise via a special white horse named Kilo… "We always knew we would find (for Brett) the perfect pony, but never thought she wouldn't be here to love it" she wrote via an Instagram post.
Luke Bryan's Family 
Luke and his wife Caroline Boyer Bryan are raising their nephew Tilden alongside their sons Bo and Tate.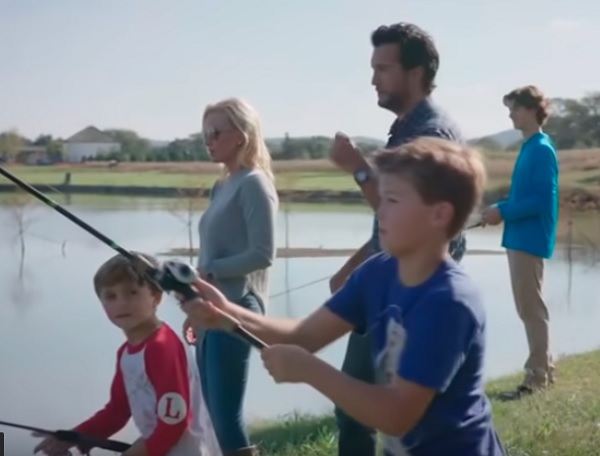 The couple also look after their adult nieces Kris and Jordan.
Luke Bryan'
s nieces and nephew are under his care after the tragic deaths of their father and mother.  Bryan's older sister Kelly passed away in 2007 due to undetermined reasons, followed by her husband Ben Lee Cheshire in 2014. After Ben's death from a possible heart attack, Luke and wife 
Caroline
 gladly opened their home to Kris, Jordan, and Tilden aka "Til." While Kris and Jordan are now young adults, Til is in high school and is being raised along side his cousins, 
12-year-old Thomas Boyer Bryan "Bo" and 9-year-old Tatum Christopher Bryan "Tate."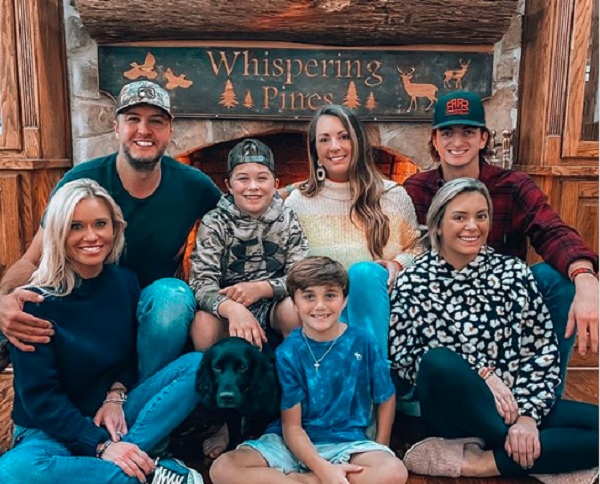 Luke Bryan's Farm:  What Makes You Country and Huntin, Fishing, and Lovin Every Day Music videos
Watch this playlist of two Luke Bryan music videos that feature some shots of the farm and are all about farm living.
Luke's "What Makes You Country" video was directed by longtime collaborator Michael Monaco and was features some shots at Luke's farm. It features his sons Bo and Tate, his nephew Til and a few of their close friends. The song, written by Luke, Dallas Davidson and Ashley Gorley,is the fourth single from his #1 debuting and RIAA certified gold album What Makes You Country. 
Luke's music video for "Huntin',Fishin' and Lovin' Every Day" — also features his family and many great shots of his farm property.
Remember to "share" this with other Country Music fans.