Kelly Clarkson's estranged husband, Brandon Blackstock, has a very famous stepmother! More on the talent manger and father of four, here!
Like his father Narvel Blackstock, who was married to country music superstar Reba McEntire from 1989 to 2015, Kelly Clarkson's estranged husband Brandon Blackstock, 44, also works as a talent manager— his clients include Blake Shelton.  Watch the video to learn more about Kelly's soon-to-be ex- husband below.
Get to Know Kelly Clarkson's Ex, Brandon Blackstock
Upon meeting Brandon for the first time in 2006, the frequent country music collaborator was instantly drawn to him.
"We met years ago when I was working with Rascal Flatts, and he used to tour manage with him. I didn't really know he was [my manager's] son and it was kind of weird. I was like 'dude, I gotta know that guy.' We were just in a room together, and then he came up and said he was from the same hometown as me and I was like, 'oh we're so getting married,' I was so that girl. When he became single, I was on the prowl," she admitted in a past interview with Ryan Seacrest on his KIIS FM radio show.
After dating for a year, Brandon popped the question to Kelly in December 2012 and she made the big life announcement via her WhoSay account, "I'M ENGAGED!!!!! I wanted y'all to know!! Happiest night of my life last night! I am so lucky and am with the greatest man ever :)"
The pair got hitched on October 20, 2013 at Blackberry Farms in Walland, Tennessee, which is nestled in the Great Smoky Mountains. Brandon's children, Savannah and Seth, from his previous marriage to Melissa Ashworth were also involved in the scenic and very intimate ceremony.
Just months before getting married, Kelly made the following confession to US Weekly, "I want two kids. Two more, that is. I've already got two!"
Well, her wish came true! On June 12, 2014 Kelly and Brandon welcomed daughter River Rose into the world and son Remington Alexander followed not long after on April 12, 2016. Kelly, whose own father was absent during her life, loves how Brandon parents his children.
Kelly with her daughter River and son Remi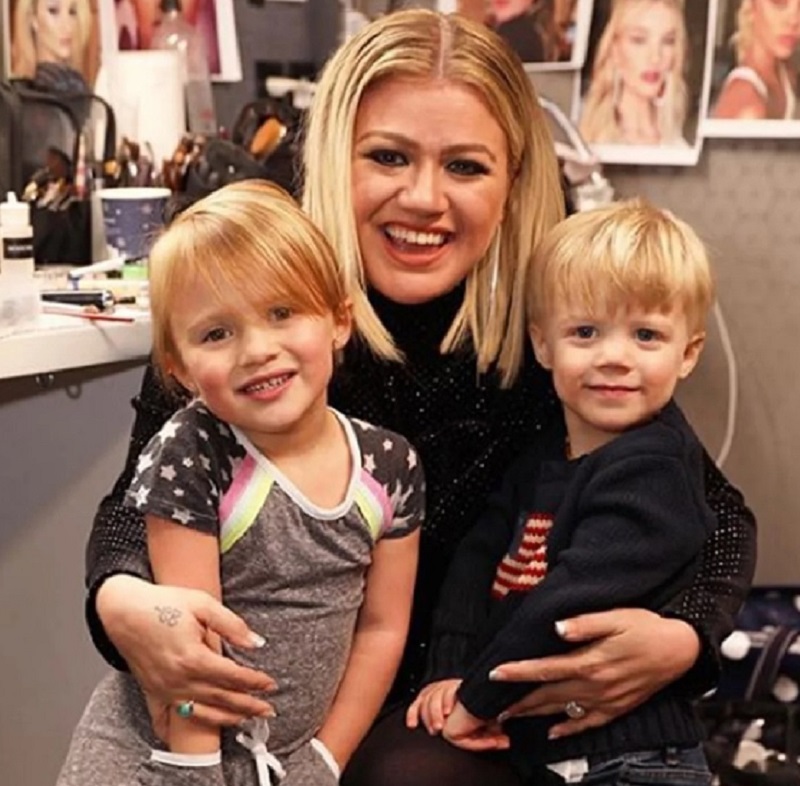 "Watching my husband love on his daughter all the time, you know, go to her events and just be there and, like, be present is, like, hard to watch but beautiful to watch," Clarkson admitted Ryan Seacrest during a 2016 radio interview. "I know that my kids are going to have that."
Not long after returning from self-isolating with her family at their ranch in Montana, Kelly filed for divorce on June 4, 2020. Despite the separation, the star thanked Brandon via Twitter for believing in her and convincing her to do The Kelly Clarkson Show after winning a Daytime Emmy Award for her talk show.
Thank you so much to @BBlackstock for believing in me & convincing me to do @KellyClarksonTV show and @lifeofT for being the greatest friend/assistant #BestEmilyICouldHaveAskedFor 🤣 #DaytimeEmmys2020

— Kelly Clarkson (@kellyclarkson) June 27, 2020
Currently, the former couple's Tennessee and California estates are on the market. No official word on who will take possession of the Montana ranch, but Kelly Clarkson's estranged husband has some real cowboy skills from his prior Wyoming experiences. Although this spilt has been dramatic at times, we hope they come to a amicable resolution.
Share this closer look at Kelly Clarkson's estranged husband, Brandon Blackstock, with other fans!