Get to know Jason Aldean's second wife (Brittany Kerr) here!
Meet Jason Aldean's Wife (Brittany Kerr / Brittany Aldean)
Jason Aldean's first marriage to high school sweetheart and the mother of his two young daughters, Jessica Ussery, hit the skids after Aldean admitted to acting inappropriately with former American Idol contestant Brittany Kerr. The country music standout filed for divorce on April 26, 2013 citing irreconcilable differences after 11 years of marriage.
Fans probably remember this notable Facebook post from September 2012 after he was caught on-camera smooching Brittany at a bar on the Sunset Strip in West Hollywood.
 Which prompted Jason Aldean to respond in Social Media.
Hey Guys – I wanted to talk to you directly, so you were hearing the truth from me and not just reading allegations made…

Posted by Jason Aldean on Sunday, September 30, 2012

Kerr also apologized for her part in the scandal, "The actions I portrayed recently were not a representation of my true character, but a lapse in judgment on my part," Kerr stated, as reported by TMZ.
Despite the drama aftermath, Aldean and Kerr put up a united front and first stepped out as a couple publicly at the 2014 CMT Awards and got hitched in Mexico on March 21st, 2015. Jason's two daughters, Keeley and Kendyl, acted as junior bridesmaid and flower girl during the beach ceremony.
Brittany Kerr also appears in Jason's music video for his single, A Little More Summertime.   Watch the music video starring Jason and his wife Brittany Kerr below!
Judging from this recent snapshot the Aldean family, all appears quite peaceful.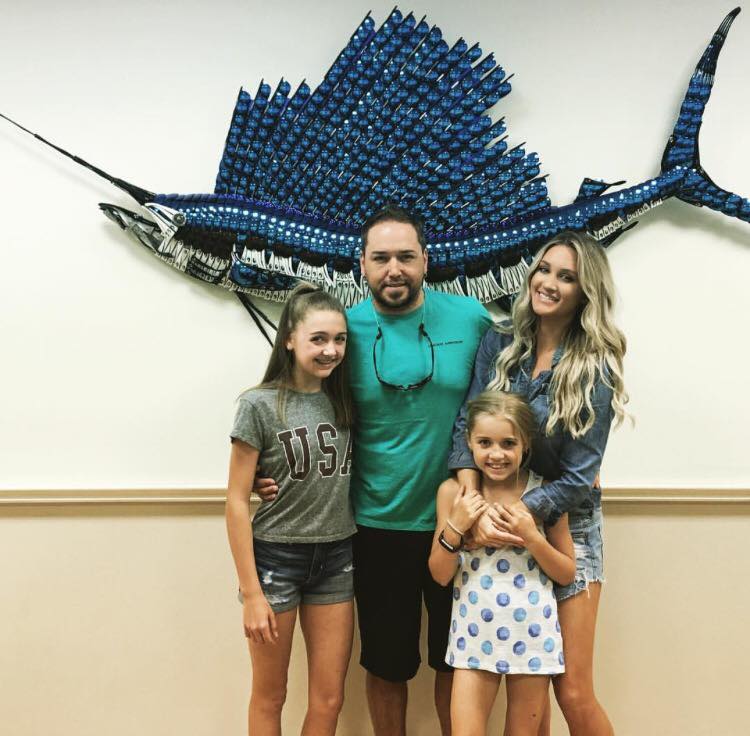 So who is the new Mrs. Aldean? Well, let's get to know the statuesque blonde!
Vital Brittany Kerr / Brittany Aldean Stats:
Hometown: Charlotte, NC
Birth Year: 1988
Height: 5'5″
College Major: Human Environmental Science
NBA Affiliation: Charlotte Bobcats, the Lady Cats Dance Team (2011 to 2012)
Modeling Aspirations: "Modeling is my secret passion. In 2010 I entered a Victoria's Secret Model Search contest and I placed in the top 80!" posted Kerr on her website.
Reality TV: American Idol, Season 11
Random Fact:  She is a first degree black belt.
Check out Brittany Kerr's American Idol audition below!
In April, Jason accepted the coveted 'Entertainer of the Year' award at the 2016 Academy of Country Music Awards in Las Vegas and made sure to show some PDA with Brittany before making his way to the stage to accept the honor.
Watch this video where the couple answers fan questions:
Brittany also has a YouTube channel under Brittany Layne where she shares make-up and beauty tips:
After one year of marriage under their belts, these two show no signs of cooling off!
See how much you know about Jason Aldean's first wife (Jessica Ussery) by clicking here.