Enjoy watching a video about Kenny Chesney's life and review this collection of ten Kenny Chesney facts and think twice before shaking the country music singer-songwriter's hand...
Country music superstar Kenny Chesney was born as Kenneth Arnold Chesney on March 26, 1968.  He has recorded 20 studio albums and produced more than 40 Top 10 singles on the US Billboard Hot Country Songs and Country Airplay charts. Many of his songs have also charted within the Top 40 of the US Billboard Hot 100, making him one of the most successful crossover country artists ever.
Watch the video about the 53-year-old's life journey and discover some interesting Kenny Chesney facts below!
The Life of Kenny Chesney Video
10 Kenny Chesney Facts
1) Early Ambitions: As a child, Kenny Chesney wanted to grow up to be a star athlete— but his 5'8″ frame caused him to turn to music during high school instead. His mother (pictured below) bought him his first guitar.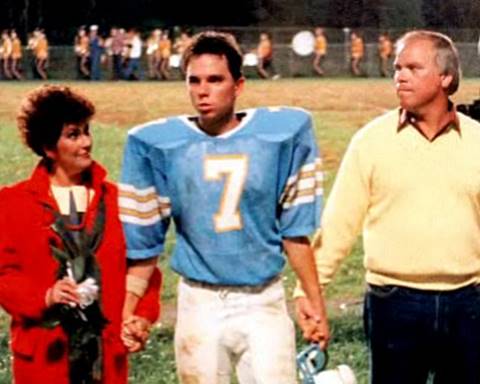 2) Bad Habit:
Chesney bites his nails.
3) Guilty Pleasure: When Kenny wants a break from his extremely healthy diet, he opts for a plain grilled cheese sandwich with extra salt.
4) Grooming: Kenny dislikes bar soap and prefers a good body wash. He also takes multiple showers a day.
5) Famous Person Pick: If he could sit down with one person, living or dead, Chesney would select late author Ernest Hemingway in order to pick his brain on topics such as creativity, love, loss, and life.
6) Pet Peeve: When fans with long fingernails grab his hand too hard and squeeze.
7) No Hair, Don't Care: Kenny started balding in his late teens.
8) He's Been Arrested: Back in 2000, Chesney and good friend Tim McGraw were arrested after Chesney mounted a policeman's horse and McGraw held back the officers trying to stop him. They went to trial the following year, but were acquitted on all charges.
9) He's a Lucky Man: He was supposed to be shooting a new video at the World Trade Center on the morning of 9/11, but an equipment delay caused the plan to be nixed at the last minute.
10) He Has Accepted Food as Payment: As a student at East Tennessee State University, Chesney performed at small venues near campus for $5 an hour and free enchiladas.
Learn anything new about the successful crossover country artist? Be sure to share these Kenny Chesney facts with other members of No Shoes Nation!
As a related video, take a tour of Kenny's house outside of Nashville.
Kenny Chesney Facts: Tour Kenny's Tennessee Estate