Take a tour of Jason Aldean's homes including his new Nashville based estate and his beach house in Florida.
Jason Aldean's homes are now complete as his 2 year Nashville estate construction is finally finished and the Florida Beach house was remodeled last year.  The family moved into their Nashville home on June 13, 2020.  Check out the video tours (Nashville Home vs. Florida Beach Home) of each home below and let us know which one you prefer.
We have included 2 videos of the Nashville home and 1 video tour of the Florida Beach house.  The first video shows some limited footage that the couple shared of the completed home.
1)  Jason Aldean's Homes:  Nashville, TN Home (Finished)
This video shows more extensive footage of the entire Nashville house while the house was been constructed and some footage when the house was nearly finished.  The third video below shows the Florida Beach house.
2)  Jason Aldean's Homes:  Nashville, TN Home Under Construction (Video)
Jason Aldean's New Home outside of Nashville features 8 bars, a bowling alley, Koi pond, Pool with Grotto and a massive water slide.
"We've been working on it for about two years and we finally are moving in in mid-May," Jason shared with PopCulture at the beginning of the year. "We got it set up. This is going to be our forever home. We put everything we had into this, and making sure it was something really cool, that we love living in."  The mid-May target date for completion slipped a month and the house became move-in ready in mid-June of 2020. According to Jason, the new place has at least one really jaw-dropping feature that is sure to be popular with guests.  "We actually want our backyard to look like a Corona commercial, I think," the star continued "We got big palm trees going in, in the back yard. We've got tiki bars, a pool; it's going to be stocked.  "We can actually, probably film one of these Corona commercials in my back yard once it's all fixed up."
Brittany recently shared this image of the backyard pool and grotto.
Aldean Nashville Home:  Backyard Pool
The Aldean family has been staying at their beach home in Florida while the new home outside of Nashville was completed.  Jason Aldean's Florida Beach Home is located in the 30A corridor on the gulf coast side of Florida and offers stunning views of the Emerald Coast.  Next, watch the Florida Beach home tour and see which of the 2 houses you like best.
Jason Aldean's Homes:   Florida Beach Home (Video)
Needless to say, the family's new home is HUGE and has plenty of room for the Aldean's friends and family to come visit. Besides Memphis and Navy Rome, Aldean also has two older daughters, Keeley and Kendyl, with ex-wife Jessica Ussery.  The Aldean family will now split time between the new Nashville home and the Florida Beach house.
Jason Aldean's Family of 4 Kids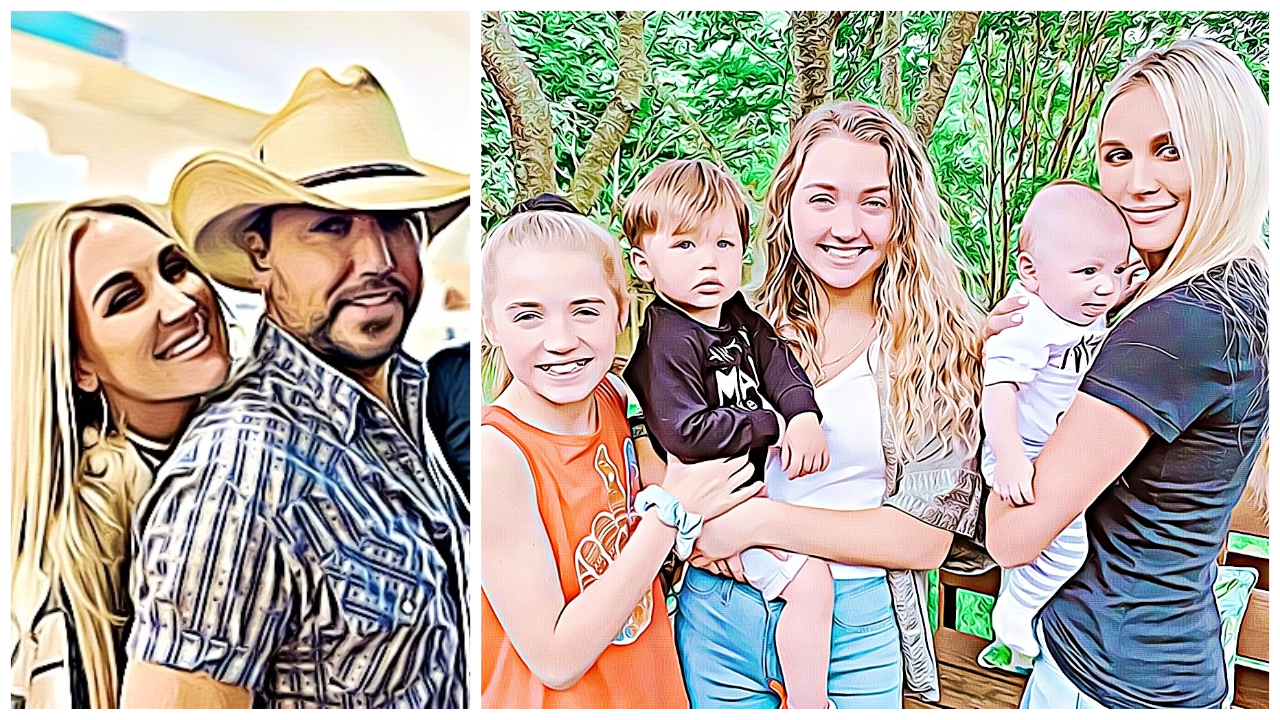 Which home is your personal favorite (Nashville or Florida Beach House)?
Remember to "share" Jason Aldean's Homes with other Aldean family fans!