It was love at first sight for musician Darius Rucker when he met his wife, Beth Leonard, for the very first time. More on their story here!
Many country music fans question, Is Darius Rucker Married?  The answer to that question is definitely Yes!  See how much you know about Darius Rucker's wife (Beth Leonard).
When Darius Rucker first laid eyes on Beth Leonard, his now wife, he knew she was the one. "I don't know what it was about her," Rucker once told the UMG Nashville press room. "I mean, it was EVERYTHING about her. I told her I was going to marry her on our first date."
Darius Rucker with Wife Beth Leonard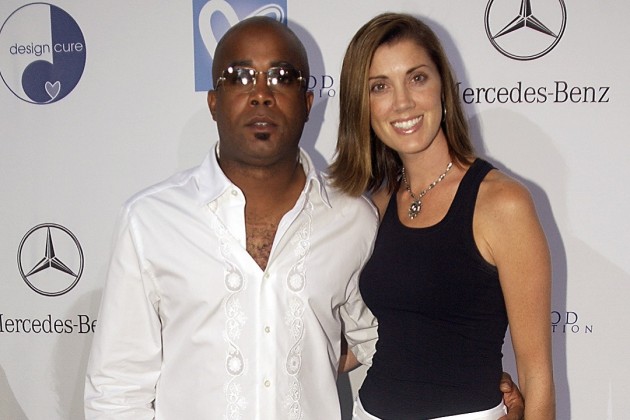 The lovebirds' first meeting occurred in New York, where Beth, a New Jersey native, was working for VH1. It's no accident that she was involved in the entertainment industry, booking talent, planning events and working alongside artists and managers. Perhaps this is one of the reasons she and Rucker connected; she understands the demands of the industry, and is willing to put up with them. Rucker was still rolling with Hootie and the Blowfish at the time, and the young professional took a liking to him while he was in town. Though it was love at first sight for Rucker, Beth preferred playing hard to get.
Darius describes their early interaction as, "I had been trying to get her to go out with me, and she wouldn't. I was in New York [with Hootie & the Blowfish], and it was one of those rare nights off. I didn't have anything to do — we always had something to do when we were in New York! We had the night off, and I was just in my hotel room. She called me and said, 'Hey, do you want to go see this play?' I was like, 'Sure!'"
Now, the happy couple has been happily married for nearly two decades. Their family is complete with three children Daniella Rose (born 2001), Carolyn (born 1995 to Rucker and a former girlfriend), and Jack (born 2005).
Darius Rucker Family
It's not easy being a traveling musician, husband, and father of three all-in-one. Rucker explains that he struggles to keep his marriage alive, just like anyone else. "It really comes down to two people deciding to stay together or not," explains Rucker.
"I work hard to let my wife know how much I love her," he says. "I try to do that every day. Romantic stuff is not something I really remember. I'm sure she could tell you some stuff that I've done that's really cool, but for me, I just want her to be happy. She's a strong woman. It's hard to be married to me, and it was a lot harder when I was younger!"
Is Darius Rucker Married?  Yep. (Wife and Family Photo)
According to Rucker, Beth has been there for him through it all. She backs up his decision to transition from Hootie and the Blowfish to a solo country artist. "The funny thing is, he's actually a country guy, and he always wanted to be a little more country," she explained to
The Boot.
"[Hootie guitarist Mark Bryan] is actually the rock guy, so Mark always wanted the band to be rock rock rock … Hootie's more country than some of those country bands."
It takes a special couple to make a marriage work in spite of the demands of the spotlight. "Beth's a strong woman," he adds. "It takes a strong woman to be married to a musician, especially a musician who was drinking and partying as hard as I was. And I thank her every day for staying with me and being the strong woman she is, because with Hootie & the Blowfish, I could be gone for three months, and then I'd come home for two days, and then I'd be gone again for a month, and she put up with all that."
The ambitious couple is making their crazy lifestyle work, and loving every minute. Rucker is thankful for her being a vital part of his support system during the transition into country music. Beth trusted that the country genre was where he belonged. Thanks to her confidence and his raw talent, Rucker is now a successful country artist with several number one singles and five solo country albums.
"You know, her and country music saved my life," concludes Rucker.
Share the answer to "Is Darius Rucker Married?" with other country music fans.
See Related article:  Darius Rucker Bio and Key Facts
Share this with other fans of Darius!