Country music star Luke Bryan and wife Caroline Boyer Bryan have been married for over 15 years! Get to know Mrs. Bryan here!
Country music superstar Luke Bryan met his wife Caroline Boyer Bryan aka Lina Bryan back when they attended Georgia Southern University in Statesboro, Georgia. Fast forward over 20 years later and the attractive couple is now red-hot country music royalty!
Watch the video about her and see more interesting facts below!
 Get to Caroline Boyer Bryan Video
Learn more fun facts about the woman who stole Luke's heart below.
20 Caroline Boyer Bryan Facts
1) Luke Bryan has a tattoo of his wife's initials in a place where only she can see it— on his famous bottom.
2) Caroline kissed Luke first! He was too worried about making her feel uncomfortable, so she made the move herself.
3) She has her husband's first initial tattooed on her ring finger.
4) Caroline enjoys a fantastic foot massage from Luke every night before bed.
5) She claims Luke is the messiest of all the guys in her house. Young sons Bo and Tate and nephew Tilden are way easier to clean up after!
View this post on Instagram
6) Caroline and Luke have a 'coffee date' alone each morning to chat and reconnect amid the chaos of the singer's schedule.
7) Caroline doesn't care to know one thing about her husband: how much money he spends on fishing equipment.
8) Caroline did a fun "Trash the Dress" photo shoot with friends and ruined a wedding gown with barbecue sauce! (No worries, the dress she wore wasn't her actual wedding dress…)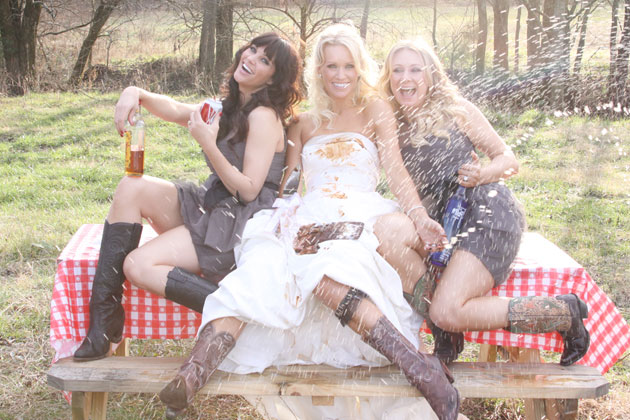 9) You won't find her up in a deer stand accompanying her famous husband while hunting, but she doesn't mind going out on a boat!
10) The college sweethearts broke up for 5 years but reconnected when Caroline invited Luke to her family's Christmas party.
11) Caroline not only wrangles the kids in her household, she also runs Brett's Barn! This special place was established in honor of their late niece, Sadie Brett Boyer, and coordinates with local charities to bring kids out to visit and interact with the animals. Caroline also supports The Brett Boyer Foundation, which was started by her brother and sister-in-law.
View this post on Instagram
12) Caroline's dream is to build up Brett's Barn and make it open to the public!
13) Her favorite television show is The Golden Girls and watches the reruns whenever it's on.
14) Caroline is downright funny and shares a lot via her Instagram account. If you haven't yet, follow her for a good laugh.
View this post on Instagram
15) Caroline's least favorite Luke Bryan single is "Rain Is A Good Thing."
16) When it comes to Luke and Caroline's two sons, Bo is most like his dad and Tate takes after his mom.
17) On March 2, 2020, Caroline stepped into Lunchbox's spot and guest hosted The Bobby Bones Show! Enjoy watching her full appearance below…
18) Besides Luke's music, Caroline loves listening to the Ying Yang Twins, The Pointer Sisters, Adele, and Carrie Underwood.
19) Caroline really dislikes helping her sons with their math homework. She's thrown off by how they teach it now…
20) Caroline can't stand when Luke slurps his coffee.
Share these Caroline Boyer Bryan facts with other country music fans.