Country music star Luke Bryan and wife Caroline Boyer Bryan have been married for over 12 years! Get to know Mrs. Bryan here!
Country music superstar Luke Bryan met his wife Caroline Boyer Bryan back when they attended Georgia Southern University in Statesboro, Georgia. Fast forward nearly 21 years later and the attractive couple is now red-hot country music royalty! Learn fun facts about the woman who stole Luke's heart below.
10 Caroline Boyer Bryan Facts
1) Luke Bryan has a tattoo of his wife's initials in a place where only she can see it— on his famous bottom.
2) Caroline kissed Luke first! He was too worried about making her feel uncomfortable, so she made the move herself.
3) She has her husband's first initial tattooed on her ring finger.
4) Caroline enjoys a fantastic foot massage from Luke every night before bed.
5) She claims Luke is the messiest of all the guys in her house. Young sons Bo and Tate and teenage nephew Til are way easier to clean up after…
6) Caroline and Luke have a 'coffee date' alone each morning to chat and reconnect amid the chaos of the singer's schedule.
7) Caroline doesn't care to know one thing about her husband: how much money he spends on fishing equipment.
8) Caroline did a fun "Trash the Dress" photo shoot with friends and ruined a wedding gown with barbecue sauce! (No worries, the dress she wore wasn't her actual wedding dress…)
Caroline Bryan with the Gals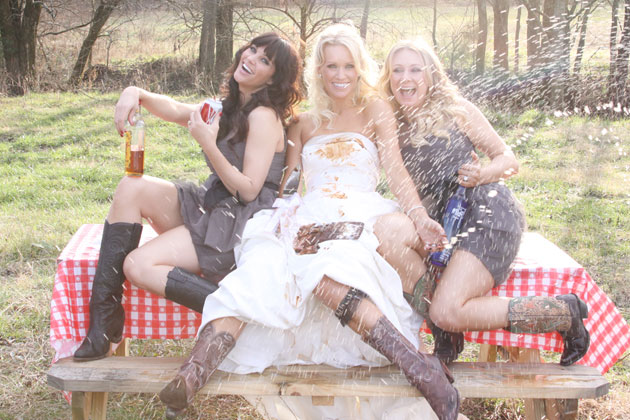 9) You won't find her up in a deer stand accompanying her famous husband while hunting, but she doesn't mind going out on a boat!
10) The college sweethearts broke up for 5 years but reconnected when Caroline invited Luke to her family's Christmas party.
As a bonus, you can watch Caroline make an appearance in Luke's "Crash My Party" music video, spot her below:
Luke Bryan's "Crash My Party" Music Video
Did you know all of these facts? Share these interesting tidbits about Caroline Boyer Bryan with other country music fans!