Country star Shania Twain's husband Frédéric Thiébaud started off as just a friend, but unforeseen circumstances led to so much more!
'Who is Shania Twain married to?' is a common question and the quick answer is— Shania Twain's husband is Frédéric Thiébaud!  Shania Twain and her husband of twelve years have a rather unusual love story. You see, the pair got together after divorcing their respective spouses, Robert "Mutt" Lange and Marie-Anne Thiébaud, who had carried on an affair together. What made matters even worse and more complicated was the fact Marie-Anne was also Shania's best friend and personal secretary.
View this post on Instagram
In an interview with AARP The Magazine, Shania opened up about how she and Frédéric found love in the middle of so much hurt.
"It's twisted," the country star confessed about the start of their romance. "But so beautifully twisted."
Lange put an end to their 14-year marriage in 2008 and the singer-songwriter soon found out the painful truth behind the split from Frédéric.
"There were days I didn't really care if tomorrow came," Twain admitted about learning of the affair and sinking into depression.
Fortunately, Shania and Frédéric were able to lean on each other during this difficult time and eventually a romance blossomed from their friendship.
"Survival is everything," Shania reflects about this time in her life. "I was in quicksand. I panicked, like everybody does, but I didn't surrender. I found a way out."
Swiss-born Frédéric has a daughter named Johanna who is just a year older than Shania's son Eja, who is 20-years-old (born August 12, 2001) and recently bought his first home in the Los Angeles, California area. Thankfully Shania's second husband is also well outside the realm of the music industry, he's a Nestlé business executive.
The pair married in an intimate ceremony on January 1, 2011 in Rincón, Puerto Rico, just weeks after they made their engagement public on December 20, 2010.
"Frederic Nicolas Thiebaud has been a true gift to me as a compassionate, understanding friend and over time, an amazing love has blossomed from this precious friendship," Shania herself wrote about their relationship.
Shania Twain's Husband – Frédéric Thiébaud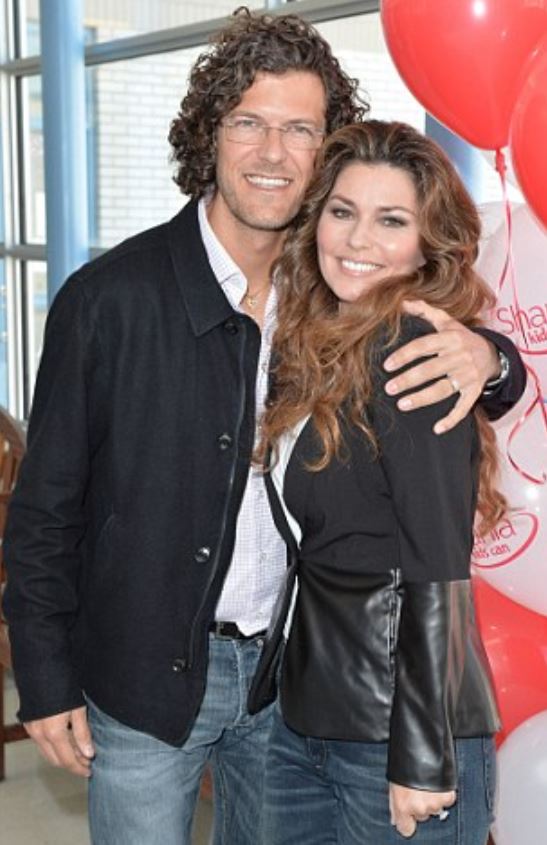 "I describe what happened to Fred and me this way: we were two people who had been jettisoned from our lives as if we'd been shoved off the edge of a high cliff. Thankfully, we managed to grab onto each other on the way down in midair, and break each other's fall," Shania told
Parade
in a past interview with the publication.
View this post on Instagram
Shania Twain's Husband – Frédéric Thiébaud Facts
How old is Frédéric Thiébaud? He is 52-years-old and was born on August 1, 1970.
How old is Shania Twain?  Shania is 57 years old (born August 28, 1965), making her 5 years older than her husband.
What is the nationality of Frédéric? Frédéric was born in Switzerland and is Swiss.
Does Frédéric Thiébaud have any children?  Frederic has one daughter, Johanna, from his first marriage.
What is Frédéric Thiébaud occupation/career?  He works as a business executive at the Switzerland-based company, Nestlé .
Where do Frédéric Thiébaud and Shania Twian live?  They live in the Swiss town of Corseaux, overlooking Lake Geneva as their primary residence.  They also have a home outside of Las Vegas that supports Shania's frequent residency performances in Las Vegas.
We're thrilled that Shania Twain found true love and real healing with Frédéric. If you plan to see Shania in concert sometime, be sure to keep an eye out for her handsome husband!
View this post on Instagram