Country star Shania Twain's husband Frédéric Thiébaud started off as just a friend but unforeseen circumstances led to so much more.
Shania Twain and husband of six years Frédéric Thiébaud have a rather unusual love story. You see, the pair got together after divorcing their respective spouses, Robert "Mutt" Lange and Marie-Anne Thiébaud, who had allegedly carried on an affair together. What made matters even worse and more complicated was the fact Marie-Anne was also Shania's best friend.
"I didn't want to love again-it was the last thing on my mind," Twain reflected on the betrayal during a 2011 interview with People. "It's just amazing how life works."
Love blossomed between Twain and Thiébaud as they worked though their mutual heartbreak and the shake up of two families. "I rejected it initially," the country starlet admitted to the outlet. "But I couldn't control Fred's love for me and how easy he is to love."
Swiss-born Frédéric has a daughter named Johanna who is just a year older than Shania's son Eja, who is now 15-years-old. Thankfully Shania's second husband is also well outside the realm of the music industry, he's a Nestlé business executive.
The pair married in an intimate ceremony on January 1, 2011 in Rincón, Puerto Rico, just weeks after they made their engagement public on December 20, 2010.
"I describe what happened to Fred and me this way: we were two people who had been jettisoned from our lives as if we'd been shoved off the edge of a high cliff. Thankfully, we managed to grab onto each other on the way down in midair, and break each other's fall," Shania told
Parade
.
"Three years after our hearts were broken, together, I feel more love now than any other emotion I've felt since that time. I consider myself the luckiest woman on the planet that I have Fred to share the rest of my life with."
We're thrilled that Shania Twain found true love and real healing with Frédéric. The country music maven's follow-up to her 2002's Up! album will drop in this summer and the Country Music Hall of Fame and Museum's Shania Twain exhibit will run June 26, 2017 through June 17, 2018.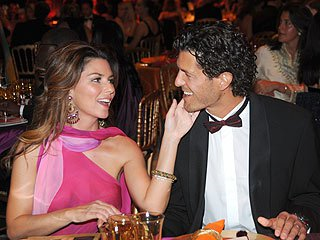 Share this with other fans of the resilient and always entertaining Canadian songbird!