Country music entertainer Luke Combs' wife Nicole Hocking Combs stole his heart with her beautiful crazy! Learn more about her here!
Luke Combs' wife Nicole Hocking Combs met the star back when he had no publishing deal, no record deal, no booking deal, and a very green manager. Nicole and Luke first really hit it off while attending a singer-songwriter festival in Key West, Florida. Nicole spotted Luke walking down the street alone and invited him to hang out with her group of friends— the rest is history!
Watch the video about Luke and Nicole and discover more details about Mrs. Combs and their baby boy below.
Get to Know Luke Combs' Wife Video
In January of 2022, Luke and Nicole announced that they are expecting a baby boy to arrive in the Spring of 2022.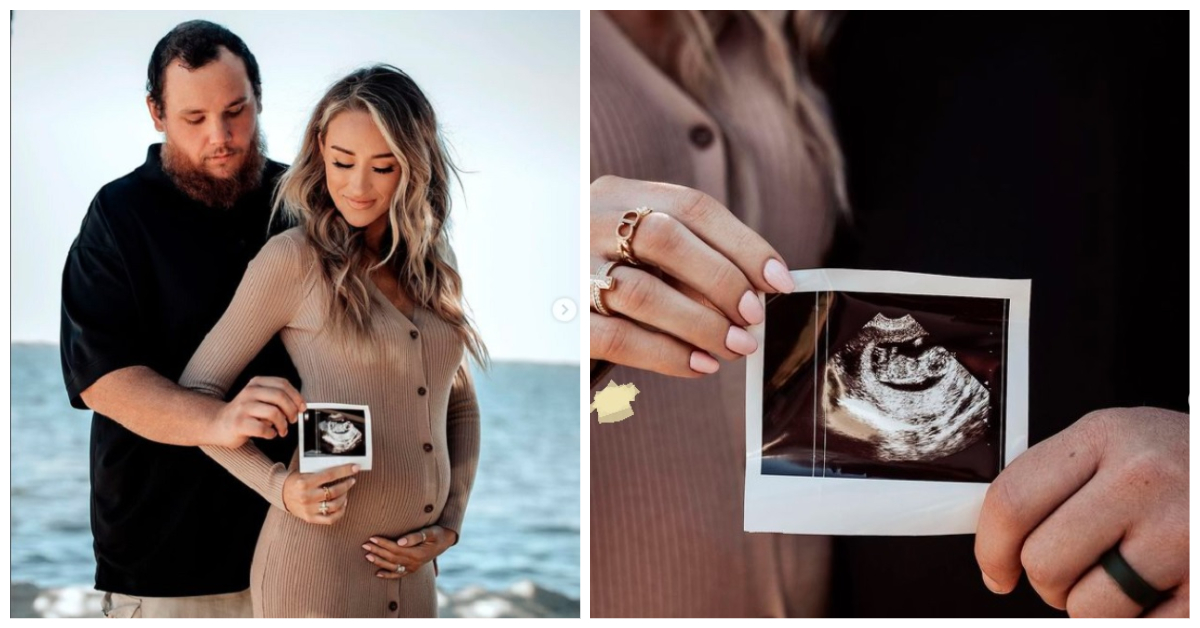 The couple welcomed a baby boy on Tex Lawrence Combs on June 19, 2022.
 Nicole and Luke are fairly active on social media.
View this post on Instagram
The couple got engaged in November 2018 and their engagement story is hilarious. You see, Combs decided to propose while the pair were moving into their new home outside of Nashville. Apparently their two cats, Bucc and Wix, were not happy about their change of scenery and completely freaked out during the relocation process.
"I had bought our cats new collars with our new address on them," Combs shared via the Couple Things podcast in May. "She loves her cat more than anything in the world. He always sits on her lap on the couch, so I had had the ring and I was gonna put it on the cat's collar, was the idea. When we got to the new house and everything, he was gonna jump up on her lap and everything."
Things didn't turn out as planned. Once Luke and Nicole arrived at their new place late that night, things were in disarray and Nicole's cat peed all over the crate on the drive there. Although his proposal idea fell apart, he still wanted to pop the question.
I pretty much just told her what I was going to do," the star shared. "He was like, 'Okay, I got these new collars with the new address on it and oh, I also got you this," Hocking added. "And then he pulls [the ring] out and gets down on one knee, does the whole thing. I black out. I don't remember this."
Obviously Nicole wasn't expecting such a huge thing to happen during a very hectic day. As we all know, she gladly accepted his proposal! The couple just got married on August 1, 2020 during an intimate ceremony in Florida!  Below is Nicole's post about their special day.
Footage from their wedding is featured in Luke's "Forever after All" music video.
Luke Combs' Forever After All Music Video
Luke Combs' Wife — Nicole Hocking Combs Fast Facts
1. How old is Nicole? She was born on July 22, 1992 and is 31-years-old.
2. Does Nicole have any siblings? Yes, a sister named Jenna. Their parents are Larry and Marcy Hocking.
3. Where is Nicole from? She is a native of Florida and grew up in Singer Island, Florida. She attended Rosarian Academy and Cardinal Newman High School in West Palm Beach, Florida.
4. Where did she go to college? Nicole attended Florida Gulf Coast University where she first studied civil engineering.
5. What are Nicole's hobbies? She loves boating, fishing, and shooting sports.
6. Where did Nicole work? At BMI, Broadcast Music Inc in Nashville as a recruiting coordinator.
7.  Does Luke have any songs about Nicole?  Yes, Nicole inspired "Beautiful Crazy" and also inspired his songs "Better Together", "Nothing Like You", "Lovin' On You", and "Forever After All"!
View this post on Instagram
Share this closer look at Luke Combs' wife Nicole with other country music fans!