Luke Bryan and Caroline Boyer Bryan make some incredibly cute little boys!
Luke Bryan married his Georgia Southern University college sweetheart, Caroline Boyer on December 8th, 2006 and have since welcomed two sons, Thomas Boyer Bryan "Bo" on March 18th, 2008 and Tatum Christopher Bryan "Tate" on August 11th, 2010.
In addition to Bo and Tate, after Bryan's older sister Kelly passed away in 2007, followed by her husband Ben Lee Cheshire in 2014, Bryan and his wife began raising their 13-year-old nephew Tilden aka "Til". The teen's older sisters, Kris and Jordan, are frequent visitors to the Bryan home.
"Obviously my nieces and nephew, they didn't ask for this," Bryan relayed to People. "Their life was amazing before Caroline and I took a more prominent role, even after losing their mother. Now my focus is trying to do what we can to help them."
The group is pictured below (clockwise from top left) Kris, Til, Jordan, Tate, and Bo.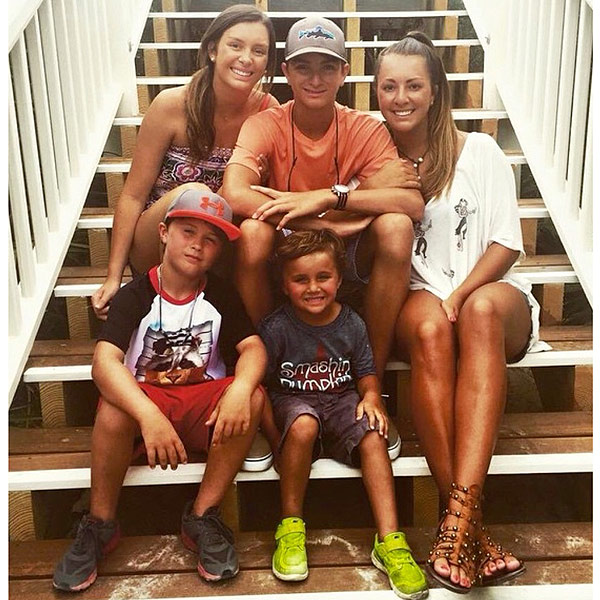 Like most siblings, Bo, 8, and Tate, 5, squabble and wrestle— which sometimes leads to injuries. Back in August, Tate wound up in the ER after roughhousing with his older brother got a little wild. Like any good cousin, Til was FaceTiming the episode while doctors stitched Tate up.
"We got to town and Tate was in the emergency room getting stitches. Bo pushed him down, he hit a chair, got stitches — [and] Til's FaceTiming the stitches!" Luke Bryan explained to Entertainment Tonight, "It's a crazy household right now. Just as long as we can keep 'em alive!"
We love seeing Luke Bryan's devotion to his wife, nephew, nieces, and sons displayed so prominently. Keep up the good work, Luke and Caroline!
Here it is. pic.twitter.com/5N3sl3PpVx

— Luke Bryan (@LukeBryanOnline) November 25, 2015
Also— keep the potentially embarrassing family snapshots coming!