It started with a chance meeting and became the marriage they'd both hoped for--- meet Kenny Rogers' wife, Wanda Miller Rogers!
Country music icon Kenny Rogers' wife, 55-year-old Wanda Miller Rogers, was at his side for nearly three decades. The pair were married for over 24 years on June 1, 1997 and dated for five years prior to tying the knot. They built a wonderful life together and are proud parents of teenage identical twins boys, Jordan and Justin.
Watch the video below and read on to learn more about this lovely lady!
Get to Know Kenny Rogers' Wife, Wanda Miller Rogers
The Beginning
Everything about this 'how'd you meet' story makes you believe in fate. While in college, Wanda Miller worked as a hostess at Pricci Restaurant in Atlanta, Georgia. She just happened to have a shift the night Kenny Rogers came in for dinner. Rogers was meeting a blind date that night. The blind date didn't work out, and later that evening Rogers called the restaurant and asked about Wanda. He left his phone number with one of Wanda's co-workers. She told The Valdosta Daily Times, "I came in the next day and they all said, 'Kenny Rogers called asking about you.' Initially, she didn't believe her co-workers and thought it was a joke so she threw the phone number away. After much persuasion, her co-workers finally convinced her it was real. She returned his call and they started dating. In an interview with People, Rogers shared, "She had the most beautiful smile. I just had to meet her."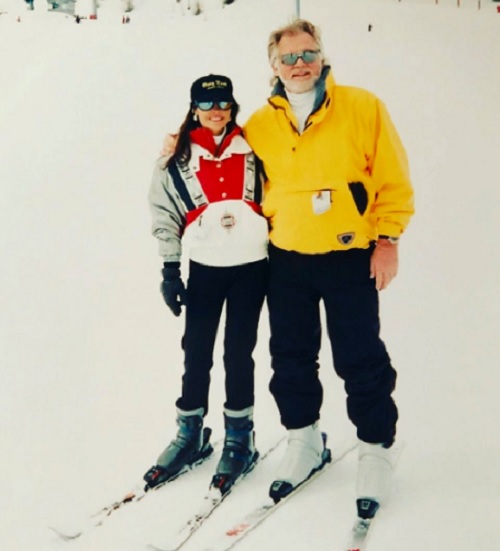 Wanda Miller Georgia Girl
Wanda, the daughter of Charles and Teena Miller, was born and raised in Lowndes County Georgia, graduated from Valdosta High School in 1985, and has a twin sister named Tonia. Wanda and Tonia were born on November 6, 1966.  The sisters graduated from High School in 1985.  When Wanda and Rogers started dating her parents were less than thrilled. In an interview with Fox News, Rogers admitted, "Her parents are two years younger than me, they called me and said, 'We want you to know we didn't appreciate what you're doing with our daughter' and I said, First of all I don't blame you. I don't think I would either, but I will make you a promise. I will never lie to her and I will never lie to you." Rogers kept the promise he made to Wanda's parents and they became close friends.
Finally Getting It Right: Kenny Rogers' Wife Number Four
Wanda and Kenny married on June 1, 1997 at his ranch near Athens, Georgia. It is not the first marriage for either. Wanda's first marriage ended in 1994 and Rogers has four ex-wives. Rogers' previous marriages include: Janice Gordon 1958 – 1960; Jean Rogers 1960 – 1963; Margo Anderson 1964 – 1976; and Marianne Gordon 1977 – 1993. He had three children with Marianne Gordon, daughter Carole, and two sons Kenny Jr., and Christopher.
"I really loved everyone I married. I had something special with everyone of them," Rogers confessed. Even so, his early marriages failed. As an active entertainer, he spent a lot of time away from home. Rogers claimed, "…when you're gone a lot or working too much, you lose the connection." The icon retired from music in order to devote more time to Wanda and their sons. Rogers claimed that he's finally got it right. He shared with Contact Music, "I have so much respect for her… The boys are so lucky to have her and so am I."
Jordan and Justin Rogers were born July 6, 2004.
Wanda and her 2 Sons:  Jordan and Justin
We are happy Kenny Rogers and Wanda Miller Rogers were able to spend
quality 
time together at the end. As fans know, 81-year-old Kenny
passed away
on March 20, 2020 due to natural causes. It is hard to believe that he has been gone for over a year.
Share this closer look at Kenny Rogers' wife with other country music fans.