Enjoy watching Kenny Chesney's rise to Country Music star and see his relationship journey back to bachelorhood in this video update. . .
Kenny Chesney's journey to Country Music star has been hard on his relationships as we look back on his divorce from Renee Zellweger and his dedication to touring and his music career.  Country music hit-maker Kenny Chesney understands the power of great songs to connect people to their own lives. This is a key reason that he holds the record for Billboard's Most Career Country #1 hits.  At 51 years old, Chesney has recorded 20 studio albums, produced more than 40 Top 10 singles on the US Billboard Hot Country Songs and Country Airplay charts. Many of his songs have also charted within the Top 40 of the US Billboard Hot 100, making him one of the most successful crossover country artists ever.  Kenny Chesney ranked #5 on Forbes Top Country Earners of 2019 with earnings of $31M.
Watch the video to take a closer look at Kenny's Life journey so far and see more details below.
Kenny Chesney's Journey to Country Music Star and Bachelorhood (Video Update)
Click the "play" button to watch Kenny Chesney's journey to country music superstar and his struggle to settle down and find his soulmate. . .
Kenny Chesney's Journey:  Childhood
As a child, Kenny Chesney wanted to grow up to be a star athlete— but his 5'8″ frame caused him to turn to music during high school instead. His mother (pictured below) bought him his first guitar.  Chesney used to play football in high school and practiced with the New Orleans Saints as a one-day free agent. When his music career took off, he made sure to include his sport interests in some of his songwriting. "The Boys of Fall" became a No. 1 single, and the singer has also produced a football film for ESPN.  Kenny's high school days at Gibbs High School. he was a multi-sport athlete, playing both baseball and football.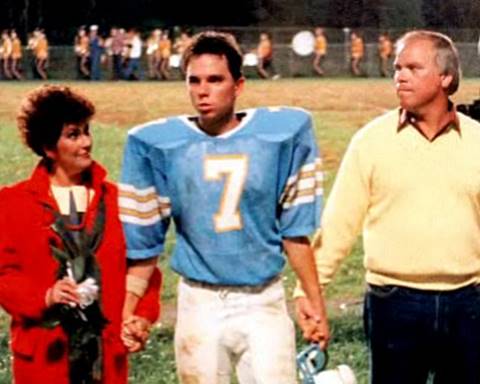 Kenny Chesney's Journey: Prior Marriage with actress Renée Zellweger
The couple had a whirlwind romance, marriage and then annulment in less than one year.  After just four months of marriage, it was over. Their marriage was annulled and the two went their separate ways. Fraud was sited as the reason for the annulment. During a televised interview on 60 minutes with Anderson Cooper, Chesney said that he and Zellweger jointly decided on the "fraud" option, believing it was less harmful than the other options of bigamy, insanity, or force. Chesney claims, "The only fraud that was committed was me thinking that I knew what it was like…that I really understood what it was like to be married, I really didn't."  Zellweger issued a statement clarifying that the term "fraud" was "simply legal language and not a reflection of Kenny's character." Chesney has no regrets about their relationship. He told E! News, "I loved her, you know?  It was real."
Since the split with Renee, Kenny has dated several people including Amy Colley and Mary Nolan.  He currently remains fairly private about his relationships and it is unclear if Mary Nolan is a serious relationship that will move to the next level.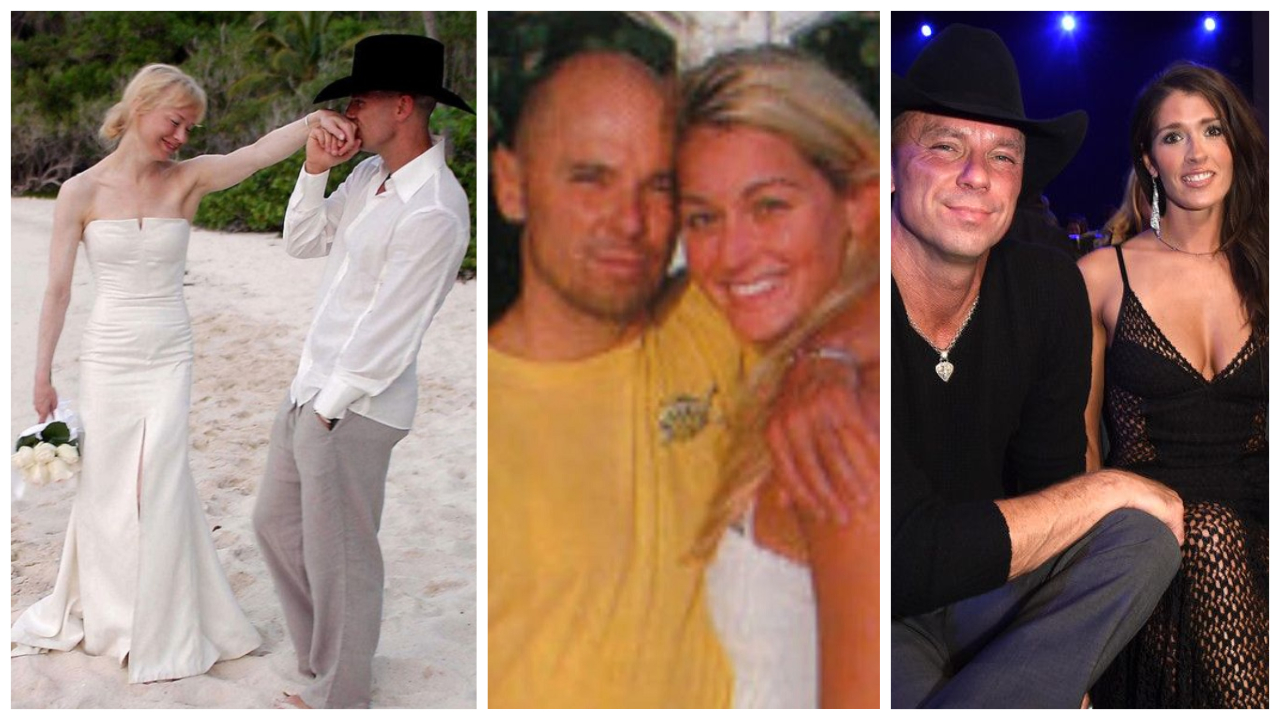 Kenny enjoys spending time on his Yacht.  His current boat is featured in his music video for "Come Over").  His current Yacht is a Riva Domino that has a size range of 86′ – 92′.  The boat is a sleek stunner in the music video and a new version of this boat fully loaded is over $6M.  Below is an image of Kenny's Riva Yacht and we can understand why he likes to escape to cruising on his boat.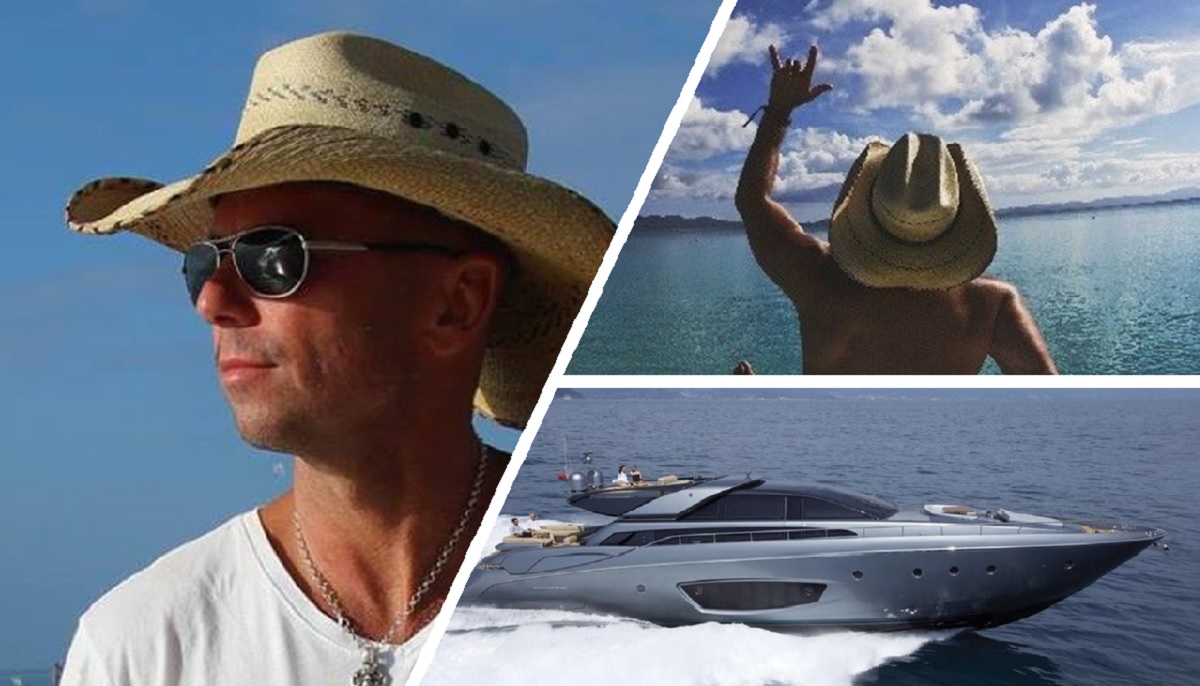 Kenny Chesney Charity Work
Kenny Chesney has been named 2020's Country Radio Broadcasters (CRB) Artist Humanitarian Award recipient.  Chesney's charitable work is far-reaching and approached in a quiet manner. His Love for Love City Foundation helped spearhead the rebuilding of St. John, following the devastation of Hurricanes Irma and Maria in 2017. In addition to humanitarian aid and working with local teams to facilitate physical clean-up and rebuilding, he and his core staff worked to rescue and relocate 2,000+ displaced animals of St. Thomas and St. John to several no-kill shelters and loving families in the United States.  All proceeds from his Songs for the Saints album, which featured Ziggy Marley, Jimmy Buffett, and Mindy Smith, went to the Love for Love City Foundation. Raising over $1.1 million to date, Songs continues to generate funds for St. John's ongoing reconstruction work. Chesney also filled the St. John School for the Arts with a bounty of musical instruments, to inspire the children to go to school and be creative as they recovered from the disaster.
Seeing the bombing at the Boston Marathon, Chesney again embraced action. Working with the Boston Medical Center, he created the Spread the Love Fund to benefit amputee survivors, by selling special edition t-shirts as well as creating a place for donations, including turning a "Good Morning America" Summer Concert appearance into a fundraising opportunity. To date, Spread the Love has accrued over two million dollars – and the beneficiaries, as well as first responders, can often be seen at Chesney's Gillette Stadium shows.
His ongoing commitment to ocean habitat conservation as a whole extends from his years spent on the water. No Shoes Reefs has helped rebuild coral reefs in Jacksonville, FL, as well as supported other local ocean ecology efforts around Florida and the Gulf Coast.
2020 Tour and Latest Album
Kenny as been working on a new album for the past 18 months.  No word on when, album title, or how many tracks will be on the album.  Kenny is gearing up for his latest tour  Chillaxification 2020, With the road wide open, tickets flying and a new year ahead, "I'm ready to get the next wave of my life on in full. I can't wait for people to hear some of these songs – and see them everywhere across the No Shoes Nation."  Kenny has defined success is being happy, writing songs and performing for his fans at a high level.
The East Tennessee native spent a lot of time in 2019 quietly making music, working on songs, and recording as the spirit moved him. The star wanted to dig deeper into the realm of No Shoes Nation, seeking ballads that expanded the horizon and tempo that does what only he can. Kenny Chesney's new album is coming together and he is gearing up for the launch of his 2020 tour.  'Chillaxification' is a concert prescription to live your life to the fullest and forget about the stress of life.  Kenny views music as one of the best healing resources that man-kiind has.   Here are some of the top cities and venues for Kenny's 2020 tour:
Chillaxification 2020 Tour Schedule
April 18 AT&T Stadium Arlington, Texas
April 25 Miller Park Milwaukee, Wis.
May 2 U.S. Bank Stadium Minneapolis, Minn.
May 9 Raymond James Stadium Tampa, Fla.
May16 Mercedes-Benz Stadium Atlanta, Ga.
May 22 Minute Maid Park Houston, Texas
May 23 The Alamodome San Antonio, Texas
May 30 Heinz Field Pittsburgh, Pa.
June 6 Lincoln Financial Field Philadelphia, Pa.
June 13 Busch Stadium St. Louis, Mo.
June 20 Ohio Stadium Columbus, Ohio
June 27 Nissan Stadium Nashville, Tenn.
July 11 Arrowhead Stadium Kansas City, Mo.
July 18 CenturyLink Field Seattle, Wash.
July 25 Soldier Field Chicago, Ill.
August 1 SoFi Stadium Inglewood, Calif.
August 8 Empower Field at Mile High Denver, Colo.
August 15 Ford Field Detroit, Mich.
August 28 Gillette Stadium Foxboro, Mass.
August 29 Gillette Stadium Foxboro, Mass.
…and more dates to be announced.
Remember to "share" this with other Kenny Chesney fans.