Sugarland star Jennifer Nettles' husband Justin Miller appears in one of the band's past music videos. More on the family here...
Sugarland star Jennifer Nettles' husband Justin Miller is an entrepreneur and a former model. The pair mostly keeps their family life under wraps and fans won't find much information about the couple on social media. This happy couple seems to prefer it that way.
Jennifer Nettles' Husband: How They Met
Jennifer met Justin during the making of Sugarland's video "Want To." In fact, the couple shared a bed in the video. Miller, a former model, played the role of the handsome lover. He was well suited for the role with his scruffy beard and sexy features. In real life, Nettles and Miller didn't become romantically involved until years later.  During the making of the video, Nettles was married to Todd Van Sickle. Nettles and Van Sickle divorced in 2007, and later Miller and Nettles dated for over two years before tying the knot.
Sugarland Want To Music Video
Jennifer Nettles' Husband and Son
On November 26, 2011, after several years of dating, Jennifer Nettles and Justin Miller said their vows during a quiet sunset ceremony on Blackberry Farm in eastern Tennessee. Soon after, the couple became parents when their son Magnus Hamilton Miller was born on December 6, 2012. Now, Magnus is 10-years-old and Nettles and Miller have been married for 11 years.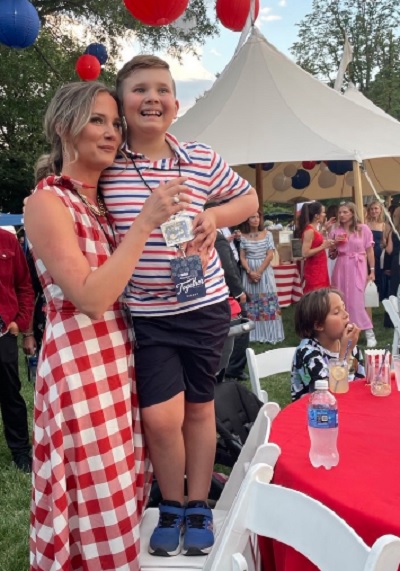 Jennifer does share some pictures of her adorable son on her Instagram account. There's no doubt, Magnus has some amazing DNA.
View this post on Instagram
View this post on Instagram
Be sure to share this look at Jennifer Nettles' husband and son with other Sugarland fans!
"Want To" Lyrics
I've packed a cooler and a change of clothes
Let's jump and see how far it goes
You got my heart and your daddy's boat
We got all night to make it float
We could sit on the shore
We could just be friends
Or we could jump in
Whole world could change in a minute
Just one kiss could stop this spinning
We could think it through
But I don't want to, if you don't want to
We could keep things just the same
Leave here the way we came, with nothing to lose
But I don't want to, if you don't want to
I got your ring around my neck
And a couple of nights I don't regret
You got a dream of a degree
And a shirt that smells like me
Yeah, we both got dreams we could chase alone
Or we could make our own
Whole world could change in a minute
Just one kiss could stop this spinning
We could think it through
But I don't want to, if you don't want to
We could keep things just the same
Leave here the way we came, with nothing to lose
But I don't want to, if you don't want to
Never waste another day
Wonderin' what you threw away
Holdin' me, holdin' you
I don't want to if you don't want to
We could keep things just the same
Leave here the way we came, with nothing to lose
But I don't want to
But you don't want to
But I want you