Country music entertainer Jennifer Nettles' life changed a lot when she got serious with Justin Miller. Learn more about Justin here!
Justin Miller and Jennifer Nettles have now been married for over 10 years. Sugarland's Jennifer Nettles married entrepreneur and former model Justin Miller on November 26, 2011 in East Tennessee. Just over a year later, the pair welcomed their son, Magnus, into the world on December 6, 2012. Learn more about Jennifer Nettles' husband and their relationship through this collection of interesting facts below!
1) Who was Jennifer Nettles married to before Justin Miller?
Jennifer Nettles' first marriage was to Todd Van Sickle, the former owner of Decatur, Georgia's live music venue, Eddie's Attic. The pair married in 1998 and divorced in 2007.
"I didn't get married in the spotlight, and I did not intend on getting divorced in the spotlight," Nettles shared with the media about the divorce. "It was private and sacred to me, and when you hold something sacred, you keep it to yourself."
2) Which Sugarland music video features model Justin Miller as the love interest? 
Justin Miller appeared in Sugarland's music video for "Want To" You can spot a sleeping Justin sharing a bed with his future wife. Though they first met during the music video shoot, they didn't start dating until a couple of years later.
Sugarland "Want To" Music Video
3) What makes Jennifer Nettles the happiest?
It's simple— her son Magnus' laughter, the smell of her husband Justin's neck in the morning, a good cup of coffee, and other down-to-Earth pleasures. Magnus was born December 6, 2012 and is already 9 years old.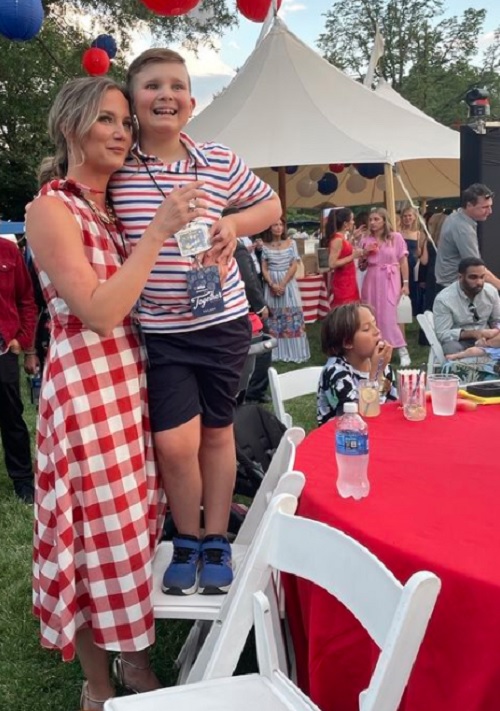 The family also appears to really love dressing up for Halloween in coordinated costumes!
Justin Miller & Jennifer Nettles Halloween 2018
4) Why was the couple's honeymoon delayed?
Jennifer's career obligations caused the couple to have to push their honeymoon plans back. Nettles was set to perform during the live Grammy Nomination Concert and was also hosting the annual CMA Country Christmas special.
5) Where do Jennifer Nettles and Justin Miller live?
Shortly after Magnus was born, the pair relocated from Atlanta to a Nashville-area farm. Nettles wanted to live in a smaller city after living in Atlanta for nearly two decades. The family also owns a property in Manhattan's Tribeca neighborhood and can also be found on the star's tour bus
6) What is the age difference between Jennifer Nettles and Justin Miller?
Jennifer Nettles is 47 years old (born 9/12/1974).  Justin Miller is 37 years old (born on February 14, 1984 in Owensboro).  Justin's birth sign is Aquarius.
 Share this closer look at Jennifer Nettles' husband, Justin Miller, with other Sugarland fans!