Enjoy learning about Garth Brooks Baseball career and see if you can name the three Major League teams that he played with. . .
Garth Brooks Baseball attempts at a pro career actually spanned participation with three teams.  Did you know he was actually signed with professional baseball teams? Yes, Garth Brooks – the country singer – also had talent on the baseball diamond. He was formerly signed with the San Diego Padres and the New York Mets in the 90s, participating in spring training. Later, he signed with the Kansas City Royals.
Garth Brooks High School and College Athlete
In high school, Brooks played football, baseball, basketball and track and field.  He received a track scholarship to Oklahoma State University via his skills throwing the Javelin.  It is interesting that he did not have a college scholarship in baseball and yet still managed to try out and participate on three major league teams.
[Photo:  Pinterest Garth Brooks Oklahoma State]
Garth Brooks Baseball
In adult life, Brooks became a 3 time veteran to pro baseball Spring Training camps having tried out for three Major League teams including:
The San Diego Padres (1998 and '99)
Spring Training with The New York Mets (2000)
Spring Training with The Kansas City Royals (2004).
Garth signed to a minor league contract with the San Diego Padres and had one hit while playing for the Padres.  The country star found it challenging going up against professional pitchers and he went 1-for-22 with San Diego and 0-for-17 with four walks for New York.  He tallied at least one hit for KC with an infield single off Mariners' pitcher Mike Myers.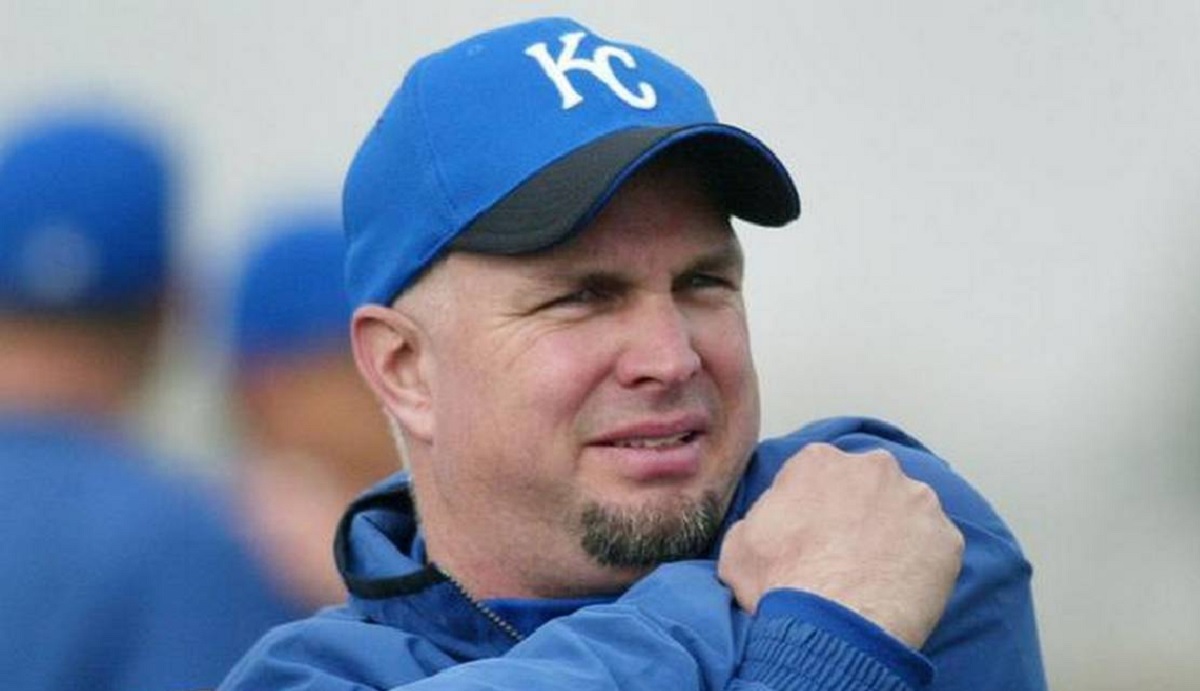 Garth recently returned to Baseball for some Spring Training fun with the Pittsburgh Pirates and posted a few moments to Instagram.  In 2019, at the age of 57, he returned to spring training for a week with the Pirates.
Garth Participates in Pittsburgh Pirates Spring Training
Garth Brooks Baseball and Pirate City
Garth's visit to the Pirates was done to mark the 20th anniversary of the "Garth Brooks Teammates for Kids Foundation" which has raised over $100 million for children's charities. Garth was also a a Pirates fan growing up in Oklahoma.
Garth Brooks baseball participation also including taking batting practice with the Seattle Mariners while he was in town for a concert series in 1998.
Garth ended his pro baseball career and returned to his highly successful Country Music career.  Garth still likes wearing baseball caps and has his very own "snapback" design per the photo below.
Garth Brooks Baseball Hat Design
As Country Music fans, we are lucky that Garth Brooks' baseball career did not work out.  Garth is right where he should be….entertaining Millions of Country Music fans!
Remember to share this with fellow Garth Brooks fans and check out this related article below:
Related article:  8 Country Music Stars that Played Baseball