Garth Brooks was joined by Padres pitcher James Shields and Pirates catcher Chris Stewart.
Garth Brooks Charity support is always a priority for the Country Music legend.  Garth Brooks was back in action in a charitable way this past Saturday in San Diego as he supported his charity Teammates for Kids Foundation.
Brooks stopped by the Tony Gwynn Stadium at San Diego State University to mentor and visit over 100 kids that were participating in the program for under-privileged children.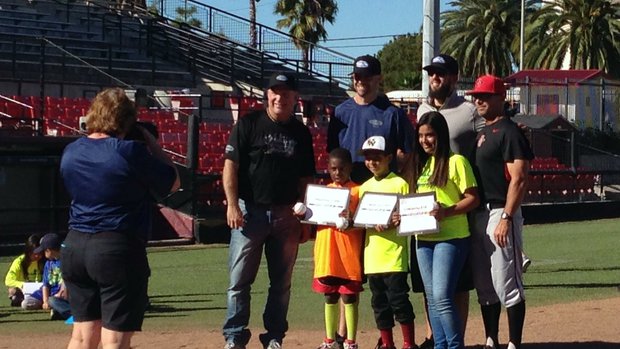 Brooks was joined by Padres pitcher James Shields and Pirates catcher Chris Stewart along with SDSU baseball head coach Mark Martinez.
"The main thing (sports) teaches is teamwork," Brooks said. "It's instant family."
Brooks loves watching his own two girls, who are active in sports.
"I've got all girls, so I love to see all the girls out here; love to see them tearin' it up," Brooks said.
Brooks spoke briefly to the media, but chose to play it low-key and have the focus be on coaching the kids that were there that day.
"It's a tremendous job that Garth has done," Stewart said.
"The biggest is coming out here and having fun. The smiles that you see on these kids' faces throughout the day makes it all worth while for us coming out here."
In 1999 Garth Brooks and Bo Mitchell started the Teammates for Kids Foundation. The organization calls on professional athletes to pledge their time and money to help child athletes in several sports, including baseball, hockey, soccer and even bull riding.
Brooks ended the day with a concert at Valley View Casino Center, where Brooks played five straight sold-out shows over the weekend.
That last Saturday show, Brooks chose to honor a man named Bob Brown that had worked at the casino for 40 years.
After playing his classic song "Friends in Low Places", Brooks stopped the show to introduce Brown to the audience.
"You're going to give your guts up when you find out who this guy is," Brooks said to the crowd.
"Please welcome to the stage Mr. Bob Brown!"
"I was in shock," Brown told ABC10 of the moment he heard his name called. "My legs felt like jelly."
Brooks went on to explain to the crowd how Brown had worked at the Arena's box office and was about to retire. He unstrapped his guitar and signed it on stage, removed his hat and presented it to Brown.
"It hits you like a ton of bricks," Brown explained. "For him to take off his hat as well, they said that was huge."
For all these reasons and more, we LOVE Garth Brooks!
For more Garth Brooks coverage CLICK HERE