Garth Brooks second wife became Trisha Yearwood when they were married on Dec. 10, 2005.
Garth Brooks Second Wife Trisha Yearwood Reaches the 10 Year Mark
Big congratulations to country music's royal couple, Garth Brooks and Trisha Yearwood! The duo have been married for 10 years TODAY (Dec. 10)!
This year has been fantastic for the both of them, they broke multiple records on ticket sales for their world tour and both got neighboring stars on the Music City Walk of Fame. Besides all of their career success, their marriage is stronger than ever.
"I've got to tell you, I never knew it could be like this," Brooks told Ellen DeGeneres.
"I never knew that everyday you could wake up and feel like this. And I have God and I have Ms. Yearwood to thank for this."
Their lives are filled to the brim with performances, family, and their charitable causes, so this year to celebrate their love they have decided to keep it low-key.
"I think we're done [with the tour] a couple of days before the anniversary so it could involve something really crazy like sleeping in," Brooks told ET.
Brooks and Yearwood met in 1987 when Brooks was still married to his first wife and mother of his three daughters, Sandy Mahl.
Brooks was immediately attracted to Yearwood, but was determined to stay faithful to his current wife.
"Being married, it's gotta be right. This is who you went to college with and you were married in front of God and your family and everybody." Still, at the end of the day, "There comes that time where you're looking at the rest of your life and going, 'How do you want to live it?'" Brooks said.
In 2000 Brooks announced his "retirement" from country music then divorced Mahl in 2001. Brooks had decided to focus on his daughters and personal life after having a grueling, yet successful, career as a country music performer.
Yearwood never left Brooks' heart and eventually he found his way back to her. Brooks started seeing Yearwood after the end of his first marriage and the couple were married in 2005.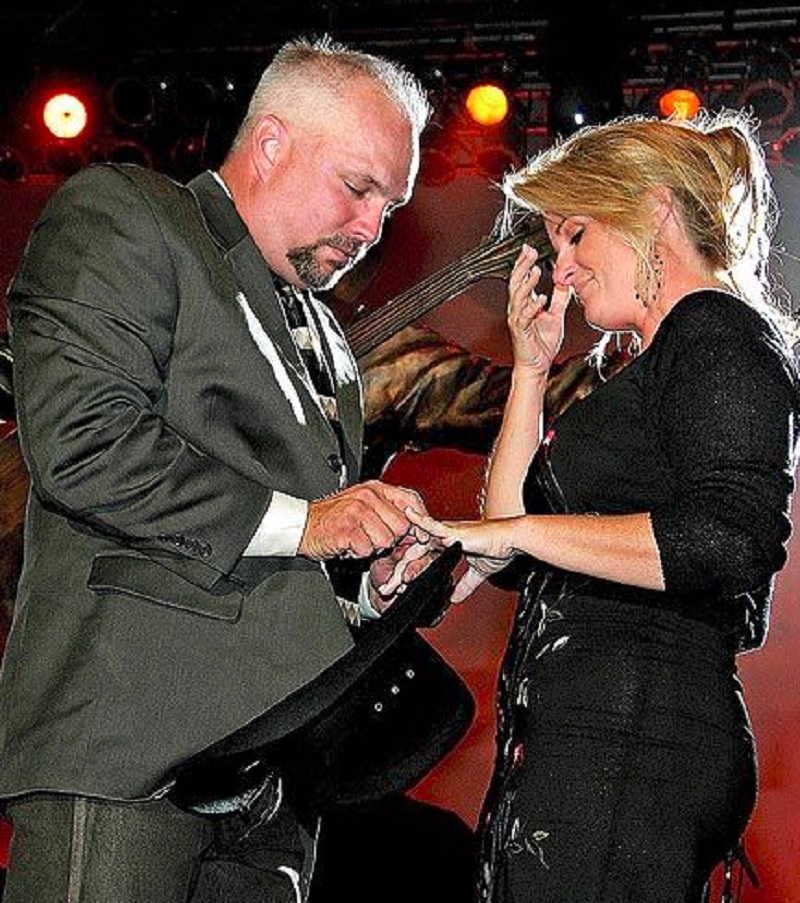 Ten years later, the couple is happier than ever.  Here you can see Garth Brooks discuss his attraction to Trisha Yearwood and why the relationship works:
Yearwood admits that it is hard work, because of their careers. In the spirit of "everything happens for a reason" she says the timing of their marriage was essential to its success.
"We made a commitment when we got married that we wanted to be together, and that sounds like a simple thing to say in a marriage, but this business, and how separate careers are, it makes it hard to be married," Yearwood explains.
"I don't know that I would have been that committed to do that in my 20s, but getting married at 41, I was like, 'I'm ready. This is where I want to be.' And how lucky are we that we get to live that dream, we get to do what we love to do, and we get to do it together?"
Here you can see Trisha Yearwood provide her perspective on what makes her relationship with Garth Brooks special:
Watch the couple perform together live on-stage:
Congratulations on 10 years of a wonderful life together to Garth Brooks and Trisha Yearwood!