The 60-year-old entertainer is an influential country music singer-songwriter, actor, and director. Learn more about Dwight Yoakam's career here!
Country music icon Dwight Yoakam was born in eastern Kentucky in 1956, but was raised in Columbus, Ohio. While attending high school, he became very involved in both music and drama. The future star quickly found himself playing lead roles in school plays while also playing in local garage bands.
After Yoakam graduated high school, he enrolled at Ohio State University but soon dropped out to pursue a music career in Nashville, Tennessee. Unfortunately, Dwight's honky tonk style wasn't fully appreciated in Nashville at that time. In hopes of finding a producer who would enjoy his music, he packed up and moved out to Los Angeles. Around the city, he found chances to play in punk and rock clubs, gaining his own fan group called the "cow-punks."
In 1984, Dwight Yoakam recorded his debut album titled Guitars, Cadillacs, Etc. with his own money.  The album included just six tracks, but it was enough for him to attract notice. His popularity began to rise and he signed his first major recording contract two years later with Reprise Records. That same year, his original EP was re-released with four new songs and an extra "Etc." added at the end of the album name.
Yoakam's perseverance paid off because the album became a success. The first single off the album was a cover of "Honky Tonk Man," originally by Johnny Horton. His cover reached No. 3 on Billboard's country chart and the song "Guitars, Cadillacs" reached No. 4. The album itself climbed to No. 1 and sold over two million copies.
In 1987, Dwight Yoakam released his second album titled Hillbilly Deluxe, which also reached No. 1 on the charts and produced four top ten hits. His third album titled Buenas Noches from a Lonely Room sailed to No. 1 as well! Though these three albums reached the top of the country charts, he did not have individual songs reach No. 1 until his third album produced two No. 1 hits.
Yoakam started his acting career in 1992 with the movie "Red Rock West." He has appeared in several movies including "Sling Blade," "Panic Room," and "Wedding Crashers." He has gained recognition for both his music and acting careers, becoming a well-known, successful country music figure.
Surprisingly enough, Dwight Yoakam has never been married or even engaged. He keeps his personal life to himself and his last high-profile relationship was with Sharon Stone in the early 90's. He chooses to invest his time into his career rather than pursuing women.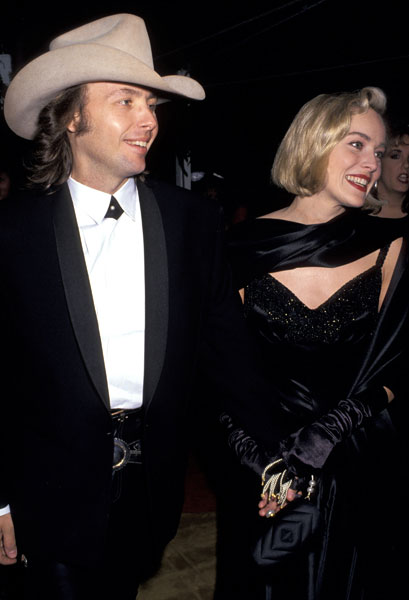 Don't forget to share with other fans of country music!