Enjoy watching the Norma Strait journey to marrying the king of country music (George Strait) and creating a beautiful family in this video update. . .
Norma Strait has been married to George Strait for over 48 years and only Dolly Parton and her husband have a longer marriage run in the Country Music space.  Country music icon George Strait almost missed out on the love of his life (wife Norma Voss Strait).  After George took his lady love on their first date, he didn't ask her out again for a very long time. Thankfully, the country music legend realized his huge mistake and opened up about his actions to CBS Local, "Norma was the first girl I ever loved. We knew each other forever, growing up in a small town. I never really even thought anything about her, but then one day I asked her out and we went on a date. We didn't see each other for a long time after that. Then one day, I thought, 'I'm missing the boat here,' and we started dating again."
Watch the video to discover more about George Strait's wife and see more details of their love story below!
George Strait's wife (Norma Strait Video)
The small town high school sweethearts eloped to Mexico on December 4, 1971. To make their parents happy, the couple then exchanged vows again at a church in Pearsall, Texas. Later that same year, George joined United States Army and was stationed at the Schofield Barracks in Hawaii. Strait began performing with a U.S. Army-sponsored band called "Rambling Country."
Norma Strait and George Strait's kids
Their first child Jenifer was born October 6, 1972 in Hawaii and son George "Bubba" Strait, Jr. was welcomed into the world in 1981. Tragically, Jenifer was killed in an automobile accident in San Marcos, Texas on June 25, 1986, at the age of 13.  In remembrance of their daughter, the family set up the Jenifer Lynn Strait Foundation, which donates money to children's charities in the San Antonio, Texas area.
Bubba graduated from Texas A&M in College Station and pursued a career as a Professional Rodeo Cowboys Association (PRCA) team roping competitor.  Bubba also started song writing and co-wrote several songs for and with his dad.  On August 11th, 2009, George Strait released his 38th album (26th studio album), Twang. The album was Strait's fifth to debut at No. 1 on the Billboard 200. It also marked the first time since 1982 that the "King of Country" had songwriting credits on a record.  Tthe first single, "Living for the Night," was co-written with the legendary Dean Dillon and George's son. Bubba Strait co-wrote three songs and solo wrote "Arkansas Dave" for the album.
Norma Strait and George as Grandparents
George and Norma spend quality time on their ranch near Cotulla, located in between San Antonio and Laredo. In February 2012, the Straits became proud grandparents, George Strait, Jr., and his wife, Tamara, welcomed their first child, George Harvey Strait III. Their grandson is known as Harvey, but is also called "Bubba" like his father. The couple welcomed a daughter, Jilliann Louise Strait, on Sept. 10, 2016 providing George and Norma with a second grandchild.
George and Norma Strait Grandkids (Harvey and Jilliann Louise)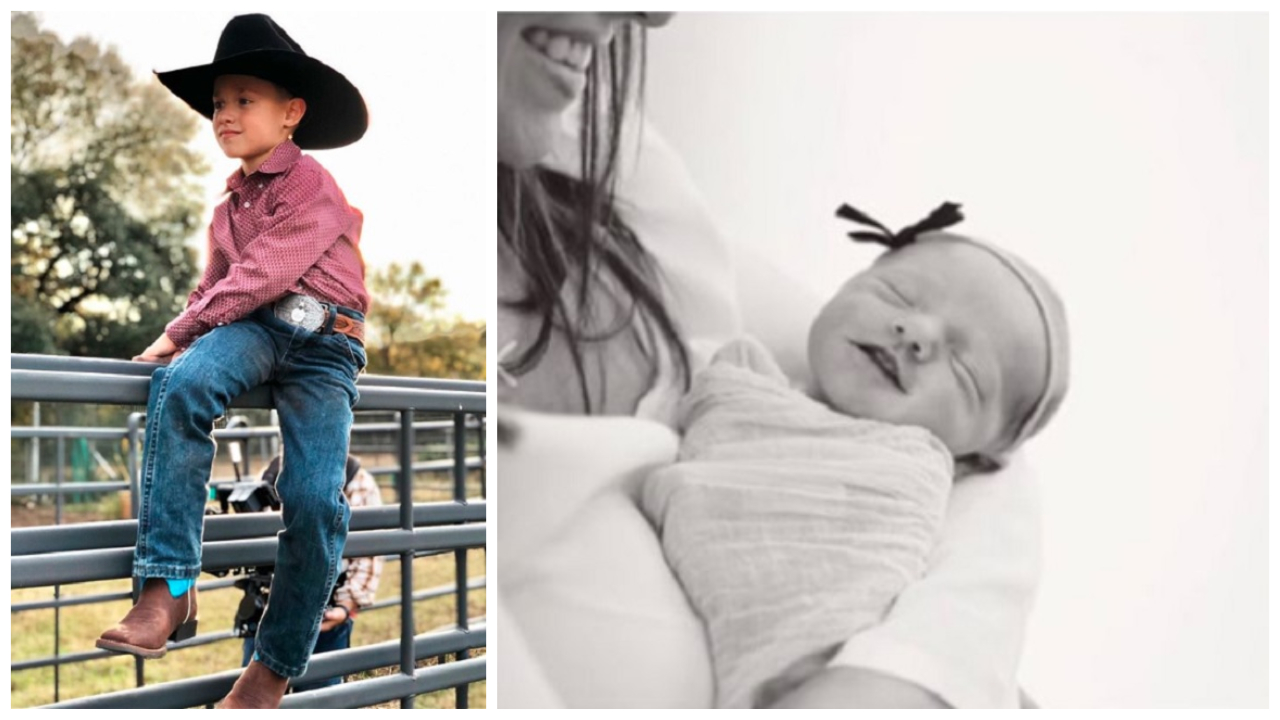 George and Norma Strait's 48 year marriage has not lost their spark. In 2012 King George talked to 
People
 about his strong marriage, "We love each other and we still like each other. We're so blessed that we were able to experience this life together, to support each other through everything, good times and bad."
Remember to "share" the Norma Strait video update with other fans of George Strait.