Darius Rucker's Family journey has raised three beautiful children with his wife of 19 years (Beth Loenard).
Darius Rucker's family includes his 3 children and his soon to be ex-wife (Beth Leonard).  Country music singer-songwriter Darius Rucker has accomplished a lot in his 54 years on this planet at lead singer of Hootie and the Blowfish and as a leading country music artist.  Darius and his wife of 19 years (Beth Leonard) surprised many fans on July 11, 2020 when they announced they were "consciously uncoupling".  The couple has raised three kids including:  Carolyn, Daniella Rose, and Jack.  Watch the video to get to know more about Darius Rucker's family of 3 children and his relationship with Beth Leonard and see more details below!
Darius Rucker's Family Journey (Video)
Darius Rucker's Family:  Soon to be Ex Wife Beth Leonard
Darius and Beth shared matching messages via Instagram about their decision to "uncouple" on July 11, 2020.  Darius posted this message, "Beth and I would like to share that after much reflection we have made the decision to consciously uncouple. We remain close friends and parenting partners and continue to be each other's biggest cheerleaders. Our priority will always be our beautiful family. We have so much love in our hearts for each other and will continue to encourage growth and expansion in one other. Please be kind as we take on this journey, and we thank you for your love and support always. — Darius & Beth Rucker"
The same post was shared by Beth on Instagram and has since been removed.  According to Wikipedia, "Conscious Uncoupling" is a term used in the 21st century to refer to a relatively amicable marital divorce.  The term was created by Katherine Woodward Thomas in 2009 as a five-step process to support the conscious completion of an intimate relationship and popularized by Gwyneth Paltrow in describing her divorce from Chris Martin in 2014.
The announcement caught many fans of Darius Rucker by surprise given the history of their almost 20 year marriage.  When the star first laid eyes on Beth, he knew she was the one. "I don't know what it was about her," Rucker once told the UMG Nashville press room. "I mean, it was EVERYTHING about her. I told her I was going to marry her on our first date."
The lovebirds' first meeting occurred in New York, where Beth, a New Jersey native, was working for VH1. It's no accident that she was involved in the entertainment industry, booking talent, planning events and working alongside artists and managers. Perhaps this is one of the reasons she and Rucker connected; she understands the demands of the industry, and is willing to put up with them. Rucker was still rolling with Hootie and the Blowfish at the time, and the young professional took a liking to him while he was in town. Though it was love at first sight for Rucker, Beth preferred playing hard to get.
Darius describes their early interaction as, "I had been trying to get her to go out with me, and she wouldn't. I was in New York [with Hootie & the Blowfish], and it was one of those rare nights off. I didn't have anything to do — we always had something to do when we were in New York! We had the night off, and I was just in my hotel room. She called me and said, 'Hey, do you want to go see this play?' I was like, 'Sure!'"
Darius Rucker's Family of 3 Kids
Carolyn Pearl Rucker
Carolyn (born April 21, 1995) is the 25-year-old daughter of Darius and his former girlfriend Elizabeth Ann Phillips. In May 2018, she graduated from college! Like her famous father, she also enjoys singing and covering popular songs.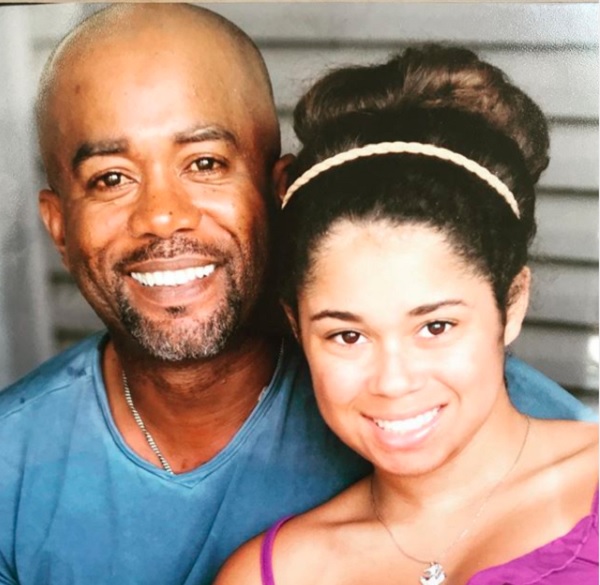 Daniella Rose Rucker
Daniella ("Dani" born May 16, 2001) is Darius and Beth's eldest child together. Yes, she was named after famous football legend Dan Marino! The 19-year-old is currently in college and attending New York University. While at home with her family, Dani released a cover of Jypsi's "I Don't Love You Like That." The song, written by Liz Rose and Stephanie Chapman, was produced by Darius and also features his backing vocals.
Dani with her namesake Dan Marino
Jack Rucker 
Jack Rucker was born October 27, 2004 and is Darius and Beth's youngest child and the star's only son. The 15-year-old is wild about golf and often plays with his father!  Jack is attending his school and already gained his driving permit.
Although each of his children show musical ability, Rucker would rather them all find success outside of the entertainment industry.  "If they were to ask me what I wanted them to do singing would be the last thing I would want them to do. Go be an engineer. Go be a doctor. Go get a real job. Get a family and live a great life…" Rucker revealed in a past interview.
Remember to "share" the Darius Rucker's Family journey with other country music fans.