The Brett Young wife journey took several years of dating Taylor Mills before becoming engaged and then married.....get the details here.
Brett Young wife Taylor Mills officially became "Taylor Young" after becoming engaged in February of 2018 and married soon after.  Learn more about Taylor Mills Young below.
Brett Young Wife:  The Engagement and Wedding
Country music artist Brett Charles Young and Taylor Mills learned a lot about each other over their long friendship which began in 2008 and eventual courtship. After keeping their relationship under the radar, Young shared their engagement news with fans back in February of 2018.  The California native proposed to girlfriend, Taylor Mills in Oxford, Mississippi— the home of his alma mater Ole Miss.  "We met a little over 10 years ago in Scottsdale while she was at ASU [Arizona State University] and dated for a little over six years. After school, she and I both moved to Los Angeles together. When I moved to Nashville, we took a break for a few years, and I wrote a lot of my first record about her," Young shared with PEOPLE.  He added, "There was never any bad blood; it was just the wrong time for us. We recently got back in touch and realized that we were both finally in the same place and knew it was right."
The couple's similar personality traits are what make them a perfect match— even if Brett's stubbornness leads to some irritation.  Taylor took charge of planning the wedding and Brett announced that he planned to stay out of her way in planning the big day.  Brett and Taylor's wedding took place on Saturday, November 3, 2018 at the Bighorn Golf Club in Palm Desert, California. According to PEOPLE, the pair wed in front of 200 guests which included Luke Combs, Lee Brice, and Gavin DeGraw. The three artists also performed during the wedding reception.
At the time of the wedding Young, 37, and Mills, 31, first met more than a decade ago in Arizona and became engaged last February in Oxford, Mississippi— the home the star's alma mater Ole Miss. Although they just exchanged vows, the couple are already thinking about adding children.  "We've been together for a long time and we do want kids soon," Young shared with the outlet. "This is the beginning of our life together, and I'm excited to say husband and wife!"
Brett's preacher father did not officiate during his son's wedding.  "He didn't want to [officiate]. He wants to be able to be a dad," Young shared through his record label, Big Machine Records, "He is going to get up at the very end for the official part. He will be the actual, official ordained minister that pronounces us man and wife."  That's right, he will get to opportunity to confirm Brett and Taylor's union himself.  "He will sign our thing, but for the majority of the ceremony, a very close friend is going to learn my dad's ceremony. And he's going to do the first 80 percent of it but deliver my dad's words, personalized, of course, a little bit, but then my dad will get up and pronounce us man and wife," Young explains.
Brett Young Wife:  Taylor and Brett are Starting a Family
"We've known each other for quite a while and at our age, I think we were just ready to start a family. We're like, 'We've lived a pretty good, fun, selfish life!' So I think we're ready to take the next step," Taylor shared with the outlet about starting a family.
Brett, 38, and Taylor, 32, announced that they will welcome their little one in early fall!  The couple revealed that they are expecting a baby girl.
Here is the gender reveal video below.
The couple welcomed their adorable daughter (Presley Elizabeth Young) was born on Monday, October 21st in Nashville!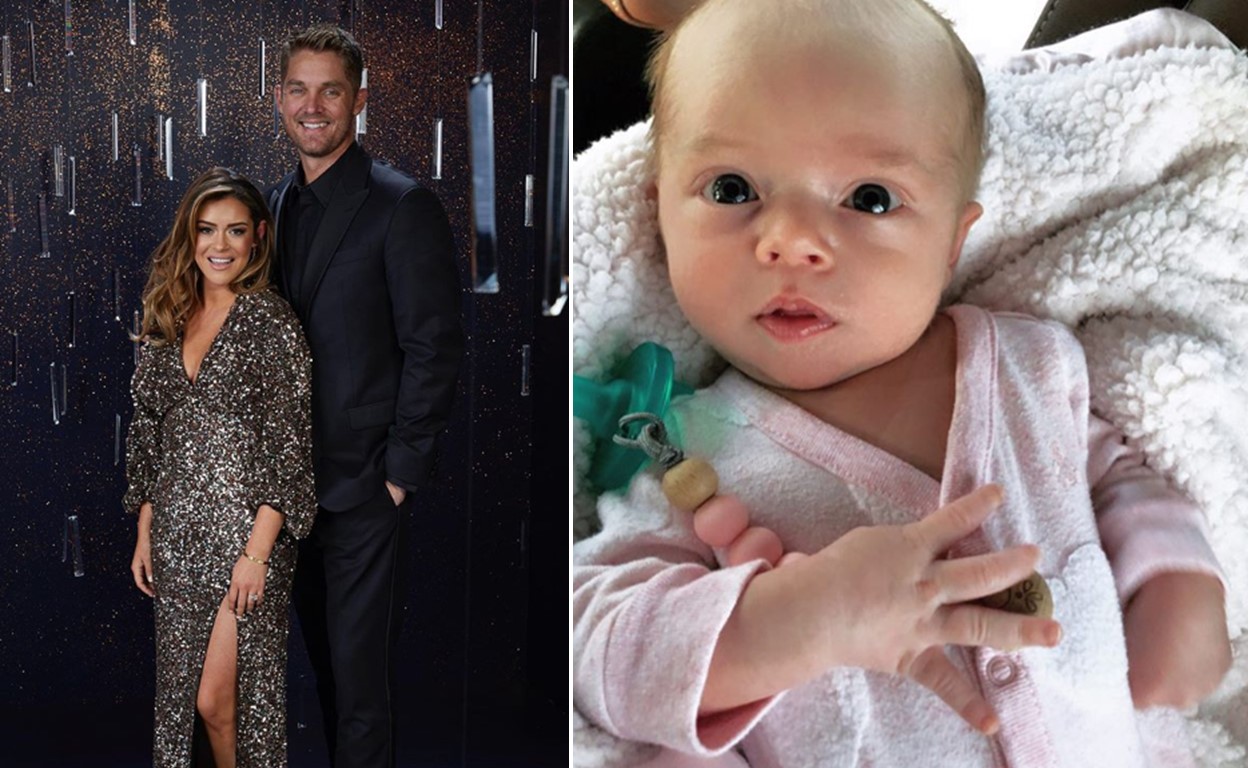 Brett Young Wife:  Taylor Mills Inspired Songs
While Taylor is his main musical muse, "Mercy" had nothing to do with her. Brett has said in interviews that that specific song has is not about any specific person, rather more about breakups in general.
While the emotional tune was not about Taylor, other hit tracks of his definitely have been. Surprisingly, some of those include breakup songs. The pair have not always been together as a couple over the last decade.
"When you listen to that first record there's a lot of based on a true story," Brett shared with Taste of Country. "Me and Taylor, the way that we ended things years back, I'm so proud of us the way that we did it and the way we treated each other while we weren't together. Nobody cheated. Nobody lied. Nobody did each other wrong. It just wasn't working."
He then added, "I'm sure it probably isn't her favorite thing to hear 'You Ain't Here to Kiss Me,' but at the same time, she was in the same place."
Another song Taylor inspired was Brett's first big hit, "Sleep Without You." The artist once revealed in an interview, "We never lived together, but we always did the goodnight phone call or text. When that becomes a habit, you find yourself restless, trying to go to sleep without the goodnight phone call or text."
Yes, that sad song holds a place in both Brett and Taylor's lives, we're just happy the couple found their way back to each other!
Here are some quick facts about Taylor below:
Taylor Mills Young:  Quick Facts
Taylor Mills Young Age and Birthday:  Taylor is 32 years old and was born August 1, 1987.
Brett Young Age and Birthday:  Brett is 38 years old and was born March 23, 1981.
Taylor Mills University:  Arizona State University
Taylor Mills Kids:  Had their first baby girl in November of 2019.
Taylor Mills Height:  5'4″ tall and Brett towers over her at 6'6″ tall.
Remember to share this Brett Young wife update with other country music fans.