Enjoy watching Brett Young and Taylor Mills Love Story journey in this video update. . .
Brett Young and Taylor Mills Love Story began in 2008 and the happy couple has been married to each other twice.  Country music singer-songwriter Brett Young's wife Taylor Mills Young first caught Brett's attention when Taylor was a student at Arizona State University. After a long courtship the two got quietly engaged and shared their happy news in early 2018.  The couple married and welcomed a baby girl in October of 2019.  Watch the video of their Love Story Journey and see additional photos and details below.
Brett Young and Taylor Mills Love Story (Video)
Brett Young's Country Music Bio
Country music hit-maker Brett Young hails from sunny Orange County, California.  Brett Young grew up playing Baseball and he was a pitcher for the University of Mississippi. Coming out of high school, he was called by two professional baseball teams, Tampa Bay and Minnesota. After serious consideration, Young decided to play in college to improve his draft stock. However, his baseball career ended after an elbow injury.  Brett moved to Nashiville in 2015 and went on to become a successful country music star.  His debut album "Brett Young" reached #2 on the Top Country Music albums chart.  Brett has also had several hit singles including: "Catch",  "Mercy", "Sleep without You", "Here Tonight", and "In Case You Didn't Know".
Brett Young and Taylor Mills Early Days to Engagement
The couple first met in 2008 with early dating pictures from 2009.  Brett and Taylor dated over a decade before becoming married.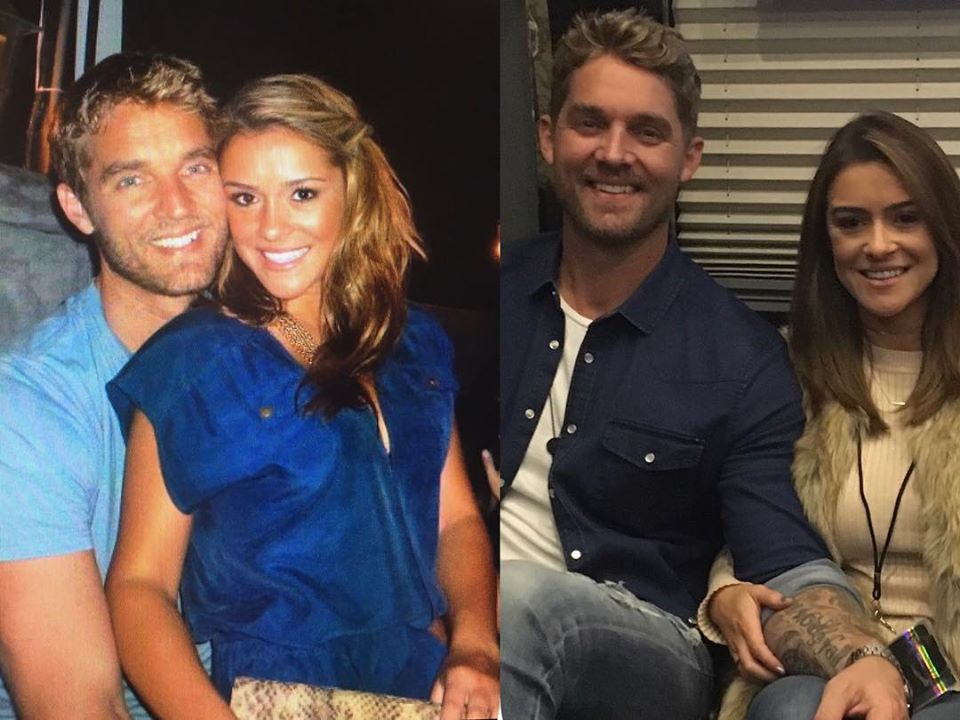 The California native decided to pop the question in Oxford, Mississippi— the home of his alma mater, the University of Mississippi. "We met a little over 10 years ago in Scottsdale while she was at Arizona State University (ASU) and dated for a little over six years. After school, she and I both moved to Los Angeles together. When I moved to Nashville, we took a break for a few years, and I wrote a lot of my first record about her," Young shared with 
PEOPLE
 in a past interview. He added, "There was never any bad blood; it was just the wrong time for us. We recently got back in touch and realized that we were both finally in the same place and knew it was right."
Brett Young and Taylor Mills Love Story:  First Marriage
"Reminiscing about 8.10.18, which will forever be one of the happiest and most special days of my life  8.10.18 was the day I legally married my soulmate. We decided not to tell anyone we were married before our wedding day [with the exception of my sister because she's the best secret keeper.] We didn't want to take away from our wedding ceremony in November.  Brett was home from the road for one day. We walked from our house down the street to the Rhinestone Wedding Chapel on music row in Nashville and just like that, a sweet little man married us. We had passed this funny little chapel many, many times and never did I think I would get married there one day. After we got engaged we talked about getting legally married soon after. So of course we thought that getting married at the little chapel on music row was only fitting instead of at the courthouse. On 8.10.18, now married we left the Rhinestone Wedding Chapel hand in hand and realized that right next door was a poster commemorating Brett's current #1 song, Mercy. It was a sign [no pun intended.] It was perfect.  So, happy 1 year [and 1 month] to my perfect person. I'm so thankful that you've trusted me with your heart. I'm thankful for this life that we get to spend together. Together forever. From a cute guy I went on a first date with over 10 years ago, to my husband, my soulmate [and soon the father of my child.] From a crush, to a love I only dreamed could exist. From a friend to family. The story of us continues to grow perfectly and exactly the way god had planned. You're my everything and my best friend and our journey has just begun. I love you and I'm SO blessed to be your wife and your forever. You fill my heart with so much love and my life with so much happiness. 1 year down, a lifetime to go. #"ItWasAPrettyFunDay"".  Taylor Mills Young post to Instagram
Brett Young and Taylor Mills Love Story:  Official Wedding Ceremony
The first marriage was later followed by an official marriage ceremony.  Brett and Taylor's big wedding ceremony took place on Saturday, November 3, 2018 at the Bighorn Golf Club in Palm Desert, California. According to PEOPLE, the pair wed in front of 200 guests which included Luke Combs, Lee Brice, and Gavin DeGraw.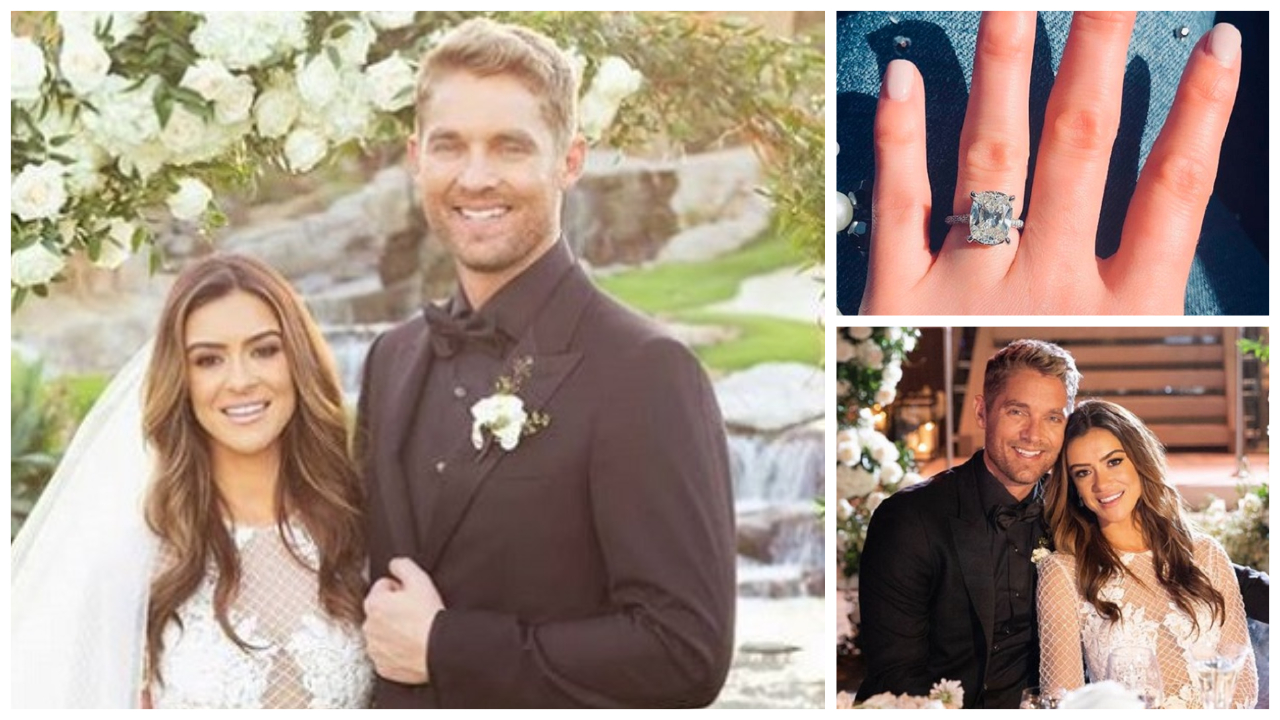 Couple Welcomes Baby Girl
On Monday (October 21, 2019), Brett Young's wife Taylor gave birth to their first child, daughter Presley Elizabeth Young, in Nashville.
"Taylor, my wife. You are a superhero. Your beauty and strength never cease to amaze me. You brought our beautiful girl into this world with a level of grace and quiet confidence that I never knew existed. I'm so impressed by and proud of you. Thank you for this incredible gift. I could not love you more! // My daughter, Baby P, you're perfect. I am so head over heels in love with you I can't even explain it. My world is forever changed because God gave you to me. I'm going to do so many things wrong, but I promise to never stop trying, or learning, or loving you as fiercely as is humanly possible. You are my angel, and I will never take for granted the beautiful gift God has given me in trusting me with you. I will always be your rock and your safe place. I am so proud to be your daddy and I am quite certainly the luckiest boy in the world," Brett gushed on Instagram about his wife and daughter.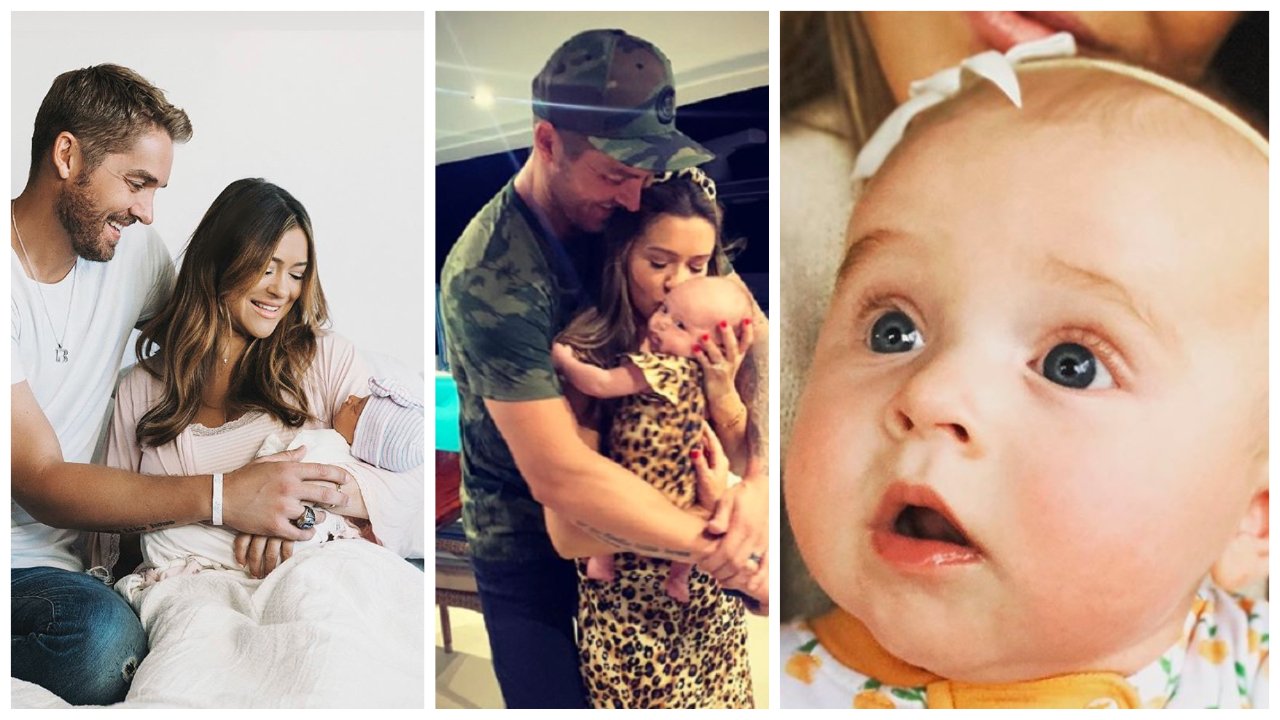 Remember to "share" the Brett Young and Taylor Mills Love Story video with other Country Music fans.