Enjoy watching how Blake Shelton and Kingston Rossdale (Gwen's oldest son) have developed a close relationship over the past 5 years....
Blake Shelton and Kingston Rossdale have developed a special relationship with their time together in Oklahoma and Los Angeles.  The country music star, 44,has become both a friend and a role model to his girlfriend's three sons: Apollo Bowie Flynn, 6, Zuma Nesta Rock, 12 this month, and Kingston James McGregor, 14.  Blake and Gwen started dating in 2015 after meeting on set of The Voice TV show.  The couple has now been together for over 5 years.  Blake has a close relationship with all three of Gwen's sons.  Here we take a look at how Blake has served as a great bonus dad to Gwen's oldest son (Kingston).  Watch the video about Blake and Kingston's growing relationship bond and see more details below.
Blake Shelton and Kingston Rossdale (Relationship Evolution Video)
Blake Shelton and Kingston Rossdale have become close friends over the past 5 years and Blake has expanded Kingston's horizon to appreciate the great outdoors of Oklahoma.  The bond between Blake and Gwen's oldest son appears to get stronger each year.
In 2016, Blake and Gwen took the kids to both Disneyland and Disney's California Adventure, where they enjoyed several attractions including Alice in Wonderland, It's a Small World and Matterhorn Bobsleds.  The entire family also took a road trip to Lake Arrowhead resort in California.  Blake made several visits to Gwen's parents house and attended church with Gwen's family in the Los Angeles suburbs.  Since 2016, Kingston and his brothers have spent much of their summers and vacation time at Blake's two properties in Oklahoma including his home on Lake Texoma and his 1,300 acre ranch that is a one hour drive from his Lake House.
Blake's 2 homes in Oklahoma:  Lake Texoma Home and His Ranch Property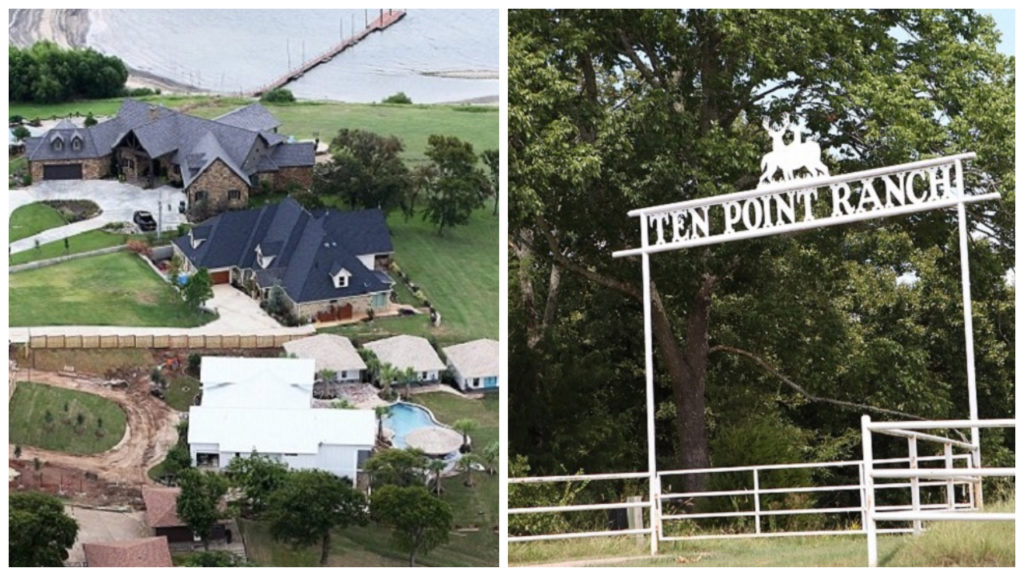 At the Lake House, Kingston and Blake have enjoyed boating, jet skis, swimming, fishing and a lake living life style.  At Blake's ranch, Kingston has experienced riding in all terrain vehicles, horse back riding, fishing, lighting bonfires, treasure hunts, picking black berries, planting gardens, finding mushrooms, driving trucks, chasing bull frogs and watching deer and elk as local wild life.  The ranch lifestyle adds another dimension of experiencing the great Oklahoma outdoors.
It appears that Blake has made a great bonus dad to Kingston and his brothers that spent most of their lives in the suburbs of Los Angeles.  This past father's day, Gwen thanked Blake for being a father-figure to her 3 boys with the following message:
"Happy father's day @blakeshelton thank u for helping me raise these boys!! #weloveyou! G❤️K❤️Z❤️A gx," Stefani wrote in the post's caption.
Blake and Gwen will continue to split time between Los Angeles and Oklahoma as they both return as coaches for the next season of The Voice TV show.  The couple purchased a California home that is close to The Voice filming studio.  Blake prefers to spend time in Oklahoma.  Gwen and her family make Los Angeles much more tolerable for the country boy while filming The Voice TV show.  Best wishers to Blake and Gwen as they start the next chapter of their relationship journey.
Remember to "share" the Blake Shelton and Kingston Rossdale story with other fans of Blake and Gwen.
See related article:  Blake Shelton and Gwen's Youngest Son Apollo are Besties