Take a video tour of Blake Shelton and Gwen Stefani's California home and discover the reasons why the couple purchased a $13.2 million dollar home in Encino, California earlier this year. . .
Enjoy watching a video tour of Blake Shelton and Gwen Stefani's California home showing both the exterior and interior floor plan features.  In May of 2020, the couple purchased their new home in Encino, California.  Since the purchase of the California property, it was announced in June of 2020 that Gwen Stefani is slated to take Nick Jonas' place for the next season of NBC's The Voice TV show (Season 19). The star will join returning coaches Kelly Clarkson, John Legend, and her longtime love Blake Shelton.
Watch the video for a closer look at Blake and Gwen's new California home and see more details on why the couple purchased the property below.
Virtual Tour of Blake Shelton and Gwen Stefani's California Home (Video)
The couple has been spending most of the quarantine period on Blake's Oklahoma properties including his Ten Point Ranch and his Lake Home that is a 1 hour drive from the ranch.  The couple appears very happy at Blake's two homes in Oklahoma and some folks wonder why they purchased an expensive California property.  See details of the home and the reasons for the purchase below.
Blake and Gwen's California Home
Blake Shelton and Gwen Stefani took a big step in their relationship and have bought a breathtaking Encino, California estate together!  According to multiple sources, Blake Shelton and Gwen Stefani's home sits on a 1.6 acre private lot and the couple plopped down $13.2 million for the newly built mansion!
Blake Shelton and Gwen Stefani's California home has all of the amenities the couple needs.  The property was built by developer Evan Gaskin and its amenities include a four-car garage, home theater, backyard pool with a spa, and a large cabana with a wet bar plus outdoor kitchen.  The estate boasts 11,500 square feet of livable area, 1,000 square feet of garage, 1,750 square feet of outdoor covered patios and balconies, and a 900 square foot pool cabana.  This custom home was designed by P2 Design for Evan Gaskin, a premiere developer in Southern California who can be seen on Seasons 9 and 10 of Bravo's hit show Million Dollar Listing Los Angeles.
Blake Shelton and Gwen Stefani's California Home (Encino, CA)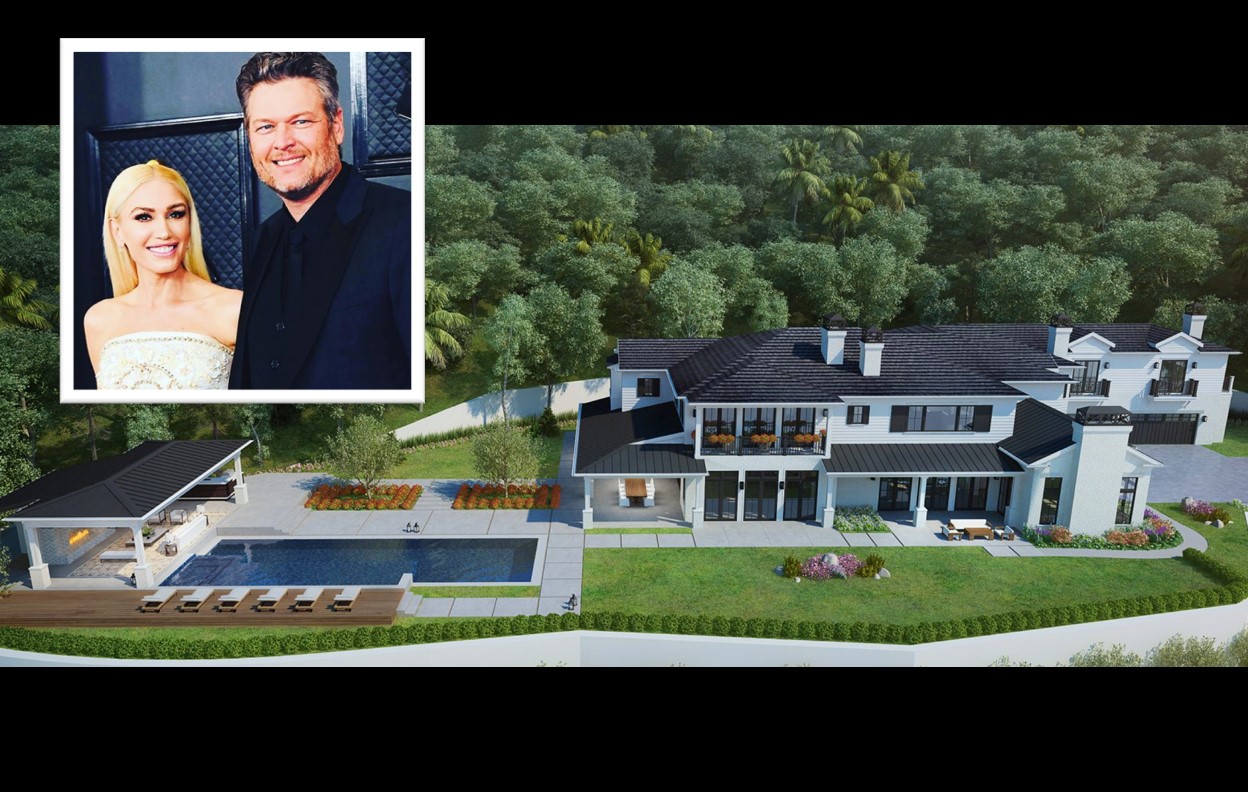 Gwen sold her prior Los Angeles home that she formerly shared with ex-husband Gavin Rossdale for $22 million to comedian Sebastian Maniscalco.  It has been reported that the couple has been searching for a Los Angeles based property for several months.
The Voice Connection makes the New Home location convenient
Blake Shelton is the only coach that has appeared on every season of The Voice TV show and he has the most pull with producers of the show being a key part of the success and legacy of the show.  Gwen Stefani previously served as full-time coach for Seasons 7, 9, 12, and 17. She also acted as a part-time advisor to Pharrell Williams and Blake Shelton during Seasons 8 and 10.  With both Blake and Gwen serving as coaches on the next season of The Voice, the Encino, CA based property provides a great operating base for the couple in Los Angeles.  The new home is only a 20 minute drive to Universal Studios where The Voice is filmed.
The Voice Coaches for Next Season (19)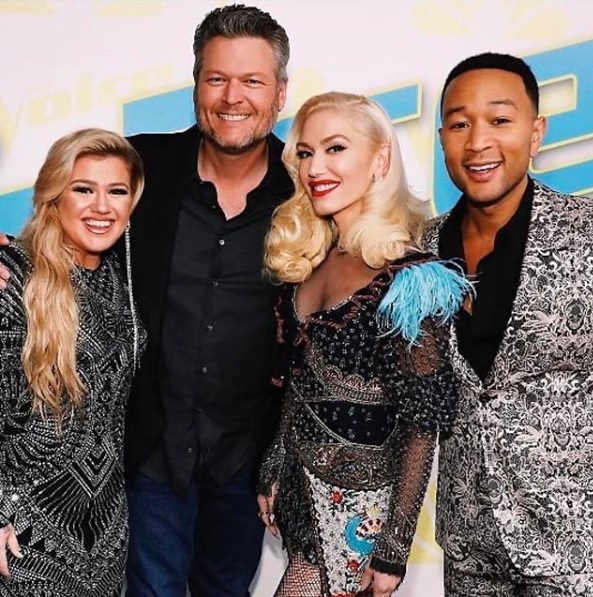 There are several additional reasons why Blake Shelton and Gwen Stefani need a California Home including:
Gwen's Divorce Settlement – the new home makes it easier to share joint custody of Gwen's three children with Gwen's Ex-Husband that also lives in Los Angeles
LA friends and collaborators – easy collaboration with The Voice host and other coaches.  Los Angeles is the West Coast hub of the entertainment industry and serves as the center for movie and TV show production.  The host of The Voice (Carson Daly) and fellow coaches (John Legend, Kelly Clarkson) all have homes in Los Angeles.
Makes LA Tolerable for Blake – Gwen grew up in the LA area and Blake was not very happy in LA prior to his relationship with Gwen.  In prior interviews, the Oklahoma native was not thrilled with the big city lifestyle of LA.  Gwen and her family make LA much more tolerable for the Country boy.
Blake and Gwen will Likely be neighbors with Kelly Clarkson
Blake and Gwen are both friends of fellow Voice coach Kelly Clarkson.  Back when Blake and Gwen acquired their Encino, CA home, Kelly Clarkson had her Encino mansion up for sale.  Much has changed since then.   Kelly filed for divorce from here husband Blackstock on June 4, 2020 at the L.A. courthouse.  The couple was married in October of 2013.  In June of 2020, it was announced that Kelly would be returning for the next 2021 season of The Voice TV show with Blake Shelton, Gwen Stefani, and John Legend.  Soon after, her listing of her Encino, CA home was pulled off the market.  Given The Voice filming location and rigorous production schedule, she may very well want to keep the Encino, CA home as an LA operating base and close proximity to her fellow Voice coaches.  Or, she might want to start fresh with a new LA based property post the divorce.  Either way, it is likely that Kelly Clarkson will be California neighbors with Blake Shelton and Gwen Stefani.  in May of 2020, Clarkson listed her 9,839-square-foot mansion in the Encino neighborhood of Los Angeles for $9,995,000.  The rustic, wood-trimmed house has eight bedrooms, nine full bathrooms and two half bathrooms in addition to a guesthouse. The listing has since been "withdrawn/canceled," according to the Compass Listing site.
Kelly Clarkson's Encino, Californa Home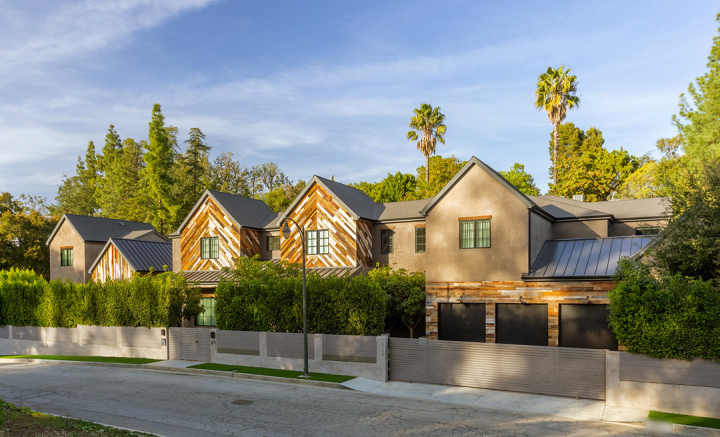 Kelly Clarkson and Blackstock share two children: daughter River, 5, and son Remington, 4. Blackstock is the former stepson of Reba McEntire.  He also co-parents his daughter Savannah, 18, and son Seth, 13 with his ex-wife, Melissa Ashworth.  It will be interesting to see if Kelly Clarkson keeps this home in Encino, California and becomes a close neighbor to Blake Shelton and Gwen Stefani.
Remember to "share" Blake Shelton and Gwen Stefani's California Home tour with other fans of the couple.