Vince Gill and Amy Grant know their paths to finding marital bliss wasn't an easy one. Learn their unique and inspiring love story right here!
When Vince Gill and Amy Grant first met in 1993 they were on parallel paths— both were successful artists married to other musicians. The pair quickly formed a strong friendship and weathered the storms spun out from their troubled marriages. In 1997, Gill split from wife Janis Oliver of the country band Sweethearts of the Rodeo and Grant divorced husband Gary Chapman in 1999. A few months later, Vince and Amy stepped out publicity as a couple and wed on March 10, 2000.  Amy Grant was born November 25, 1960 in Augusta, Georgia.  Vince Gill was born April 12, 1957 in Norman, Oklahoma.  The couple has now been married 23 years.
Vince Gill and Amy Grant – Wedding Day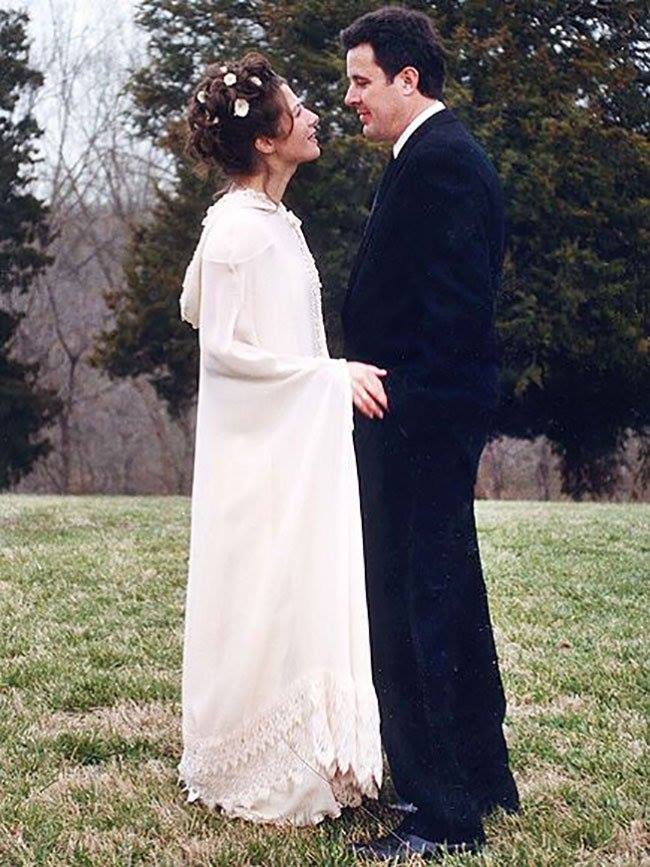 In a 1999
CCM Magazine
interview, Grant shed light on the demise of her first marriage.
"I didn't get a divorce because 'I had a great marriage and then along came Vince Gill'. Gary and I had a rocky road from day one. I think what was so hard—and this is (what) one of our counselors said—sometimes an innocent party can come into a situation, and they're like a big spotlight. What they do is reveal, by comparison, the painful dynamics that are already in existence."
In getting married, Grant's three children Matt,
Millie
, and Sarah combined into a blended family with Gill's teenage daughter, Jenny. The couple also welcomed their daughter
Corrina
into the family on March 12, 2001.
"In our wedding pictures, all of the children are grim-faced and understandably so, because these were not their choices," Amy shared with Good Housekeeping in 2007. "But from the start, Vince and I promised to love each other well, and in any home, blended or not, if the man and wife are loving each other well, you have a much better chance of parenting well. Vince's love has empowered me to be a better mom."
To make things easier on Amy's younger kids during the big transition, Vince gave them space. "When we got married, he inherited an entourage," Amy recalled. "I had three children who were living under the roof with a man who was not their father. They were 7, 10, and 12, so in the evenings Vince would recede — go read, watch a game — to let them have their familiar routine with me. Then slowly he entered the picture. But there isn't one issue that comes up with the kids that isn't discussed from every angle by Vince and me. The one thing you have to require in a family is that everyone is respectful. But you can't require closeness. That comes in its own time."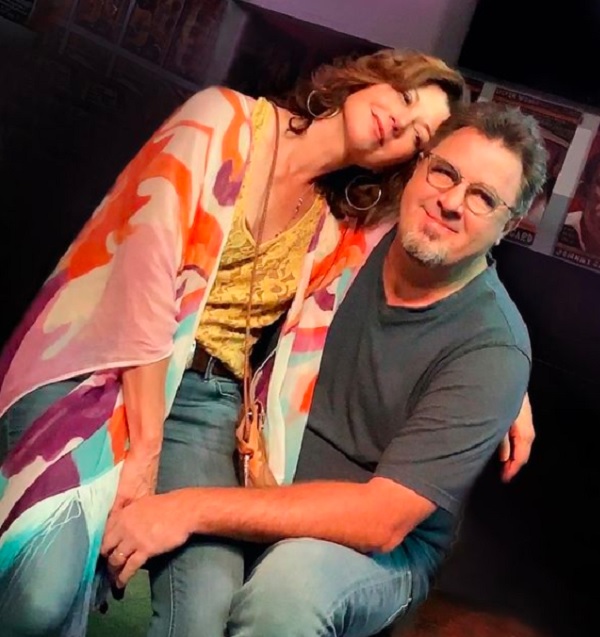 Fortunately, Vince and Amy's relaxed and level-headed approach their stepchildren and relationship helped the two families bond and unite into one big happy family.
"When Vince and I got married," Amy explained, "I knew the reality was when you're putting two lives together, there is no riding off into the sunset. You show up with all of your baggage and all of your ghosts and all of your patterns. Whenever you start over, you can feel like a stranger in your own life for a while. But you keep making choices toward building a life together. You can't demand it of each other, and if it can be done overnight, it's not worth anything. But after all these years, it's so interesting — we've found our footing."
Amy Grant received a star on the Hollywood Walk of Fame on September 19, 2006.  Of course, her hubby Vince Gill was by her side.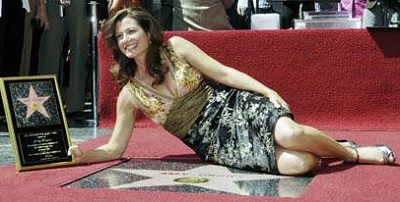 After over twenty three years of marriage and raising five children jointly, Vince and Amy have struck a healthy balance while maintaining their independent careers. Now that's something remarkable. We wish these two many more years of wedded bliss!
Share this closer look at Vince Gill and Amy Grant with other fans!