Country music star Troy Gentry's widow, Angela McClure Gentry, is an incredibly strong woman. Get to know her story here.
Late Montgomery Gentry star Troy Gentry married Angela McClure in Maui, Hawaii, on December 14, 1999. The love birds wed just as Gentry's country music career was gaining traction with the realease of Montgomery Gentry's debut album, Tattoos & Scars. The record's first three singles, "Hillbilly Shoes," "Lonely and Gone" and "Daddy Won't Sell the Farm," each landed in the Top 20 on the country music charts. The duo's project was certified Platinum by the RIAA just a few months after it dropped.
The pair welcomed their only child together, Kaylee Alexandra Gentry, on November 13, 2002 in Nashville. Troy also has an older daughter, Taylor, from a previous marriage. Kaylee's name is a mashup of her parent's middle names, Angie's middle name is "Kay" and Troy's middle name is "Lee."
"I've grown up. I'm more responsible now. [Before], the social scene was more important to me. Now, I'd rather be home with my family than out all night. Angie and I have date nights, of course. But I travel a lot for work, so I find comfort here at home," Troy told Nashville Parent about family life back in 2010.
In 2014, Troy revealed to fans that Angie had been diagnosed with breast cancer and would be going through chemotherapy.
"I went back in the bedroom. 'We got the results back. It is cancer.' You listen, and you listen, and you hang up, and you freak out," Angie shared with The Tennessean about getting her life-changing test results back. "'No matter what, it's going to be OK,'" Troy assured her.
Angie's treatment plan eventually included a double mastectomy and reconstruction surgery, but in 2015 she officially beat the disease.
After Troy's tragic death due to a helicopter crash on September 8, 2017, Angie made good on a promise took and Kaylee to the 2017 CMA Awards. Troy was originally supposed to take their daughter to her first major industry event.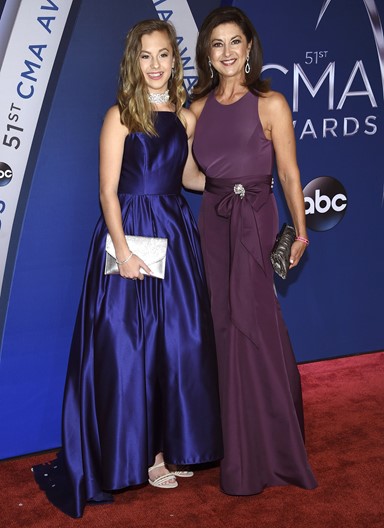 During the awards show, 
Dierks Bentley 
and 
Rascal Flatts
 performed the Montgomery Gentry hit "My Town" in honor of Troy and were joined by a very special guest— 
Eddie Montgomery
. During the tribute, the camera panned to Angie and Kaylee in the audience. Obviously, this was a very emotional moment for Troy's loved ones.
In February, Angie filed a lawsuit against the Sikorsky Aircraft Corporation and Keystone Helicopter Corporation. The suit alleges that the manufacturers of the helicopter knew the model had major defects that lead to the deaths of Gentry and pilot James Robinson.
Angie, as well as Troy's two daughters, are asking for a jury trial and unspecified damages "in excess of Fifty Thousand Dollars ($50,000.00), plus interest, costs, attorney's fees and such other relief as the Court deems appropriate."
We wish Angie the best as she continues to grieve, honor Troy's memory, and raise their teenage daughter.