Watch how Jason Aldean's Mansion is finished after two years of work and the family is all moved in to the resort style property in this video update.
Jason Aldean's new mansion outside of Nashville is fabulous with all of the custom dream features of a resort vacation.  The new home sits on plenty of acres with no visible neighbors and has a backyard that rivals most high-end vacation resorts.  The Aldean family completed their move-in June 13, 2020 and have been hosting friends and family at the new house.   It is hard to believe that it has already been two years since the Aldean family moved into the new house.   Watch the video below for a tour of the property and see more details below.
Jason Aldean's New Mansion (Video Tour)
Jason Aldean's New mansion features 8 bars, a bowling alley, Koi pond, gym, Pool with Grotto, sport court, kid's play area, and a massive water slide.  The move-in was just in time for Brittany's birthday as she turned 33 years old on June 19, 2020.  The completed swimming pool and grotto is stunning.   The family has been staying at their beach home in Florida while the new home was completed.  They sold their prior Tennessee estate and have been enjoying several months of Florida beach time.
"We've been working on it for about two years and we finally are moving in in mid-May," Jason shared with PopCulture at the beginning of the year. "We got it set up. This is going to be our forever home. We put everything we had into this, and making sure it was something really cool, that we love living in."  The mid-May target date for completion slipped a month and the house became move-in ready in mid-June.
"We actually want our backyard to look like a Corona beer commercial, I think," the star continued "We got big palm trees going in, in the back yard. We've got tiki bars, a pool; it's going to be stocked.  "We can actually, probably film one of these Corona commercials in my back yard once it's all fixed up."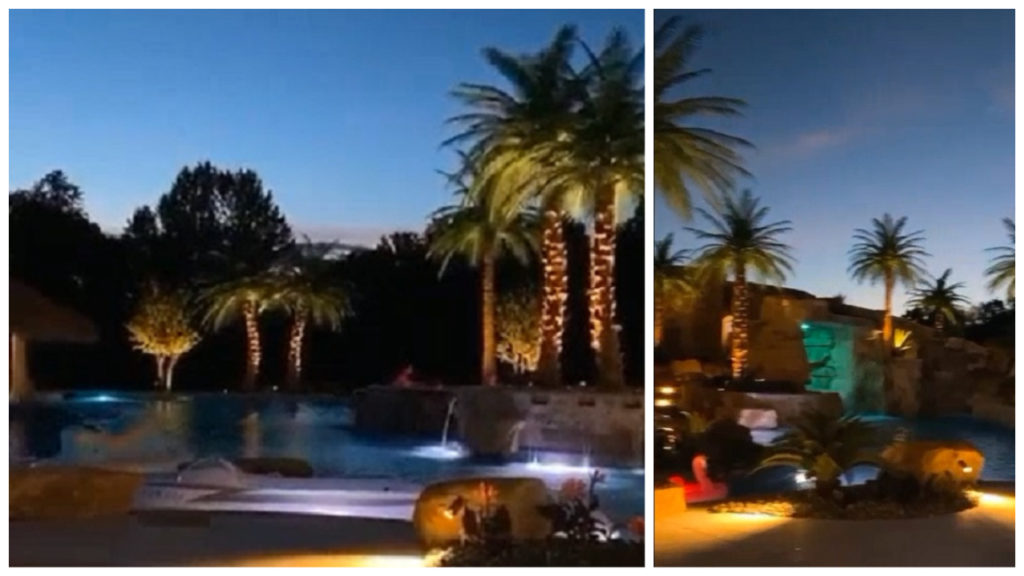 Jason Aldean's new mansion is fit for a king and he could definitely film a beer commercial in his backyard.  As of right now, the family plans to have their new Tennessee estate act as the family's 'home base' while also spending a lot of time at their newly remodeled Florida beach house. While Jason is on tour, the Aldean family lives in a very comfortable tour bus.
Remember to "share" the Jason Aldean's Mansion update with other Aldean fans.