Enjoy watching Tim McGraw and daughter Audrey's touching video tributes to Faith Hill. . .
Tim McGraw and daughter Audrey both shared beautiful tributes to Faith Hill with their very own video compilations.  Tim and Faith celebrated their 23rd wedding anniversary last October.  Audrey McGraw graduated from high school in the class of 2020 and is headed off to college in the fall.  Audrey has shown interest in photography and film making and she made her very own "mom appreciation" video of Faith Hill.   Watch both Tim McGraw and Audrey's tributes to Faith Hill and see more details about Faith below.
Tim McGraw and Daughter Audrey's Tributes to Faith Hill (Video)
Faith Hill's Adopted Upbringing
Country music maven Faith Hill (born Audrey Faith Perry) is one celebrity who has always been open about her past. From a young age, Faith Hill's adoption story was always known to the star. As an adult, the Mississippi native fully embraces this big part of her life and very blessed to have been adopted into a loving home. Over the years, she has shared her experience during television interviews with Barbara Walters and Robin Roberts.
On September 21, 1967, Hill was adopted by Ted and Edna Perry. The couple already had two sons and wanted to adopt a daughter. They were placed on a list and told it could take up to two years. Fortunately, the Perry family had the opportunity to adopt considerably sooner than expected. Hill credits her adoptive parents for her strong Christian upbringing, but admits at times she didn't seem to fit with her family. In an 2007 interview with Good Housekeeping Magazine, she shared, "I was adopted into this incredible home, loving, positive environment, yet I had this yearning, this kind of darkness that was also inside me."
Hill's birth mother was an artist, a painter to be exact. When they first met, they were both speechless. Hill had never seen anyone who had looked like her. She explained in her interview with Good Housekeeping, "I look like her, and I walk like her. I actually look most like her mother, my granny." In 2007, her birth mother passed away and the star never really had the chance to get to know her. And since her biological father had previously died in car accident, she never knew him at all. As for her biological brother, Hill has included him in her life, and has helped him through some rough times.
Tim McGraw and Faith Hill's Relationship Journey
McGraw and Hill's story began at a simple Nashville radio station event, but their relationship didn't blossom until the blonde songstress acted as an opener on McGraw's 1996 Spontaneous Combustion Tour. The attractive vocalists quickly fell madly in love with each other, prompting Tim to make the big move.
"We were in the dressing room, here, June 26, 1996," the crooner recalled in a 2016 Facebook video clip. "And it was raining and stuff and we'd been on tour for a while together, and I joked around with her about getting married. And so I said… I looked at her, grabbed her by the hand, and dropped forward [on my knees] onstage. She had already done her show. And I said, 'I'm really serious. I want you to marry me.'"  According to McGraw, Hill had a unique response. "She said, 'We're at a country music festival in a trailer house, and you're asking me to marry you? And I said, 'Yeah.' So I went onstage."  Luckily for him, Faith agreed to be his wife once he returned from performing by writing "yes" on a mirror in his trailer. Tim McGraw and Faith Hill married on October 6, 1996.
"Faith saved my life in a lot of ways — from myself more than anything," McGraw shared with People in a past interview. "I can go down a dark road sometimes, when you're not feeling good about yourself, and she pulls me out. My wife makes me a better man."  "My husband and I have made the choice that our marriage is the most important thing to us," Hill candidly added. "We respect what we have and understand how we need to feed it."
"We just think about how much we love our family, how much we love our life together, growing old together, once your kids grow up," McGraw explained to E! News "We feel pretty happy in the life that we've built together and the community we live in and the way we live our lives."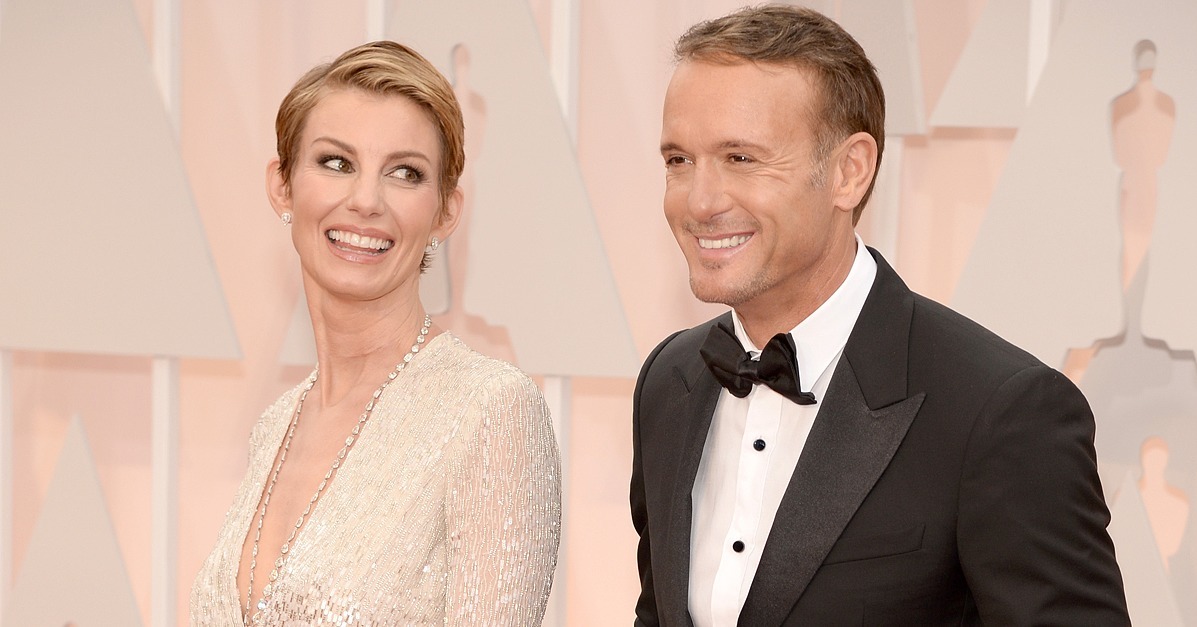 It's refreshing to see a celebrity marriage that remains functional and healthy within the confines of a difficult industry that is known for ripping couples apart. Kudos to them for sticking it out during the hard times and loving each other no matter what.
Remember to "share" Tim McGraw and Daughter Audrey's tributes to Faith Hill with other fans of this Country Music power duo.