Watch this guide to Faith Hill and Tim McGraw's houses and get prepared to be in awe of these 3 amazing properties. . .
Faith Hill and Tim McGraw's houses are fit for country music royalty and would accommodate any royalty around the world.  Watch the video guide to Tim and Faith's 3 properties and see additional details below.
Faith Hill and Tim McGraw's Houses Video
Click the "play" button below to see a guide to Faith Hill and Tim McGraw's three main properties including their island in the Bahamas, their farm in Franklin, Tennessee and their property in Nashville, Tennessee.
1)  Faith Hill and Tim McGraw's Bahamas Property on their Private Island Paradise
Hill and McGraw first purchased the private 20-acre island they call "L'île d'Anges" back in 2003.  The island compound is a collection of eight distinct "pavilions," connected by thatch-roofed loggias.  The couple worked on the island home for 8 years including having to solve for water and electricity on the small island.
"We wanted to feel connected to the outside.  When the breeze comes through the room, it's just life-changing." It really is! It's something for the soul", Faith Hill explained.  While the compound was being constructed, the couple set up seaside yurts fro the entire family including  daughters Gracie, Maggie, and Audrey, now 22, 21, and 18.  It was like camping and the three daughters enjoyed the whole adventure.  The house was featured in the Architectural Digest (July 15, 2017 issue).  The Bahamas house and island photography was by William Abranowicz.
2)  Franklin Tennessee Homes
The Franklin Tennessee homes have been listed with the Nashville Realty firm of Fridrich & Clark Realty and has a total price tag of $18,500,000.   Tim and Faith bought part of the farm property of 400 acres from Hank Williams, Jr. in 2001.  Later the couple acquired and added another four parcels, making it the size it is today.  The overall farm property has five houses, a bulk barn with 12 stalls and a massive hay loft as well as tack room and attached caretaker's apartment. There are also two large buildings for farm equipment and multiple use.
Tim McGraw and Faith Hill's Franklin, Tennessee Farm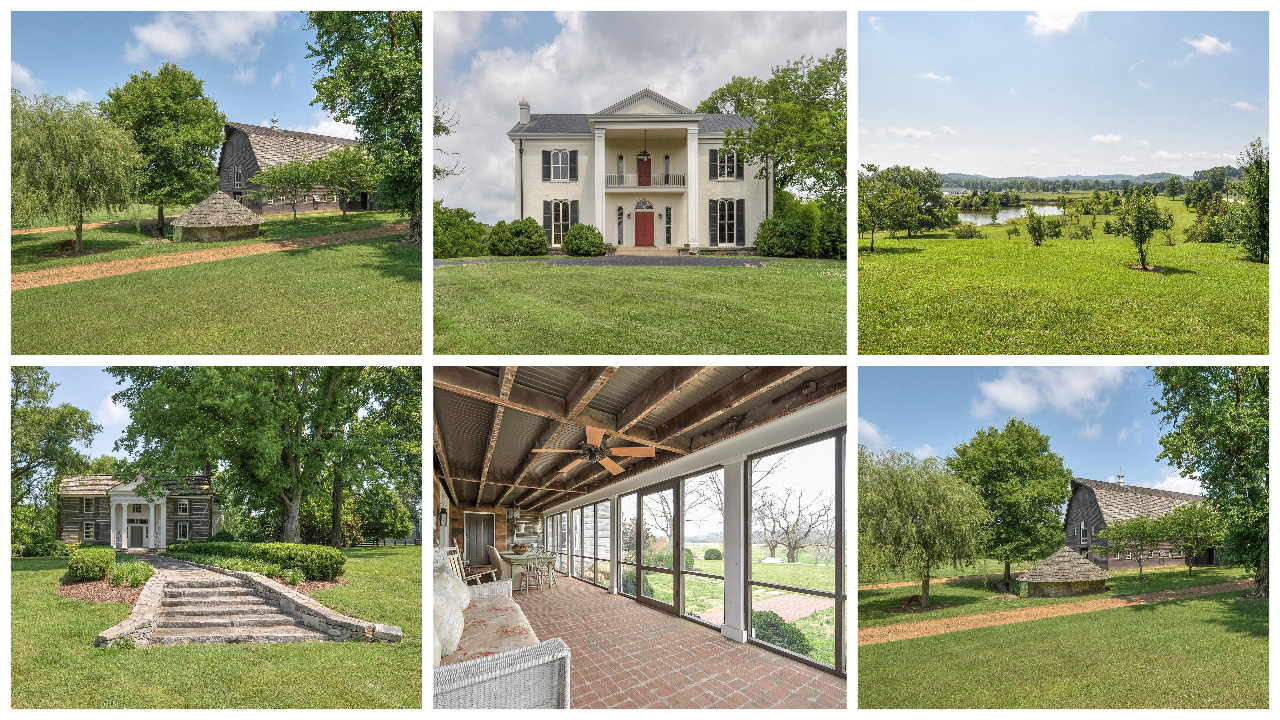 The main house, Beechwood Hall, was built in 1856 by Henry George Washington Mayberry and his wife, Sophronia. This 6,856 square foot home needs updating but has beautiful interior features in the wood flooring, high ceilings, intricately paneled library and grand entry hall with hand painted wall murals that lead to a curved staircase.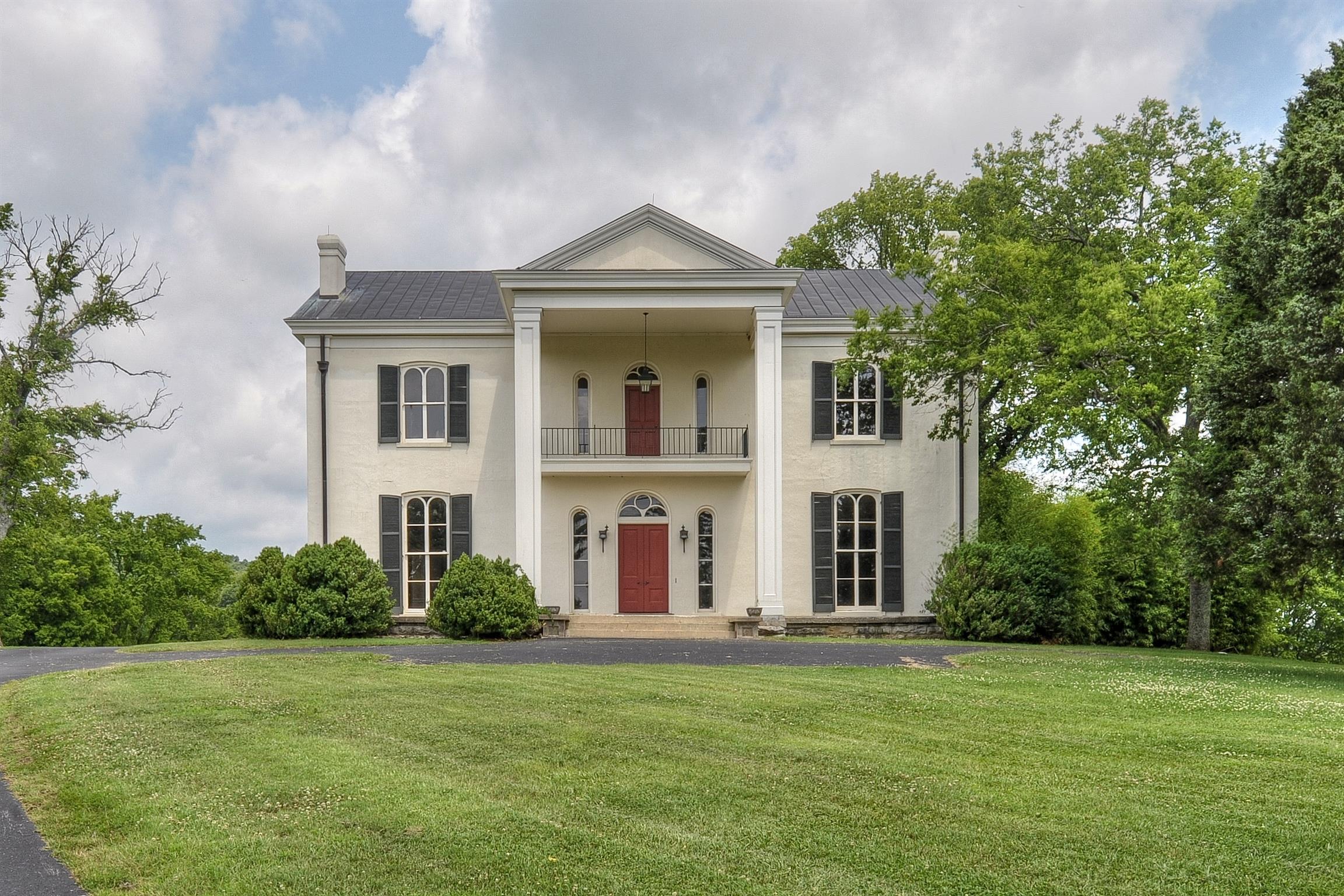 Tim and Faith restored the two-story log home that was built in 1850.  The log home has antique hand-hewn logs and a Greek Revival entry. The rooms are bright with decor leaning toward contemporary, but still with the laid back ambiance of a cabin. With 3,330 square feet, the log house has three bedrooms, four bathrooms and five fireplaces.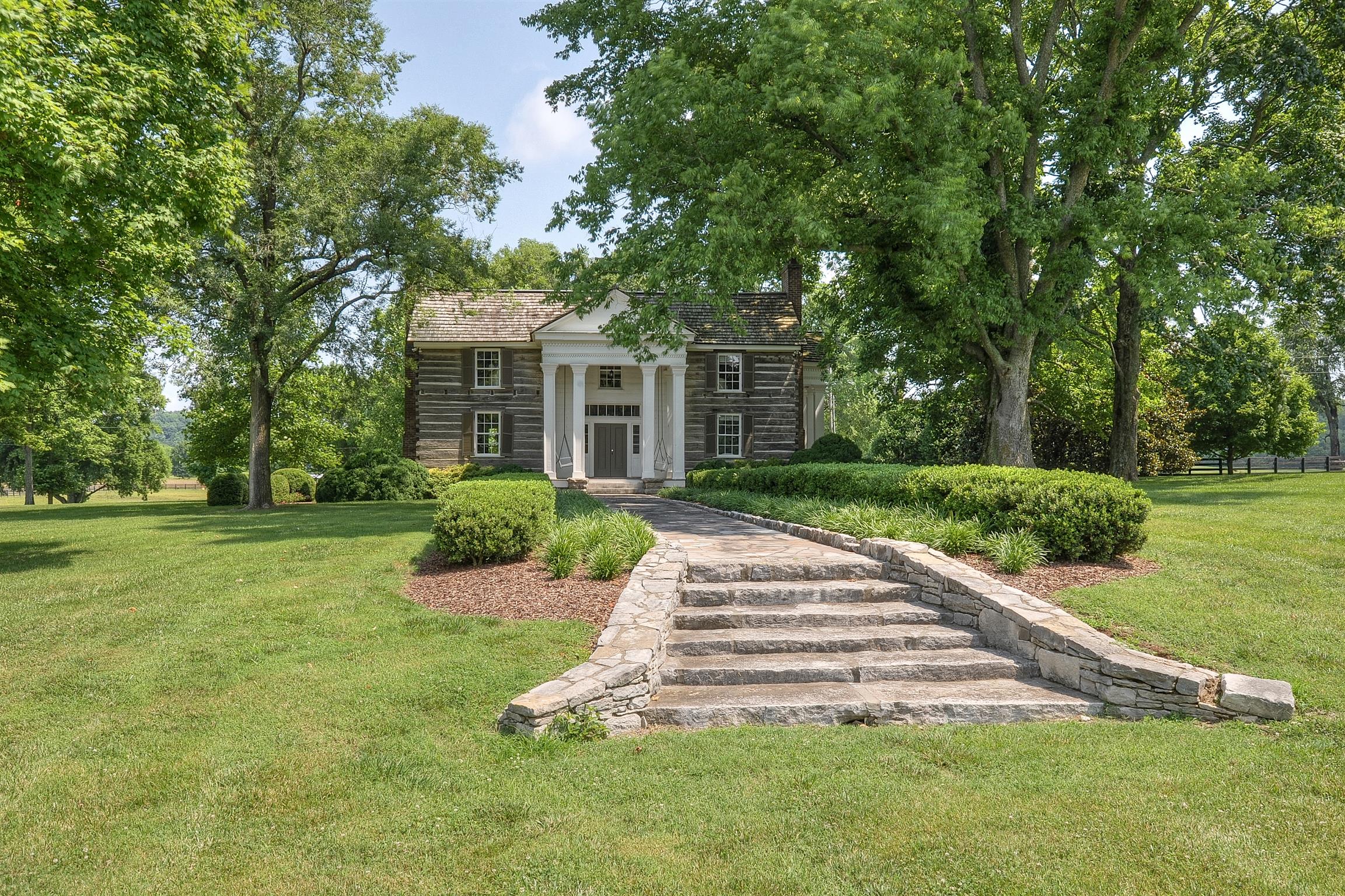 The farm has rolling pastures with ponds, woods and bucolic views from all windows, porches and decks. The other three houses on the vast property are more recent builds and make nice staff homes or guest homes for family and friends.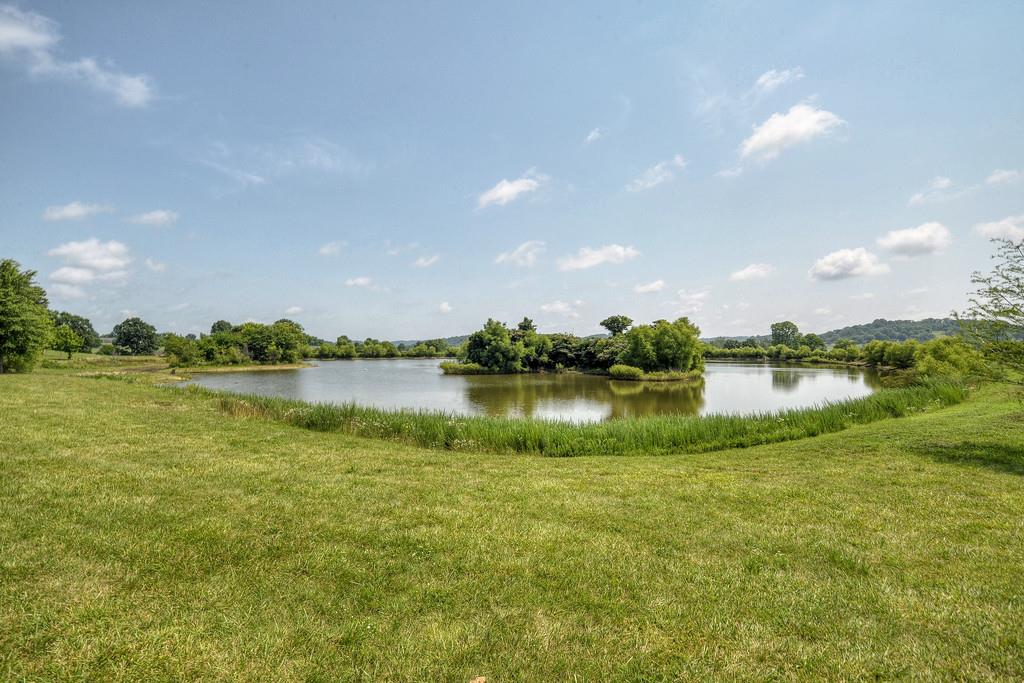 Tim and Faith divided the historic property into two distinct parcels, each featuring a pre-standing structure with Southern charm. A renovated 3,330 square-foot 19th-century log home sits on the larger parcel, while the main 6,856-square-foot antebellum house sits on the smaller.  Here is the real estate listing for one parcel of the overall property:
The 4009 Carters Creek Pike listing shows a home with 3 beds
4 full baths and 
3,152 

sq. ft. – 
"Excellent opportunity to own this beautiful historic Wm. County property. Includes 6 homes, 1 a restored log house, a historic antebellum, 2 guest cabins and caretakers homes. 12 stall barn & rolling pastures with ponds. 2 Tax parcel involved. 2nd parcel is 35 38 Bear Creek parcel # 103 014.00 622 acres of land $10,000,000.  Renovated Historic log home "Samuel Morton House" built in 1800. 353 Magnificent acres w/large historic barn with 12 Stalls.  The 353 acres are a subdivision of the larger property.
With all three daughters now over 18 years old, it makes sense  that Tim and Faith would sell the Franklin, Tennessee farm property and focus on splitting time between the Bahamas and the Nashville, Tennessee property shown below.
3)  Tim McGraw and Faith Hill's Nashville, Tennessee Property
As Country Music super stars, it makes sense for this couple to have a home in Nashville, Tennessee.  The Nashville house features a large swimming pool and the compound of houses has plenty of room for family and guests.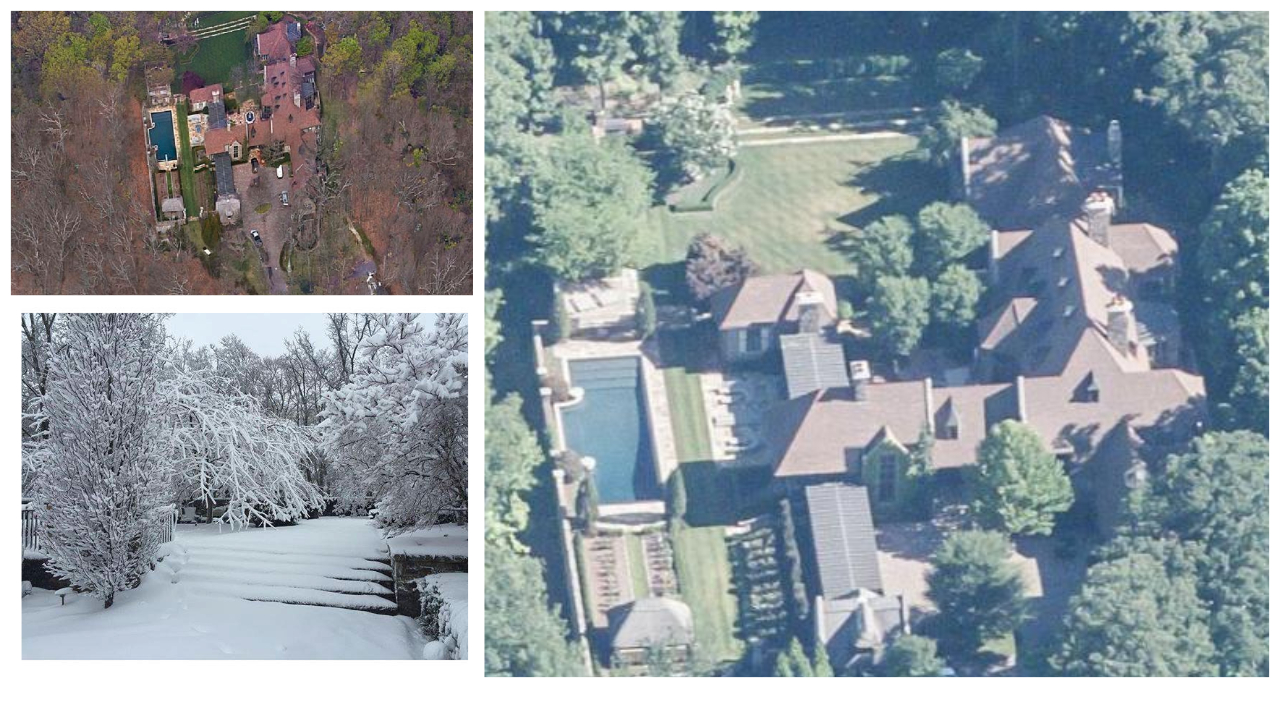 The Nashville property gets snow in the winter and makes for a winter wonderland and contrast to the Island property.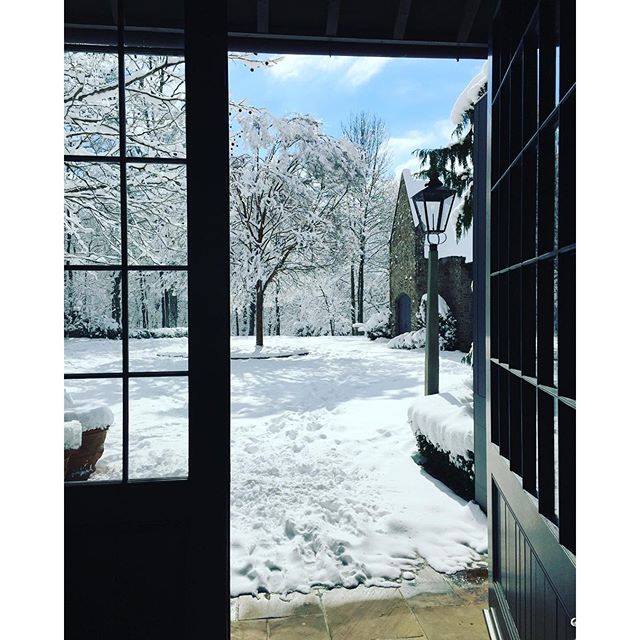 Let us know in the comments which property was your personal favorite and share this with other fans of Tim McGraw and Faith Hill.