Watch Tegan Marie's journey to country music star in this video update. Tegan Marie is poised to leave her mark on Nashville after signing a record deal with Warner Music Nashville. Meet the emerging star here!
Up-and-coming country music star Tegan Marie signed with Warner Music Nashville at an impressive 13-years-old. This made her the youngest country artist signed to the label and the youngest female in 45 years – since Tanya Tucker signed with CBS Records in 1972 – to ink a major label country record deal. Go, Tegan!
The Flint, Michigan native has catapulted into the national spotlight with several high-profile media performances and appearances including ABC's Good Morning America, PBS' star-studded special Smokey Robinson: The Gershwin Prize and the 2017 Radio Disney Music Awards. She recently celebrated this milestone moment by making her debut at the Grand Ole Opry in mid-August.  Tegan Marie has performed at the Grand Ole Opry, Ryman Auditorium, Stagecoach, and CMA Music Fest.   Tegan has also shared the stage with several fellow country music artists including:  Cam, Hunter Hayes and Kelsea Ballerini.   Watch the video to learn more about this rising country music star and see more details below.
Tegan Marie's Journey to Country Music Star (Video)
Tegan Marie Songs
Tegan has released several original songs.  Click any link below to view the music video and lyrics for some of Tegan's top songs:
Other Tegan Marie Performances
Tegan met up with Kelsea Ballerini and performed "Love Me Like You Mean It".  Tegan is a big fan of Kelsea and has also covered Kelsea's song "Peter Pan".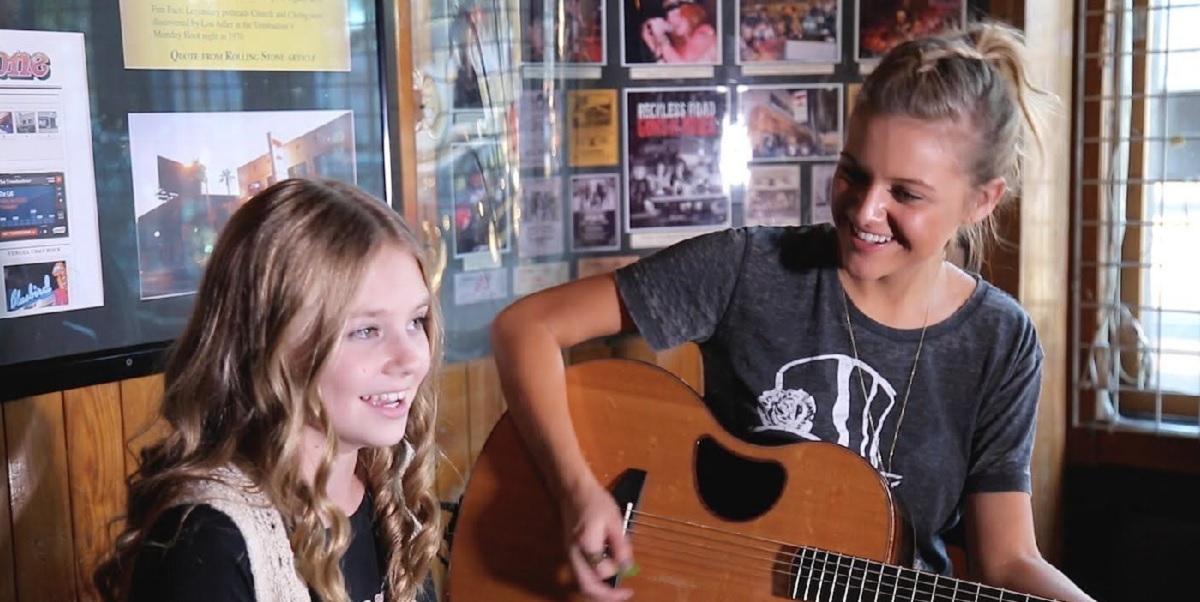 The singer-songwriter's early introduction to music began with her father uploading her cover videos of songs by stars such as Carrie Underwood to online platforms when she was just 7-years-old.
"This new generation is passionate about Country music. Tegan Marie, with the kind of natural talent already resonating with audiences, represents a new breed of digitally-savvy artists that we want to be a part of," said John Esposito, Chairman and CEO, Warner Music Nashville. "What attracted us to Tegan Marie was her voice and a confidence that was beyond her years."
Tegan Marie's major milestones include the release of the song "Lucky Me," to benefit the children affected by the water crisis in her hometown of Flint, and her breathtaking rendition of Florida Georgia Line's #1 hit song, "H.O.L.Y.," which racked up over 17 million views on Facebook alone. She has amassed over 75 million video views and receives over five million engagements online each month. Marie has also had a string of impressive performances, sharing the stage with singers Cam and Smokey Robinson, and duetting with Kelsea Ballerini. This past spring, the young vocalist appeared at CMA Music Festival and California's popular country music festival Stagecoach.
Tegan Key Facts:
How Old is Tegan Marie (Tegan age)? – Tegan is 16 years old.
When is Tegan's Birthday? – October 25, 2003
Where is Tegan from? – Tegan was born in Grand Blanc, Michigan (a suburb of Flint, Michigan)
Where Does Tegan Live? –  Tegan lives in Michigan and spends time in Nashville and on tour.
Follow Tegan Marie: