Sara Evans and Jay Barker's shared pain blossomed into a beautiful, lasting bond.
Sara Evans and Jay Barker are celebrating their 13th wedding anniversary on June 14, 2021 (married June 14, 2008).    After the wedding, Sara and Jay's combined family includes 7 kids.
Jay and Sara's Combined Family in 2012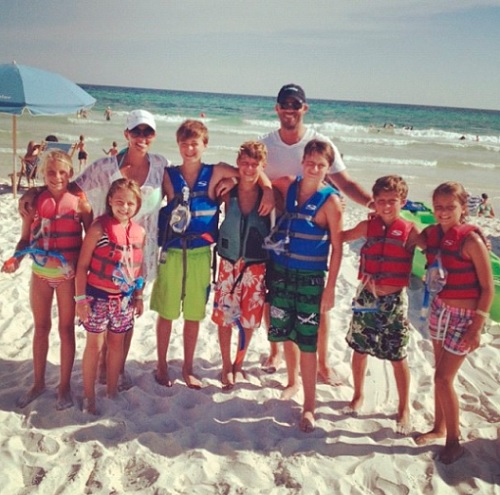 Country music starlet Sara Evans' first marriage to Craig Schelske ended in an extremely messy, painful, and public divorce on September 28, 2007. Their fourteen year union produced three beautiful children, Avery Jack (1999),
Olivia Margaret (2003), and Audrey Elizabeth (2004)
.
Check out the adorable sibling trio in a throwback snapshot below!
Despite the fallout from her first marriage, the Missouri-born songstress gave love another chance when she met University of Alabama football star-turned-sportscaster Jay Barker. The couple was introduced by pastor Joe Beam, who Evans had turned to for guidance during her very public split. The two bonded over their separate divorces and got married on June 14, 2008 in Franklin, Tennessee.
Evans and her three children relocated to Mountain Brook, Alabama, to reside with Barker and his four children with former wife Amy DiGiovanna— Andrew (1999), Braxton (2000), and twins Sarah Ashlee and Harrison (2001).The blended family is happier than ever!
Sara's latest album, Copy That, was released in May of 2020. In addition to her solo career, the star and her two oldest children have formed the The Barker Family Band and dropped The Barker Family Band EP last year.
Jay is currently an analyst for ESPN Radio, and formerly an on-air personality for WJOX in Birmingham. Jay and Al Del Greco hosted the Opening Drive program on WJOX, along with Tony Kurre until 2018.
We wish this family the best. Share this with other Sara Evans fans!
"All We Ever Do Is Say Goodbye" Lyrics
Just when I had you off my head
You voice comes thrashing wildly through my quiet bed
You say you wanna try again
But I tried everything but giving in
So why you wanna break my heart again
And why am I gonna let you try
When all we ever do is say goodbye
Oh, all we ever do is say goodbye
All we ever do is say goodbye
Oh, all we ever do is say goodbye
I bought a ticket on a plane
And by the time it landed you were gone again
I love you more than songs can say
But I can't keep running after yesterday
So why you wanna break my heart again
And why am I gonna let you try
When all we ever do is say goodbye
Oh, all we ever do is say goodbye
All we ever do is say goodbye
Oh, all we ever do is say goodbye
We say goodbye
We say goodbye
We say goodbye
Yeah, all we ever do is say goodbye
Oh, all we ever do is say goodbye
All we ever do is say goodbye
Oh, all we ever do is say goodbye
(All we ever do is say goodbye) All we ever do is say goodbye
(All we ever do is say goodbye) All we ever do is say goodbye
(All we ever do is say goodbye) All we ever do is say goodbye
(All we ever do is say goodbye) All we ever do is say goodbye
We say goodbye