Both Luke Combs Crocs designs have sold out and caused a big flood of search traffic on the internet! More on the footwear here...
According to Google's annual Year in Search report, the top trending search in the shoe category was "Luke Combs Crocs"! That's right, the country music star's collaborations with the footwear brand have been a hit and both designs have sold out. By the way, "Post Malone crocs" came in at eighth within the  shoe category rankings.
The second edition of Luke Combs Crocs came out on November 14th. As fans may recall, the country music star first joined forces with Crocs over the summer during CMA Fest in Nashville.
Luke Combs Crocs
Here's a closer look at round two!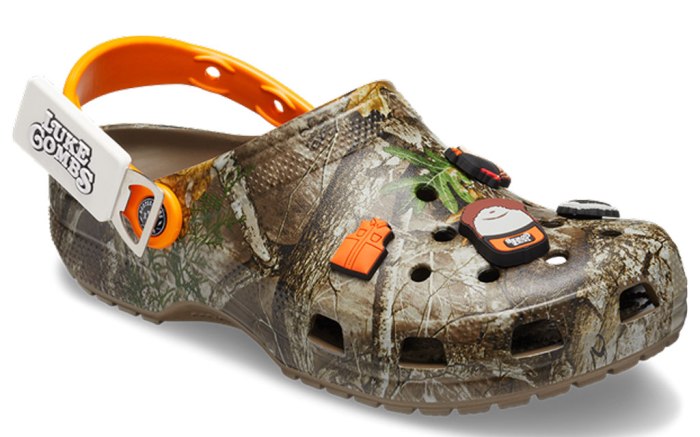 The first batch of Luke Combs Crocs included Jibbitz charms inspired by the North Carolina native's guitar stickers, his recognizable red beard, etc. They sold for $60 and were available in women's sizes 6-12 and men's sizes 4-13. Take a look at those babies below…
We're sure some lucky people are getting Luke Combs Crocs for Christmas. Share this update with other country music fans!
"What You See Is What You Get" Lyrics
I'm a puzzle
I'm a walking contradiction
In far from mint condition
'Cause there's pieces I can't find
Sometimes trouble
A can of cope a day addiction
With set in stone convictions
And a no bend bottom line
I'm an easy read but I ain't no open book
Got a knack for making things harder than they look
I'm a straight shooting
Beer drinking, rule breaking
Don't think I won't take a good thing too far
I'm a midnighting, backsliding
Getaway car driving
Running away with your heart
I guess, be careful what you wish for, is all I meant when I said
What you see is what you get
At least I'm honest
I don't spin it like a record
And I ain't acting like I'm better
Than you know I really am
Yeah, you're dead on it
You got me figured, I'll admit it
Set in my ways hard-headed
But hell, I do the best I can
I'm a straight shooting
Beer drinking, rule breaking
Don't think I won't take a good thing too far
I'm a midnighting, backsliding
Getaway car driving
Running away with your heart
I guess, be careful what you wish for, is all I meant when I said
What you see is what you get
With me ain't no tricks up these sleeves
An acquired taste, a constant work in progress
I'm a straight shooting
Beer drinking, rule breaking
Don't think I won't take a good thing too far
I'm a midnighting, backsliding
Getaway car driving
Running away with your heart
I guess, be careful what you wish for, is all I meant when I said
What you see is what you get
What you see is what you get