Reality TV star and model Kendall Jenner recently expressed her love for country music hit-maker Chris Stapleton. More here!
Apparently reality television star-model Kendall Jenner has a bit of a thing for country music superstar Chris Stapleton. Jenner attended the Kentucky native's Los Angeles concert at The Forum over the weekend and shared her love for the "Millionaire" singer via an Instagram Story.
"I love you Chris Stapleton," the 22-year-old captioned the concert videos, adding in, "Call me."
Hilariously enough, Chris' wife and musical collaborator Morgane Stapleton caught wind of Jenner's admiration and responded.
"When @kendalljenner loves your husband & wants him to call her, but you also have strong love for said KarJenner," Morgane quipped on Instagram along with screenshots of Kendall's Instagram Story.
Oh man. That's really funny and we're sure Morgane and Chris are having a good laugh. Doesn't Kendall know that the county music couple have been happily married for ten years and have four children together? Ehhh….
Besides Stapleton, Jenner also has mad love for country star Kacey Musgraves. In May, she shared a sexy photo of herself in lingerie with a blurred out billboard promoting the Texan's latest album, Golden Hour, in the background.
After people thought the model was dissing Kacey, she jumped in on Twitter to defend herself, sharing, "Yoooo, I was working all day and didn't edit this photo! Kacey is literally my f—in fav! Space cowboy, I Miss You, Keep it to yourself, FOLLOW YOUR ARROW!! bangers!! ask anyone of my homies I die for her!"
Before Jenner explained, Musgraves clapped back hard at Jenner by reposting the same photograph on her Instagram Story and blurring out the model's face instead. Musgraves eventually took down her saucy response and it appears that portrait mode's blur photo feature is to blame for the billboard's appearance.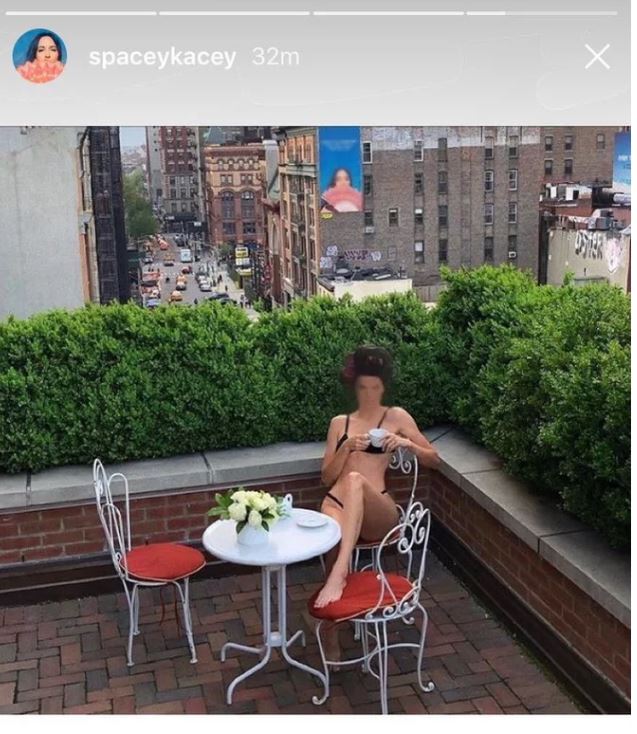 Oh man. Anyway, be sure to catch Chris Stapleton on tour through early November!
08•23•2018
SARATOGA PERFORMING ARTS CENTER
SARATOGA SPRINGS, NY
08•24•2018
BANK OF NEW HAMPSHIRE PAVILION
GILFORD, NH
08•25•2018
BANK OF NEW HAMPSHIRE PAVILION
GILFORD, NH
09•22•2018
FARM AID'S MUSIC AND FOOD FESTIVAL
HARTFORD, CT
09•23•2018
PILGRIMAGE MUSIC FESTIVAL
FRANKLIN, TN
10•04•2018
RIVERBEND MUSIC CENTER
CINCINNATI, OH
10•05•2018
RUOFF HOME MORTGAGE MUSIC CENTER
NOBLESVILLE, IN
10•06•2018
HOLLYWOOD CASINO AMPHITHEATRE
CHICAGO, IL
10•11•2018
PNC MUSIC PAVILION
CHARLOTTE, NC
10•12•2018
COASTAL CREDIT UNION MUSIC PARK AT WALNUT CREEK
RALEIGH, NC
10•13•2018
JIFFY LUBE LIVE
BRISTOW, VA
10•18•2018
TUSCALOOSA AMPHITHEATER
TUSCALOOSA, AL
10•19•2018
VERIZON AMPHITHEATRE
ALPHARETTA, GA
10•20•2018
CELLAIRIS AMPHITHEATRE AT LAKEWOOD
ATLANTA, GA
10•25•2018
COLONIAL LIFE ARENA
COLUMBIA, SC
10•26•2018
THOMPSON BOLING ARENA
KNOXVILLE, TN
10•27•2018
RUPP ARENA
LEXINGTON, KY
11•02•2018
MADISON SQUARE GARDEN
NEW YORK, NY
11•03•2018
JOHN PAUL JONES ARENA
CHARLOTTESVILLE, VA
11•04•2018
ROYAL FARMS ARENA
BALTIMORE, MD
11•11•2018
JOE WALSH & FRIENDS PRESENT VETSAID 2018
TACOMA, WA
Share this update with others who would get a kick out of it!