Keith Urban and Nicole Kidman's kids, Sunday Rose and Faith Margaret, are growing like weeds! Get to know both young women, here!
It is hard to believe that Keith Urban and Nicole Kidman's kids, Sunday Rose and Faith Margaret, are now 15 years old and 12 years old! Actress Nicole Kidman and country music star husband Keith Urban are parenting their two daughters to be well-rounded individuals.
"She's an extraordinary mum, she really, really is. Those girls are very, very lucky, and I feel very lucky that the children I should have in this world happen to be with Nic. I don't know anything about raising kids and Nic does, and that comes in extremely, um, it's really made for an experience I wouldn't have had without that. Her patience, her recognizing them as people and not just little kids is really extraordinary. Her attention to honoring their feelings and listening to them right from day one – really being attentive to that is not how I was raised at all, so it's really beautiful to see," Urban shared with his label, UMG Nashville, in honor of Mother's Day 2020.
In raising their daughters, Kidman has stated that she and Urban don't try to push musical desires onto Sunday and Faith, even though she notes that both kiddos are musically and artistically oriented.  "You can't really get kids into anything, I've realized," Nicole admitted. "You can push them a bit, but motivation is a really hard thing. I mean, nobody motivated me to be an actor; if anything they tried to deter me."
Keith Urban and Nicole Kidman's Kids (2021 Video)
Click the "play" button below to watch Keith Urban and Nicole Kidman's family journey with their daughters, Sunday Rose and Faith Margaret.
Despite their privileged lifestyle, the girl have boundaries set by their parents.
In a prior interview, Nicole shared, "They don't have a phone and I don't allow them to have an Instagram,  I try to keep some sort of boundaries."  It is evident that the Big Little Lies actress and the "Coming Home" singer lead by example and they often refrain from posting much about their children on social media.
At home, Nicole and Keith have banned having a television in their bedroom and have also made a 'no computers in bed' rule.  "We're pretty strict with the boundaries on what we allow in terms of work into our home. I used to have an office in my house and I just got rid of it – it's the best thing I've ever done. I finally went, 'This is not a good thing,'" she explained.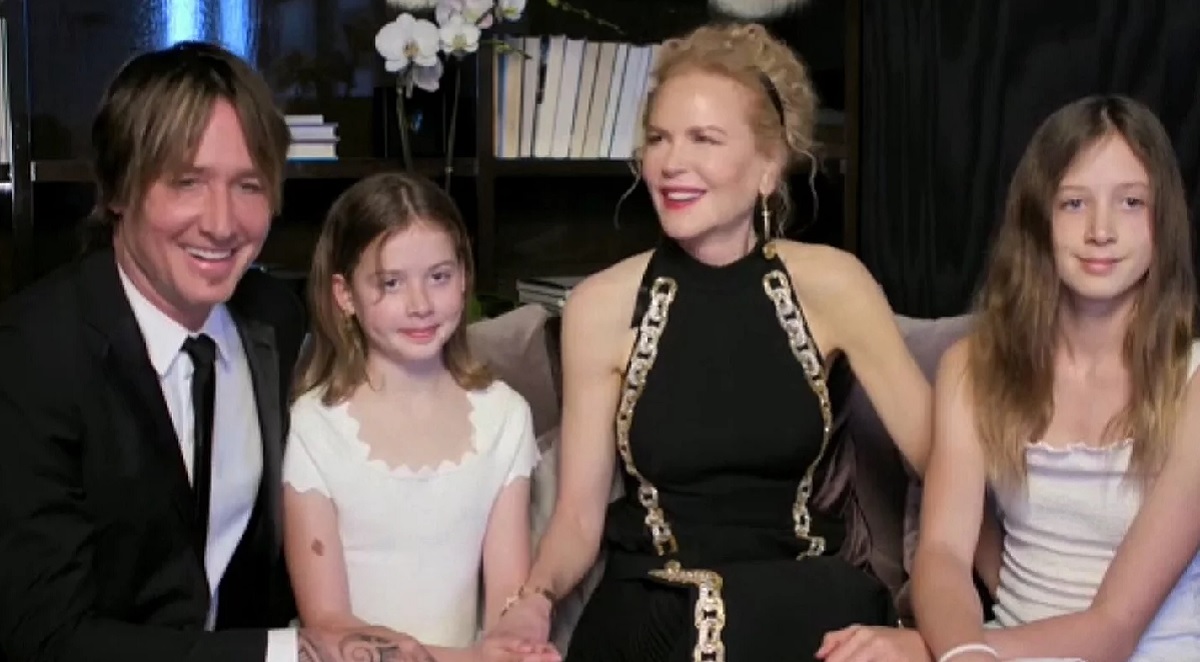 Juggling acting, parenting, and keeping up with being Urban's #1 fan, Nicole told the outlet that she can memorize Keith's tour dates at first glance. She also notes that though he is an amazing singer and guitar player, but his passion is writing music and playing guitar.  Keith Urban loves being a dad.  "It's an incredible feeling," Urban said. "And having girls — I love having girls. You know, I come from a family with no sisters, one brother. So, it's been quite the learning curve in a really good way."
Sunday Rose Kidman Urban
Sunday Rose was born July 7, 2008 in Nashville, Tennessee and is now 15 years old. Her memorable name was originally suggested by one of Nicole's relatives who had been reading about Sunday Reed— an early patron of the arts in Australia. Sunday is called "Sunny" by her family. Nicole shared the following post to celebrate for Sunday's most recent birthday.
During a past Elle Women in Hollywood Celebration, Kidman explained Sunday Rose's career plans to the audience. Nicole asked Sunday Rose, "What do you want to be when you grow up"?  After musing about becoming an astronaut for a moment, the youngster confidently told her mother "I want to be a director. And I'm pretty sure I can make that happen."
"And I went, wow," Kidman shared. "That right there, that is progress. For that little girl to be able to say, 'Yeah, I can be a director' – I would never have said that. I said I could be an actress, but I never said a director."  We hope to see some future blockbuster hits that are directed by Sunday Rose!
Faith Margaret Kidman Urban
Faith Margaret or "Fifi" (born December 28, 2010) and is now 12 years old.  She has started to follow in the footsteps of her actress mother with a cameo role in Big Little Lies and her first voice over role in Angry Birds 2. She can been spotted in episodes 2 and 3 of "Big Little Lies" as a classmate of Celeste Wright's (Nicole Kidman) twin boys, Josh and Max Wright (Cameron Crovetti, Nicholas Crovetti). It will be interesting to see if Faith Margaret decides to pursue an acting or entertainment career.
View this post on Instagram
Keith Urban and Nicole Kidman's Kids: Part of a Tight-Knit Family
The family regularly attends church together. Nicole has stated, "That's how we are raising our children. Keith has his own beliefs but he comes, too. I had a very Catholic grandmother, and I was raised praying, so that had massive impact. I wouldn't say it's absolutism, there's constant questioning—I'm a willful, feisty girl. For me it's very important that I don't have judgment. My dad would always say, 'Tolerance is the most important thing.'"
The couple takes any opportunity to spend time with their children. Kidman adds, "In our private life, they're always involved with us. I don't like the whole kids'-club thing." Urban and Kidman set a good example for their girls, and spending time together as a family is the most important part of their overall happiness.
"Our life here probably isn't what you expect," she expressed. "I read at the school. We're a very tight-knit family—we get anxious if we're separated more than two days. We try to have sit-down dinners every night we're here. Friends from school come over. Sometimes we'll have nine kids for dinner." She laughs. "I can live out my fantasy of having lots of children." When Urban goes on the road, Kidman and the girls often tag along.
Share this closer look at Keith Urban and Nicole Kidman's kids with other country music fans!