Beloved singer-songwriter and actor Elvis Presley's plane has a new owner. Check out the custom 1962 Lockhead Jetsar here!
Talk about a souvenir— On Saturday, music icon Elvis Presley's custom 1962 Lockhead Jetsar plane was scooped up for $430,000 at auction by an unnamed bidder. The King's plane touts some real 1960's charm with its gold-tone hardware, red shag carpet, red velvet seats, and wood paneled interior.
"It is still in its original condition, and has been privately owned for over 35 years. The jet has been featured on TV with National Geographic, and has been a huge tourist attraction at the in [sic] Roswell, NM," according to the GWS Auction Inc. listing.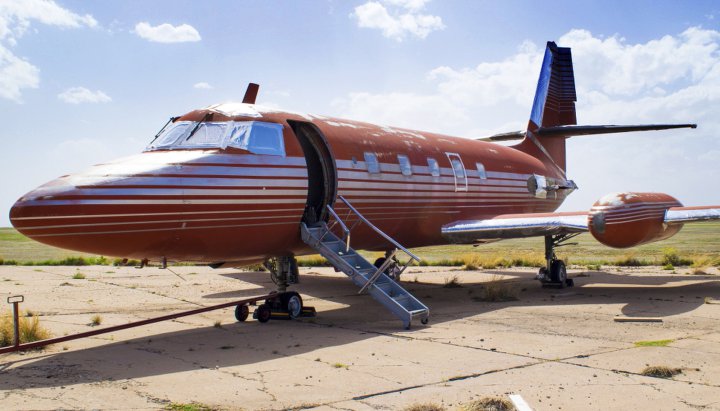 Fortune
reports that the plane has been sitting on a runway in Roswell, New Mexico for the last 35 years and has no engines and the cockpit is in need of a complete overhaul. No word on what the new owner plans to do with the plane, but it will have to be disassembled and shipped to its new home. If the aircraft is fully restored, the buyer could earn millions off of this extremely unique piece of memorabilia. The Lockhead Jetsar isn't the only aircraft once owned by the cultural icon, his two other planes are currently on display at the Elvis Presley Museum in Memphis, Tennessee.
During his short 42 years of life, Presley became one of the most influential musicians of the 20th century. The Mississippi native found success in many musical genres, including pop, blues, and gospel. He is also one of the best-selling solo artists in the history of recorded music, with estimated record sales of around 600 million units globally. He won a total of three Grammy Awards during his lifetime, also receiving the Grammy Lifetime Achievement Award at just 36-years-old. On August 16, 1977, Presley passed away after suffering a heart attack in the bathroom of his famed Graceland estate. His sudden death was linked to his many years of prescription drug abuse.
Share this interesting tidbit with other fans of the cultural icon!