Country music singer-songwriter Dwight Yoakam's Las Vegas residency will kick off this December! More on the shows, here!
Country music legend Dwight Yoakam will make his Wynn Las Vegas debut with a six-night residency, An Evening with Dwight Yoakam & The Bakersfield Beat, at the Encore Theater. Guests can expect to take a journey with songs, sights, and stories through California country music's dramatic arrival and lasting impact on American pop music culture. Learn more about Dwight Yoakam's Las Vegas residency below!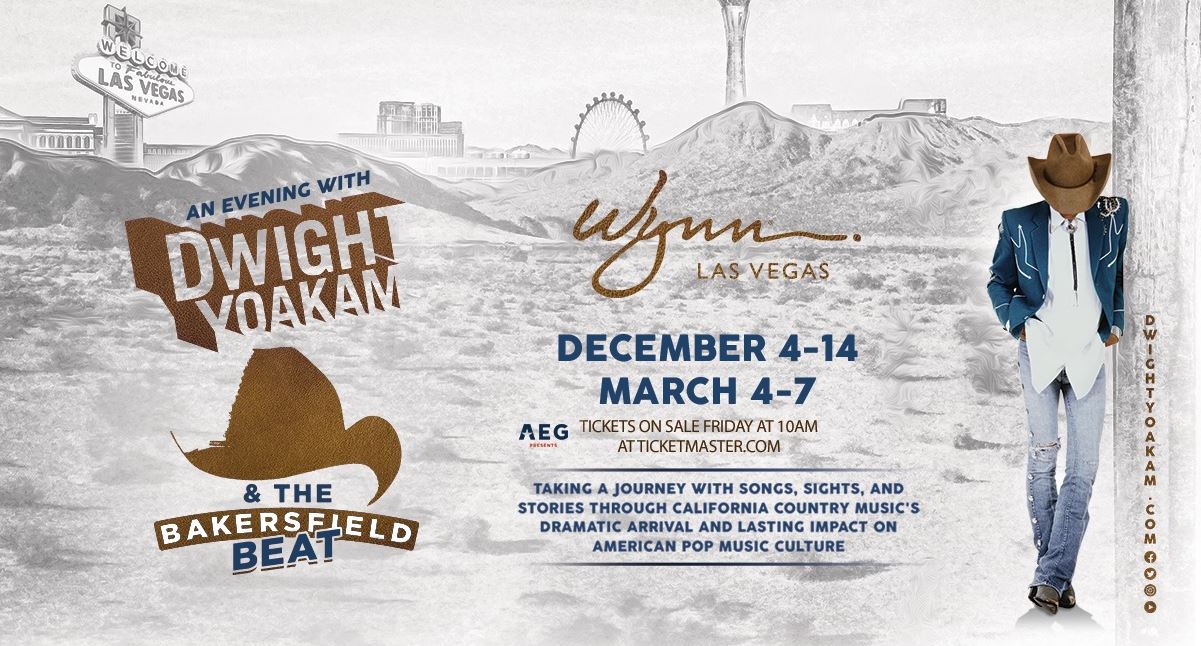 Beginning with the Dust Bowl Era, Yoakam will take the audience on a musical excursion exploring the history of the sounds associated with Bakersfield, Calif. through songs and storytelling in this exclusive residency. Yoakam will perform a variety of the music that influenced and created the "Bakersfield" and "California Country-Rock" genres of country music from their early beginnings to their commercial zenith, in addition to his own original music that was shaped and influenced by this legacy. The unique showcase will reflect the concepts that created his self-curated SiriusXM channel, Dwight Yoakam & The Bakersfield Beat. These and other influences have inspired Yoakam throughout his career, highlighted by 12 gold albums, nine platinum or multi-platinum albums, and nearly 40 singles on the Billboard charts. And now Yoakam brings his dual mastery of songwriting and storytelling to the Encore Theater, weaving a musical journey audiences are sure to remember.
Buy tickets online or call show reservations at (702) 770-9966.
Dwight Yoakam's Las Vegas Residency Show Dates
Dec. 4, 6-7, 10, 12, 14 & March 4, 6-7
Performance starts at 8 p.m.
Share Dwight Yoakam's Las Vegas residency news with other fans!
"Honky Tonk Man" Lyrics
Well I'm a honky tonk man
And I can't seem to stop
I love to give the girls a whirl
To the music of an old jukebox
But when my money's all gone,
I'm on the telephone singing
Hey hey mama can your daddy come home
Well now I'm living wild and dangerously
But I've got plenty of company
The moon comes up and the sun goes down
I can't wait to see the lights of town
'Cause I'm a honky tonk man
And I can't seem to stop
I love to give the girls a whirl
To the music of an old jukebox
And when my money's all gone,
I'm on the telephone singing
Hey hey mama can your daddy come home
Well I'm a honky tonk man
And I can't seem to stop
I love to give the girls a whirl
To the music of an old jukebox
And when my money's all gone,
I'm on the telephone singing
Hey hey mama can your daddy come home
Hey now, a pretty little girl and a jug of wine
Well that's what it takes to make a honky tonk time
With the jukebox moaning those honky tonk sounds
I can't wait to lay my money down
'Cause I'm a honky tonk man
And I can't seem to stop
I love to give the girls a whirl
To the music of an old jukebox
But when my money's all gone,
I'm on the telephone singing
Hey hey mama can your daddy come home
I'm a honky tonk man
And I can't seem to stop
I love to give the girls a whirl
To the music of an old jukebox
But when my money's all gone,
I'm on the telephone singing
Hey hey mama can your daddy come home