Chris Stapleton's children with wife Morgane are kept mostly outside of the limelight. The couple's two eldest kids recently got to walk the red carpet...
Chris Stapleton's children with wife Morgane are kept mostly outside of the spotlight. We finally learned the names of Chris and Morgane's two oldest children, Waylon and Ada, when they walked the Toy Story 4 premiere's red carpet with their father. According to Taste of Country, the couple's one-year-old twin boys are named Macon and Samuel. So, now we know the names of 4 out of 5 of the Stapleton children. Chris and Morgane's youngest son was born in May.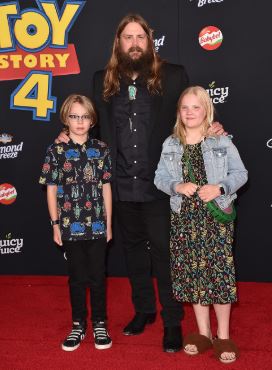 Although the family is very private, the kids occasionally pop up via Morgane's Instagram.
Morgane & Chris Stapleton's Children
The Stapleton's Latest Addition 
The Twins' Arrival
S'more Time!
Chris, Waylon, Ada, and Morgane at the Grand Canyon
We can't blame Chris and Morgane for working so hard to preserve their children's privacy on and off the road. The Stapletons are all about family and have even added a few honorary members.
"You know, our kids go on the road, my in-laws go on the road, my mom goes on the road when she feels like coming, and so we carry a good bit of actual family," Chris disclosed to Kix Brooks of American Country Countdown in 2018. "As an extension of that, I consider Derek [Mixon on drums] and J.T. [Cure on bass] to be family members, you know, the guys in the band, and all the guys in the crew. I want everybody to feel like they are family. We try to approach things that way. That's always been the goal with me anytime."
That's pretty incredible when you think about it— a whole mixed group of people representing various ages managing to get along while handling the confines of life on tour buses. With five young children, that can't be easy!
Share this look at Chris Stapleton's children with other country music fans!
Chris Stapleton 2019 Tour Dates
07•09•2019
PPL CENTER
WITH SPECIAL GUESTS MARGO PRICE & THE MARCUS KING BAND
ALLENTOWN, PA
07•12•2019
COUNTRY CONCERT
FORT LORAMIE, OH
07•14•2019
COUNTRY THUNDER SASKATCHEWAN
CRAVEN, SK
07•19•2019
CHI HEALTH CENTER
WITH SPECIAL GUESTS MARGO PRICE & THE MARCUS KING BAND
OMAHA, NE
07•20•2019
GREAT JONES COUNTY FAIR PRESENTED BY WELLMARK
MONTICELLO, IA
07•21•2019
COUNTRY THUNDER
TWIN LAKES, WI
07•25•2019
DARLING'S WATERFRONT PAVILION
WITH SPECIAL GUESTS MARGO PRICE & THE MARCUS KING BAND
BANGOR, ME
07•26•2019
BETHEL WOODS CENTER FOR THE ARTS
WITH SPECIAL GUESTS MARGO PRICE & THE MARCUS KING BAND
BETHEL, NY
07•27•2019
CMAC
WITH SPECIAL GUESTS MARGO PRICE & THE MARCUS KING BAND
CANANDAIGUA, NY
08•01•2019
CHARLESTON CIVIC CENTER COLISEUM
WITH SPECIAL GUESTS MARGO PRICE & THE MARCUS KING BAND
CHARLESTON, WV
08•02•2019
DTE ENERGY MUSIC THEATRE
WITH SPECIAL GUESTS MARGO PRICE & THE MARCUS KING BAND
CLARKSTON, MI
08•03•2019
WE FEST 2019
DETROIT LAKES, MN
08•09•2019
PNC BANK ARTS CENTER
WITH SPECIAL GUESTS MARGO PRICE & THE MARCUS KING BAND
HOLMDEL, NJ
08•10•2019
KEYBANK PAVILION
WITH SPECIAL GUESTS MARGO PRICE & THE MARCUS KING BAND
BURGETTSTOWN, PA
08•11•2019
MERRIWEATHER POST PAVILION
WITH SPECIAL GUESTS MARGO PRICE & THE MARCUS KING BAND
COLUMBIA, MD
08•15•2019
ERIE INSURANCE ARENA
WITH SPECIAL GUESTS BRENT COBB & THE MARCUS KING BAND
ERIE, PA
08•16•2019
VAN ANDEL ARENA
WITH SPECIAL GUESTS BRENT COBB & THE MARCUS KING BAND
GRAND RAPIDS, MI
08•17•2019
BUDWEISER STAGE
WITH SPECIAL GUESTS BRENT COBB & THE MARCUS KING BAND
TORONTO, ON
08•22•2019
INTRUST BANK ARENA
WITH SPECIAL GUESTS BRENT COBB & THE MARCUS KING BAND
WICHITA, KS
08•23•2019
VERIZON ARENA
WITH SPECIAL GUESTS BRENT COBB & THE MARCUS KING BAND
LITTLE ROCK, AR
08•24•2019
CENTURYLINK CENTER
WITH SPECIAL GUESTS BRENT COBB & THE MARCUS KING BAND
BOSSIER CITY, LA
08•29•2019
VON BRAUN CENTER
WITH SPECIAL GUESTS BRENT COBB & THE MARCUS KING BAND
HUNTSVILLE, AL
08•31•2019
THE WHARF AMPHITHEATER
WITH SPECIAL GUESTS BRENT COBB & THE MARCUS KING BAND
ORANGE BEACH, AL
10•03•2019
JQH ARENA
WITH SPECIAL GUESTS BROTHERS OSBORNE & KENDELL MARVEL
SPRINGFIELD, MO
10•04•2019
CHESAPEAKE ENERGY ARENA
WITH BROTHERS OSBORNE & KENDELL MARVEL
OKLAHOMA CITY, OK
10•05•2019
FEDEX FORUM
WITH SPECIAL GUESTS BROTHERS OSBORNE & KENDELL MARVEL
MEMPHIS, TN
10•10•2019
JACKSONVILLE VETERANS MEMORIAL ARENA
WITH SPECIAL GUESTS BROTHERS OSBORNE & KENDELL MARVEL
JACKSONVILLE, FL
10•11•2019
MIDFLORIDA CREDIT UNION AMPHITHEATRE
WITH SPECIAL GUESTS BROTHERS OSBORNE & KENDELL MARVEL
TAMPA, FL
10•12•2019
CORAL SKY AMPHITHEATRE
WITH SPECIAL GUESTS BROTHERS OSBORNE & KENDELL MARVEL
WEST PALM BEACH, FL
10•17•2019
NORTH CHARLESTON COLISEUM
WITH SPECIAL GUESTS BROTHERS OSBORNE & KENDELL MARVEL
CHARLESTON, SC
10•18•2019
VETERANS UNITED HOME LOANS AMPHITHEATER AT VIRGINIA BEACH
WITH SPECIAL GUESTS BROTHERS OSBORNE & KENDELL MARVEL
VIRGINIA BEACH, VA
10•19•2019
GREENSBORO COLISEUM
WITH SPECIAL GUESTS BROTHERS OSBORNE & KENDELL MARVEL
GREENSBORO, NC
10•25•2019
PEORIA CIVIC CENTER
WITH SPECIAL GUESTS BROTHERS OSBORNE & KENDELL MARVEL
PEORIA, IL
10•26•2019
SPRINT CENTER
WITH SPECIAL GUESTS BROTHERS OSBORNE & KENDELL MARVEL
KANSAS CITY, MO
11•01•2019
BON SECOURS WELLNESS ARENA
WITH SPECIAL GUESTS BROTHERS OSBORNE & KENDELL MARVEL
GREENVILLE, SC
11•02•2019
KFC YUM! CENTER
WITH SPECIAL GUESTS BROTHERS OSBORNE & KENDELL MARVEL
LOUISVILLE, KY