Discover more about Country music star Brantley Gilbert's wife Amber Cochran Gilbert as the couple celebrates their wedding anniversary...get to know her better here!
Brantley Gilbert's Wife (Amber Cochran Gilbert) has been his muse for over a decade.  After his engagement to fellow country star Jana Kramer dissolved in August 2013, Brantley Gilbert reunited with a past love from his small Georgia hometown.  The couple married June 28, 2015 and just celebrated their 8th wedding anniversary.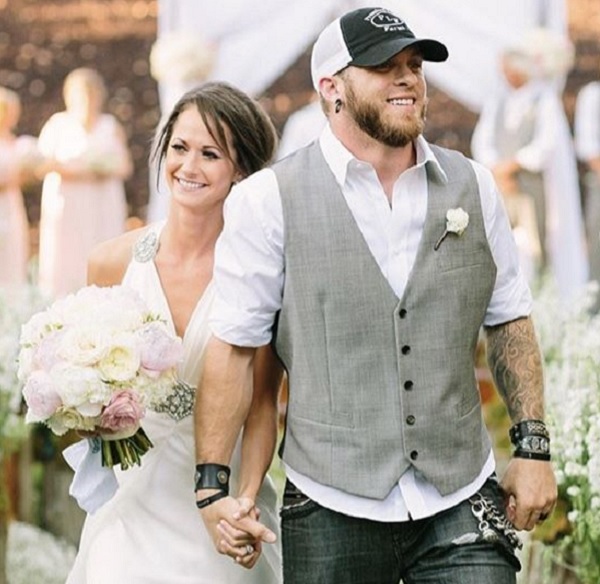 Get to know Brantley Gilbert's Wife Amber Cochran Gilbert and their love story below!
Brantley Gilbert's Wife Amber in 2010
"It was one of those things that was on and off for few years – mostly on – and then she was the one that got away for about five years," he told The Bobby Bones Show during a 2014 interview. "It came back around and I've never been happier. This little one, she's the one, and I'm a pretty stoked dude. I'm pretty excited to say the least."
The country star and his devoted schoolteacher bride got hitched in June 2015 during a quaint ceremony at his home. He has also admitted that she was the woman who inspired his singles "You Don't Know Her Like I Do", "More Than Miles", and several other tunes.  "She's been in my soul since the day I met her… she has and will continue to inspire song after song in my life," Gilbert once sweetly quipped to E! News.
During a media event in February 2016, Brantley took a moment to discuss his deep relationship with Amber.
"She respects the fact that it is a broken road, not to quote Rascal Flatts," Gilbert shared. "All of that stuff that I went through, and all these other relationships, did get me back to her. And I learned a lot. Every time something went wrong and didn't go right, I learned, and it made me better for her."
"I still got a lot of work to do. I got a lot of learning to do. I think both of us do together," he continued, "but I think that's part of growing, and probably what I'm having the most fun with … It's been really cool."
"He leaves me notes a lot, which I love," Amber shared with People during the 2015 BMI Awards. "Recently, he sent me a text and asked me to go on a date with him, which was super sweet."
Fast forward to today and the pair are parents to 3-year-old son Barrett Hardy-Clay and 1-year-old daughter Braylen Hendrix.
View this post on Instagram
"Oh, I cried!" Gilbert shared with PEOPLE about learning his second child's gender. "I was so sure it was a boy. I wasn't ready for it to be a little girl — and man, when it was! I just wanted a healthy, happy baby, but a little girl means a whole other deal."
"I know I have so much to learn," he added. "You even diaper them differently, so I'm gonna be learning a whole lot of stuff from these books Amber reads — and I can't wait!"
As you can tell from Amber's Instagram, she enjoys cooking and working on physical fitness!
Brantley Gilbert's Wife Amber Now 
View this post on Instagram
Share this closer look at Brantley Gilbert's wife Amber with other fans!