Enjoy this little collection of interesting Glen Campbell facts--- he's certainly one of the most influential country singers of the 1960's and 1970's.
Arkansas native Glen Campbell is an American country and rock music icon. Spending over five decades in show business, Campbell won six Grammy Awards, released 70 albums, and hosted the The Glen Campbell Goodtime Hour on CBS.
Enjoy these quick facts about the multi-talented artist below:
1. In the early 1980's Glen Campbell was engaged to country singer Tanya Tucker, who was more than 20 years younger than him. The two did multiple duets together, including "Shoulder to Shoulder" below.
2. Not only was Campbell successful with music, he co-starred alongside actor John Wayne in the 1969 western film "True Grit."
3. Glen Campbell is a father to eight children, from four different marriages. His current wife is Kim Woolen, whom married in 1982.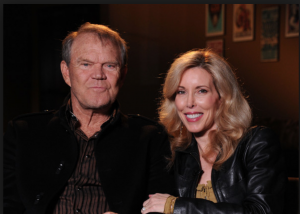 4. Glen Campbell played on The Beach Boys' classic album
Pet Sounds 
in 1966.
5. In 2012, Campbell received a Lifetime Achievement Award at the Grammy Awards.
Share this with other Glen Campbell fans!