There's a lot you may not know about the country music superstar. Watch a video about his life story and check out this collection of seventeen Keith Urban facts and expand your knowledge!
Check out these interesting Keith Urban facts and see how much you know about this country music star!  Keith Urban has won over legions of fans across the globe due to his natural musical talent, songwriting abilities, stint as a judge on American Idol— and of course his good looks combined with an awesome accent doesn't hurt either. The country music sensation has been on the Nashville music scene since 1992 and broke out as a solo act in 1999 with the release of his self-titled album Keith Urban. That record was certified Platinum in the United States and produced his first No.1 hit with "But for the Grace of God."
Think you know everything about the guitar-slinging stud with a golden voice? Well, watch the video about his life journey and learn additional Keith Urban facts below…
The Life of Keith Urban Video
20 Keith Urban Facts
#1 Favorite creative session snack:  Fried Pimento Cheese Sandwiches
#2 Songwriting hideout: The shower. Yes, he writes in the shower— let that sink in for a minute…
#3 Go-to writing apparatus: The singer always writes down his songs in ink pen. No pencil or typing for Mr. Urban.
#4 Educational background:  Keith Urban dropped out of high school at just 15-years-old. Thank goodness he's a guitar prodigy…
#5 First song ever fully learned: "House Of The Rising Sun" by The Animals, 1964
#6 Place of birth: He's known as being an Australian country music singer, but Keith Urban was actually born in Whangarei, New Zealand. (pronounced "Wong-A-Ray")
#7 Childhood nickname: Keith was dubbed "Suburban" by his father Robert because he was the second of two sons. Get the family joke? Sub-Urban?
#8 Musical talent: Besides the guitar, Urban can play bass, drums, piano, ganjo (a six-string banjo), and sitar.
#9 Early Nashville gig: After arriving in the United States, Keith wasn't legally allowed to take a non-music job. He found work as a road guitarist for different musical acts. Fans can spot a very young Urban featured in the music video for Alan Jackson's 1993 hit "Mercury Blues." (He's the one with crazy long hair…)
#10 Keith Urban's pet peeves: People who don't look him in the eye when they shake his hand and people who don't clean out the dryer's lint filter.
#11 Cameo appearance: The country star sang backing vocals on INXS's live album Live Baby Live, which was released in 1992.
#12  Across the pond: In 2005, Urban performed in front of European audiences for the first time.
#13 Early inspiration: Urban's guitar playing was influenced by two rock artists, Mark Knopfler of Dire Straits and Lindsey Buckingham of Fleetwood Mac.
#14 Notes from his muse: His album Ripcord takes its name from a play and the title was suggested to him by his wife Nicole Kidman. She's definitely his main muse and number one fan!
#15 Surprising admission: Despite his longtime love of music, he claims he doesn't know how to actually read music.
#16 Keith Urban age: Keith is 54 years old and was born October 26, 1967.
#18 Keith Urban Daughters:  Keith has two daughters with Nicole Kidman.  Sunday Rose is now 13 years old and Faith Margaret is 10 years old!  Sunday Rose was born July 7, 2008 in Nashville, Tennessee.  Faith Margaret or "Fifi" was born December 28, 2010.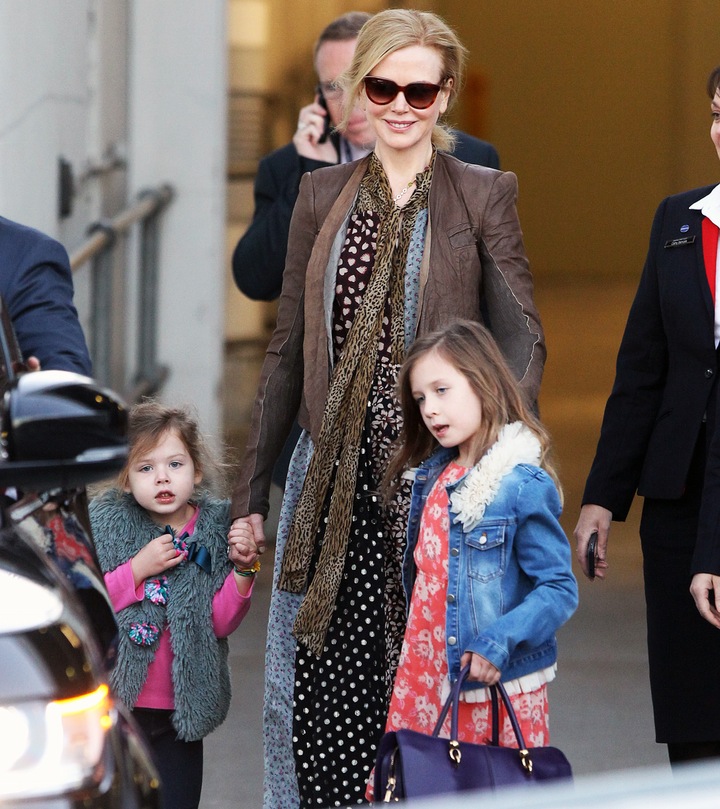 #19 Where Keith first Met Nicole Kidman:
  The pair first met during a 
G'Day LA
 event honoring Australians, but they didn't start dating until 6 months later.
#20 Worst gig ever: It involved a luggage carousel… watch Keith tell James Corden below!
Now you really are an expert on all things Keith Urban. Congrats! Be sure to share these fun Keith Urban facts with other fans!