Discover why Blake and Gwen spend most of their vacation time and summers in Oklahoma at Blake's ranch or lake home property in this video update.
Blake and Gwen have both expressed their love for Oklahoma and in particular his ranch property near Tishomingo, Oklahoma.  In an interview, both Blake and Gwen named his ranch property their favorite place in the world.  Watch the video below to see how Gwen has grown to love Oklahoma and spending time with Blake at his 1,300 acre ranch property and see more details below.
Why Blake and Gwen Love Oklahoma Video
Blake and Gwen both love spending time at his ranch property.  Gwen Stefani grew up in the Orange County suburbs of Los Angeles.  Before dating Blake, she had not spent much time in the heartland of America.  Gwen enjoys nature, riding horses, touring around on all terrain vehicles, sitting by the fire pit and the slower pace of their ranch lifestyle.  She is happy to see her three sons gain exposure to the great outdoors and learning outdoor activities like fishing and hiking in the woods.
Blake's ranch property is just outside of the small town of Tishomingo, Oklahoma with a reported population of less than 4,000 residents.  Blake has called Tishomingo his home for over a decade (after moving from Nashville).  His ranch is an impressive 1,382-acres acre property with a house, party shed, horse barn and building o store his tractor.  Blake is an avid outdoors-man and enjoys hunting, fishing, planting crops, and riding horses.  The ranch provides plenty of space to be outdoors and do everything he loves.
Blake and Gwen's latest "I Can Be Happy Anywhere" duet features footage of their ranch lifestyle and shows some footage from the Lake Texoma home as well.  Blake's music videos for "God's Country" and "Hell Right" were both filmed on his ranch property.  Blake and Gwen's family spend more time at the ranch property and make occasional visits to his lake house that is a 1 hour drive from the ranch.  Blake and Gwen's family appear to like the added acres, privacy and range of ranch activities versus the home on Lake Texoma.
Sweet Corn Grown on Blake's Ranch (I Could By Happy Anywhere Music Video)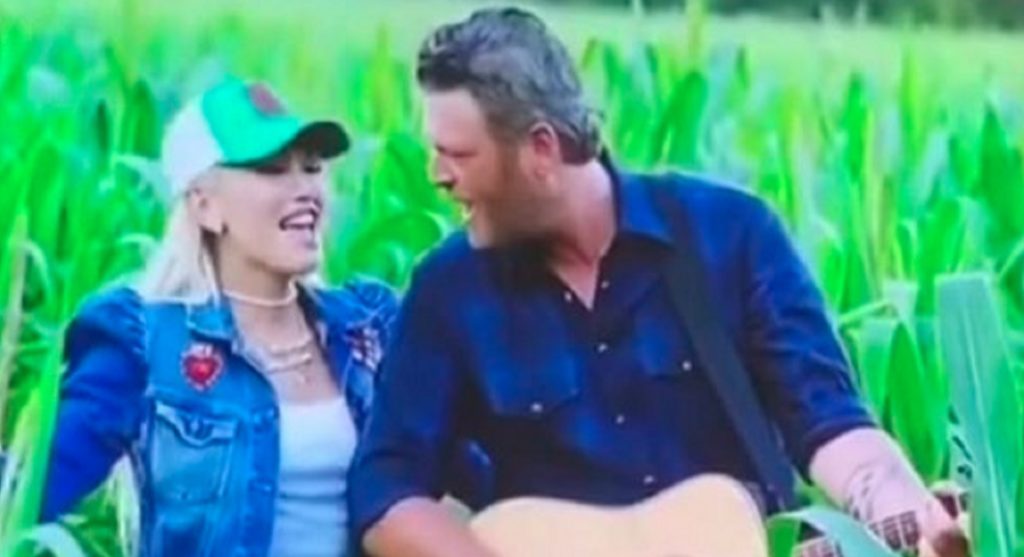 Blake Shelton and Gwen Stefani will continue to split their time between Oklahoma and Los Angeles, which seems to be working out just fine.  The Voice TV show has been delayed for the 2020 season and the couple will be spending more time in Los Angeles as the show resumes filming at The Voice Studios.
Remember to "share" Blake and Gwen love of Oklahoma with other fans of the couple.